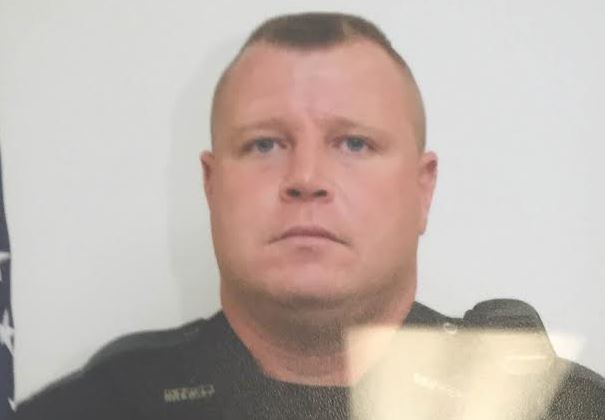 A West Virginia officer was arrested recently, after snorting Xanax and crashing his police cruiser into a middle school. Sgt. Roger Dale Richmond was found passed out in his crashed cruiser, shortly after notifying another officer that he had been involved in a crash. Richmond was charged with DUI and possession of a controlled substance.
Richmond notified Lt. T.J. Miles of the crash. Miles and Richmond both work for the Raleigh County Sheriff's Office. Deputies were already following skid marks from a local gas station, which led them to tire marks on the side of the road. Eventually they made their way to Richmond's cruiser, which was disabled due to the crash.
The cruiser was in front of Shady Springs Middle School. Pieces of the car, including the bumper, were laying in the roadway. Officers found Richmond passed out with what appeared to be a cut straw and a blue chunky substance. "I noted blue powdery residue on the front seat and in the driver side floor board. A short straw was lying between the legs of Richmond. This device is commonly used to ingest crushed pills via the nasal cavity. There was also a dollar bill in the floorboard which has residue on it," stated Miles on his criminal affidavit.
Richmond had to be forcefully awakened. When he came to, he demonstrated slurred and mumbled speech and was uncoordinated. All the signs police look for in a DUI investigation.
The Board of Pharmacies reviewed Richmond's medical history, finding that he did not have a valid prescription for the drug. The implications are obvious: that Richmond was buying drugs on the street like a common criminal. Besides the blue powder and the straw, officers also found several more uncrushed Xanax in his cruiser. Despite the arrest, Richmond was not fired. Instead, the department permitted his resignation, leaving the possibility wide open for another department to hire him. Although Richmond betrayed the community, putting the lives of innocent school children at risk, he was released from his short stay in jail, on a measly $2500 bond.
WVVA TV Bluefield Beckley WV News, Weather and Sports
The Sheriff's Office did what they could to distance themselves from Richmond,  assuring the community of their dedication to transparency about internal investigations. "While we recognize that drug addiction reaches all groups and businesses, it is extremely important to understand that no one is above the laws and that the Sheriff's Office will never tolerate any form of criminal action or inappropriate behavior and this incident will remain completely transparent for the general public to see." The statement, issued by the Sheriff's Office, outlined the incident and the charges.
---
This article (West Virginia Deputy Arrested After Snorting Xanax and Crashing Cop Car into a Middle School) is a free and open source. You have permission to republish this article under a Creative Commons license with attribution to AlekHidell and AnonHQ.com.