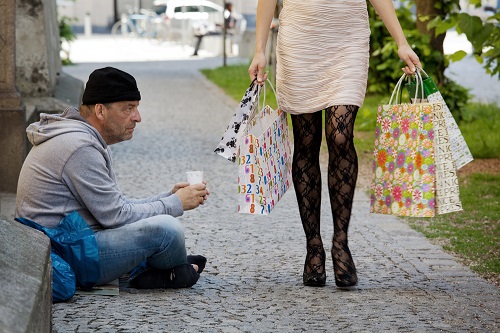 Written by: K.K.
What we, the people, produce:
Transportation.  In just a short amount of time those in lower income brackets and lower skilled jobs have been able to travel distances kings were unable to imagine a couple centuries ago.  Today there is mass production in bicycles, cars, and today so many goods/ services are geographically close to those in the middle class.  That means there's fewer miles to travel to access goods, money is saved on gasoline, and much less likely you'll be one of the 40,000 people killed every year on government roads.  The rate at which those in lower income brackets can fly on airplanes is a great advantage most of us have that the richest of the rich could never afford a century ago without its existence.
Information, Knowledge and Communication.  The internet provides the widest range of information at such a fast pace, that we spend much less time researching to get the same information we once had to walk to a library to get.  This allows people to share ideas, sources to compete for accuracy while competing with big tv news channels.  The iPhone and Email alone has made the bottom 99% better off by allowing us to meet more people, have more conversations with people around the world, see family members on instant video who are far away, and allow us to watch lectures online virtually for free from the best schools in the world.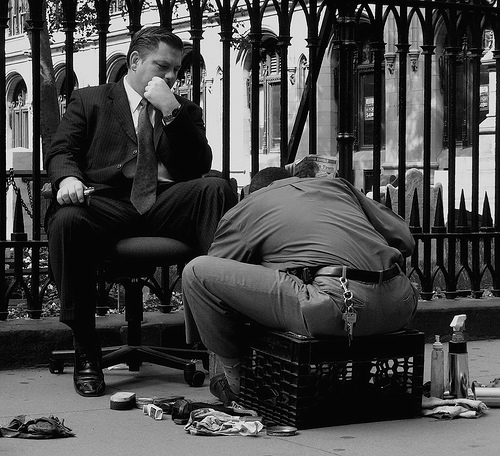 Food.  The caloric intake in the U.S. in not very unequal when you compare different income levels.  Not to mention the food so many of the poorest in America have access to is close in price to what we see at our grocery stores.  Not only does the middle class go out to eat more than ever before with such a variety of choice, but
Clothing.  It is hard to tell a person's income by what they are wearing, very often places like Goodwill, Buffalo Exchange, and Walmart rely on those in the lowest income brackets as customers.  Prices are kept low because they sell their products to so many people who demand them.
Housing.  You can measure the number of square feet per occupant in the average household to see how much greater our time can be spent when we can be alone in our own room, with running water next door, or even an abundance of books that allow me to teach myself on my own time.  There are many benefits that having more land could give someone and allow them to be more free and give them more space to express themselves.
We can see that when private individuals voluntarily cooperate in a marketplace without the state, there is less inequality.
What government produces:
Court system.  Look at how unequal the court system favors those who can get a good lawyer who may have a history with the judge.  When a teacher or mail carrier gets caught with drugs, they go to jail, loose their job, miss out on raising their kids, etc.  Now, if an Oscar winning actor or a female singer gets caught abusing substances, they are too often looked at like someone with a disease who needs treatment until their filmmaking comeback.  Oj Simpson, Paris Hilton, Lindsey Lohan, and Chris Brown are some of the many people who has manipulated a court system that has no incentive to compete and meet the needs of the masses.
Police and Jail.  When areas have a lot of crime, Watts, CA or Atlanta, GA of Chicago, even New York City where you see the most gun laws and the most crime.  If you are in a lower income bracket you have a much higher chance at being a victim of violence when officers have no incentive to spend more time in your area making it safer.  That's how city's with drug crime and violence, stay cities of drug crime and violence.  In Jail's that the officer will take you too for whatever reason he's deemed necessary, you may notice that whites are 64% of the population in America, and only 34% are incarcerated.  While black Americans are 14% of the population, they are 36% of inmates; and Hispanics are 16% of the population, yet are 24% of the prison population.  This is inequality at its height.  They are more likely to find you guilty, then put you in prison away from society.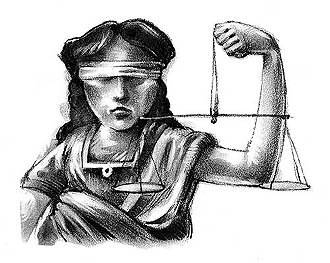 Public Education.  Today the government runs close to a monopoly on the education system, funded by taxation on all citizens whether they have no children or five children attending school.  School's soon began developing reputations, or competed to offer the best education, and before long the government made boundary restrictions.  In other words, your children go to the school that your house is close to, while meeting the boundary requirements in order to make sure schools have an even number of students.  This keeps poor people in poor schools, and gives the teachers and administration no incentive to produce smarter children.  That's why black Americans have such a high dropout rate of high school, and have not had their parents just send them to other schools where the results are more satisfactory.
In conclusion, we can see that inequality may be undesirable, but the idea that taxing the upper class will lead to the state distribute an equitable existence is the opposite of the solution.  The state works with the rich to make regulations costing small businesses $10,585 per employee annually to comply, while large companies (500+ employees) only have $7,700 to comply with [1].  There is no incentive for the government to create value for those in lower income brackets, that's why the government can manage to spend so much money and hire so many employees without managing to help those who need it most.  People can voluntarily meet demand for one another by specializing in what we do best, to produce desirable goods we can exchange on our own terms without a state coming in and taxing the equality of our lives.
______________________________________________________________
Resources:
1. Office of Information and Regulation Affairs, Unified Agenda 2013