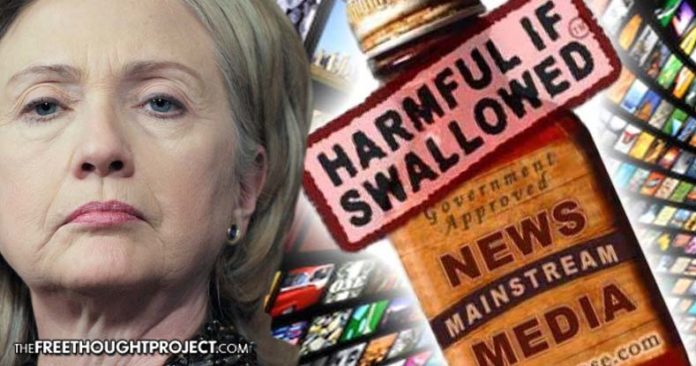 As the U.S. government accuses Donald Trump and Russia of launching a "hacking campaign to interfere with the U.S. election process," the mainstream media (and a few alternative news websites responsible to reveal the truth that the corporate propaganda hides) continues to shield Hillary Clinton from WikiLeaks' bombshell revelations. Her scandalous past remains off limits, yet Donald Trump's leaked lewd audio tape about groping women, which was made 11 years ago, is headline news.
WikiLeaks, an independent anti-secrecy organization, has been an incessant target of the mainstream media after it started exposing the Democratic National Committee and Democratic presidential nominee Hillary Clinton, by leaking emails from Clinton's private email server, the DNC email server, and Clinton campaign chairman, John Podesta's email archives. Sample this:
One of the weirdest sub-dramas of the 2016 US presidential election has been WikiLeaks, an organization nominally dedicated to "radical transparency," serving as a de facto Donald Trump Super PAC. — VOX
There is mounting evidence that the Russian government is supplying WikiLeaks with hacked emails pertaining to the U.S. presidential election. — CNN
The intention seems clear: by discrediting WikiLeaks, the U.S. government, Hillary Clinton, and the mainstream media are hell-bent on dashing the GOP nominee Donald Trump's presidential hopes (it's a different matter altogether, though, whoever wins the smackdown, America will still be the resounding loser).
Why didn't Hillary Clinton announce that she was inappropriately given the debate questions – she secretly used them! Crooked Hillary.

— Donald J. Trump (@realDonaldTrump) October 20, 2016
Over the past week, WikiLeaks has rolled out more than 12,000 internal emails obtained by hackers from the private account of Clinton campaign chairman, John Podesta (who previously served as Chief of Staff to President Bill Clinton and Counselor to President Barack Obama). These emails indicate Clinton is a liar, and accuse the Clinton campaign of colluding with the mainstream media to keep the American public in the dark about what is actually transpiring.
The media serve, and propagandize on behalf of, the powerful societal interests that control and finance them. The representatives of these interests have important agendas and principles that they want to advance, and they are well positioned to shape and constrain media policy. — Noam Chomsky
Here is a list of leaked emails that show the U.S. presidential election process is rigged in favor of Hillary Clinton, and that the mainstream media is working hand in glove to ensure her selection on November 8.
1. Clinton campaign staff hosted a private, off-the-record cocktail party with 38 key influential national reporters, editors and anchors (from 16 different mainstream media outlets including CNN, NBC, CBS, NYT, Bloomberg, and MSNBC) with the stated goal of "framing the HRC (Hillary Rodham Clinton) message and framing the race."
2. Donna Brazile (interim chairperson of the Democratic National Committee and CNN contributor at the time) leaked CNN town hall questions to the Clinton campaign communications director Jennifer Palmieri, prior to a debate the following day.
Hacked Emails Prove Coordination Between Clinton Campaign and Super PACs https://t.co/vtlXJfHv3u#Hillary #DNCLeaks #DNCLeak #corruption pic.twitter.com/ZRayp1mDTS

— Matthijs Pontier (@Matthijs85) October 19, 2016
3. The New York Times published stories trashing Donald Trump under the directives of Mr and Mrs Clinton, and the HRC campaign staff, in order to seize on opportunities to paint Trump as an extremist and recklessly impulsive.
4. Glen Thrush, chief political correspondent for POLITICO, sent a story terming John Podesta as the force behind Clinton's successful fundraising operation for Podesta's approval.
5. Huffington Post contributor Frank Islam sent an email to John Podesta noting: "I am committed to make sure she is elected as the next President of United States. I am reaching out to my friends to raise money for her campaign. Please let me know if I can be of any service to you."
6. Clinton press secretary Nick Merrill "placed a story" with POLITICO and The New York Times "to portray Hillary's campaign as a thoughtful, successful, forward-looking and technological advanced campaign."
DNC colluded w/ corporate media to sabotage Bernie, elevate Trump, then present HRC as your only "realistic" choice. #DNCleak #PodestaEmails

— Dr. Jill Stein (@DrJillStein) October 15, 2016
7. John Podesta received drafts of The New York Times' articles before they were published.
8. Clinton campaign staff colluded with The New York Times and The Wall Street Journal to paint Hillary's economic policies in a "progressive" light.
9. Clinton supporter and CNBC panelist Glenn Hutchins colluded with Podesta on what to ask Trump when he calls in for an interview.
10. Discussing the upcoming release of exchanges between Hillary and renowned journalist Sidney Blumenthal, the Associated Press appeared to be willing to allow the Clinton campaign to plant favorable stories.
---
This article (WikiLeaks: 10 Biggest Revelations that Show Clinton, MSM Teamed Up to Trash Trump) is a free and open source. You have permission to republish this article under a Creative Commons license with attribution to the author and AnonHQ.com.