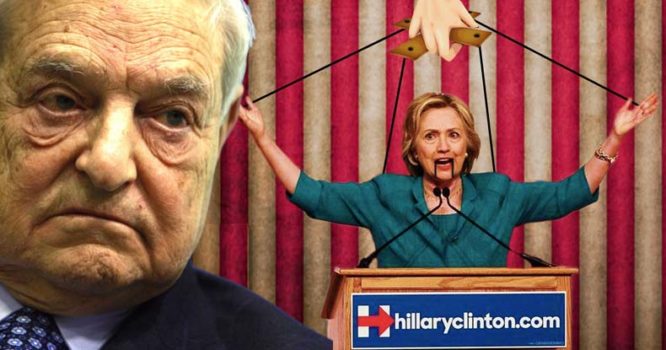 If you are familiar with my work or have interacted with me on our online chats, you know that I am not one for conspiracy theories, nor am I not one to empower people to believe our world is run by secret invisible actors controlling things from behind the scenes – beyond our control. However, there is new information which has come to light, exposed by the WikiLeaks email data dump, which has me seriously questioning my convictions.
The email in question was sent from billionaire and 23rd richest man in the world, George Soros, directly to Hillary Clinton while she was serving as U.S. Secretary of Defense, in January of 2011. When you take a look at the contents of the email and then cross reference this with the history which later unfolded, you will see a direct correlation between George Soros' email (requests) and exactly what occurred.
On January 22, 2011 the country of Albania was host to an anti-government protest outside the office of then Prime Minister Sali Berisha. An estimeted quarter of a million people attended; hundreds were injured and 3 people were shot dead at near point blank range by national police.
The event sparked outrage and grew international attention – enter George Soros and Hillary Clinton. In the email below, you will clearly see Soros saying that Clinton and U.S. government needs "bring the full weight of the international community to bear on Prime Minister Berisha and opposition leader Edi Rama to forestall further public demonstrations and to tone down public pronouncements."
Soros then goes on to state that although he is troubled by the actions of both, he was "particularly worried about the actions of the Prime Minister" and accuses him of "intentionally murdering" the 3 activists who died "as a provocation" and requests that Clinton "appoint a senior European official as mediator." To give some context, what we are seeing here is Soros asking Clinton to appoint a leader from within the European Union – a socialist Union – to come in and take over the situation. We will explain why this is important in a moment.
Lastly, Soros concludes the email by explaining how "Edi Rama's control of his own people is slipping, which may lead to further violence." Adding that "The US and the EU must work in complete harmony over this (to prevent this), but given Albania's European aspirations the EU must take the lead. That is why I suggest appointing a mediator such as Carl Bildt. Martti Ahtisaari or Miroslav Lajcak." "
Why is this important? The opposition leader Edi Rama was the leader of the Socialist Party in Albania and George Soros is an open progressive Socialist, who has literally spent tens of billions supporting the spread of Socialism throughout various countries.
Also, surprise, surprise, guess who ended heading the mediation process? Miroslav Lajcak
Guess who ended up the next Prime Minister of Albania? Edi Rama
This email is literally showing us how world leaders coordinate with one another, behind the scenes, to change the course of history; how a select group of influential people literally have to the power to overthrow and appoint presidents/prime ministers. It is not conspiracy, it is literally right there in front of your eyes.
If you have any doubts about anything I have just explained to you, read the email I have quoted above, for yourself: https://wikileaks.org/clinton-emails/emailid/28972
Now that Hillary Clinton has stepped away from her role as Secretary of State and is running for President, George Soros has personally donated 25 million dollars to the Clinton campaign – further payment for all of her quality work.
Sources: The Free Though Project, CNN, WikiLeaks
---
You want to support Anonymous Independent & Investigative News? Please, follow us on Twitter: Follow @AnonymousNewsHQ
---
This article (WikiLeaks Reveals how George Soros Bought Hillary Clinton, Appointed the Prime Minister of Albania) is a free and open source. You have permission to republish this article using a creative commons license with attribution to the author and AnonHQ. Join the conversations at www.anonboards.com.