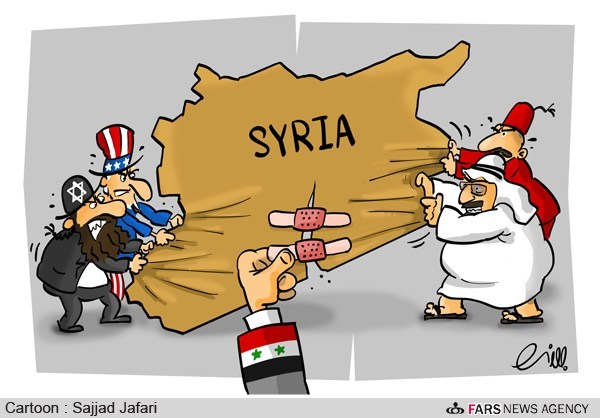 (MINTPRESS) Speaking from Ecuador's embassy in London, Julian Assange revealed that the United States planned to overthrow the Syrian government as far back as 2006, several years before the start of the current crisis.
The founder of WikiLeaks took refuge in the Embassy of Ecuador in 2012. The premises remain under siege 24 hours a day by a large team of police to prevent Assange from ever stepping foot outside, at a cost to taxpayers that now exceeds £12 million.
The ongoing threat to his freedom hasn't kept Assange from continuing his work revealing the dirty secrets of world governments. His latest revelations come in an interview with RT in support of his new book, "The WikiLeaks Files," published late last month.
The United States and its allies in the Middle East, including Turkey andIsrael, have been frequently accused of contributing to the ongoing destabilization of Syria in the wake of the uprising and subsequent civil war which began in 2011. But according to cables from the WikiLeaks archive, discussed in the Syria chapter of Assange's book, plans to deliberately destabilize the region go back at least five years further.
"In that chapter is a cable from US Ambassador William Roebuck, who was stationed in Damascus, which apparently discusses a plan for the overthrow of the Assad government in Syria," RT reported.
In his appearance on the RT program "Going Underground," Assange elaborated on the cable's contents:
"… That plan was to use a number of different factors to create paranoia within the Syrian government; to push it to overreact, to make it fear there's a coup …"
Assange continued, explaining that the U.S. government sought to make the Syrian government appear weak by causing Assad to overreact to the threat of Islamic extremists crossing into his country.
The cable also details plans to foster sectarian strife in the region and make Iran appear like a larger threat to Assad than it really was, Assange continued:
"In particular, to take rumors that are known to be false … or exaggerations and promote them – that Iran is trying to convert poor Sunnis, and to work with Saudi and Egypt to foster that perception in order to make it harder for Iran to have influence, and also harder for the government to have influence in the population."
WikiLeaks cables reveal that these plans came from the Israeli government, and show that the U.S. government intended to work with Saudi Arabia, Turkey, Qatar and Egypt to encourage the breakdown of the Assad regime as a way of also weakening Iran and Hezbollah.
"[I]f Syria sufficiently destabilized, it might be in a position where it can keep the Golan Heights forever, or even advance that territory," Assange said.
According to Assange, the cable illuminates how the current Syrian crisis reflects U.S. influence on the Middle East, particularly the ways it has used its allies to put pressure on the country. "Part of the problem in Syria is that you have a number of US allies surrounding it, principally Saudi and Qatar, that are funneling in weapons," Assange noted, adding that it shows how the U.S. uses its over 100 army bases and network of embassies to further its imperialist interests.
The mainstream media often presents a simplistic view of the Syrian crisis, especially when the U.S. government is using it as support for war, ignoring the history of the region and the many conflicting alliances it holds.
MintPress News founder Mnar Muhawesh published her analysis of the current refugee crisis, which also blames Western allies like Turkey, Israel and Saudi Arabia for seeking to destabilize Syria in their quest to control the region's energy resources.
"Today, the Middle East is being torn to shreds by manipulative plans to gain oil and gas access by pitting people against one another based on religion," Muhawesh wrote. "And in this push for energy, it's the people who suffer most."
Watch "Assange on 'US Empire', Assad govt overthrow plans & new book 'The WikiLeaks Files' (EXCLUSIVE)" from RT's "Going Underground":

---
This article (WikiLeaks: US, Israel, and Saudi Arabia Planned to Overthrow Syrian Govt. in 2006) originally appeared on MintPressNews.com and was used with permission. Anti-Media Radio airs weeknights at 11pm Eastern/8pm Pacific. If you spot a typo, email [email protected].