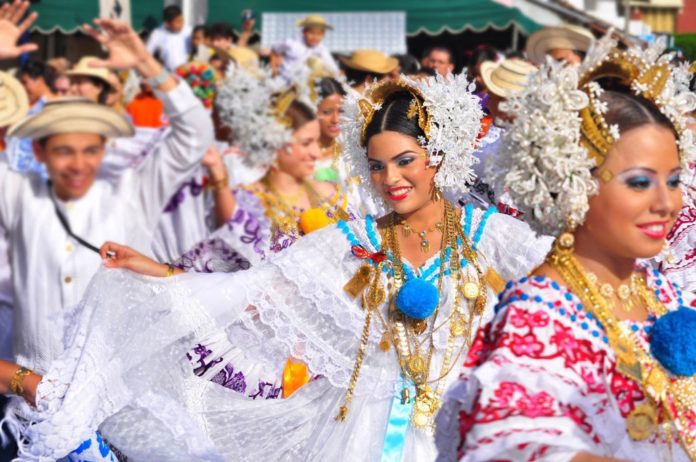 It's official… Paraguay is the happiest country in the world! On the 'International Day of Happiness' (March 20th), Gallup compiled a list of the world's happiest countries. Surprisingly, and for the first time in a decade, the top 10 happiest countries are all in Latin America.
To gauge happiness levels around the world, Gallup surveyed about 1,000 people, above the age of 15, in 143 countries in 2014 and asked them five questions about how they felt the day before. The participants were asked if they felt well rested, treated with respect, if they smiled or laughed, if they had learned or done something interesting and if they experienced enjoyment. Gallup then used the answers to calculate each country's 'positive experience index score.'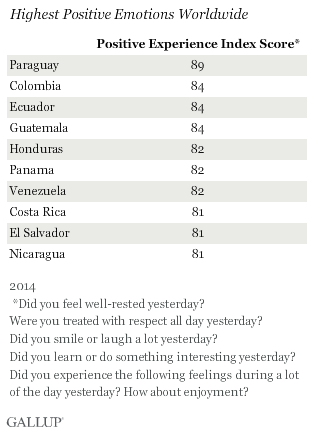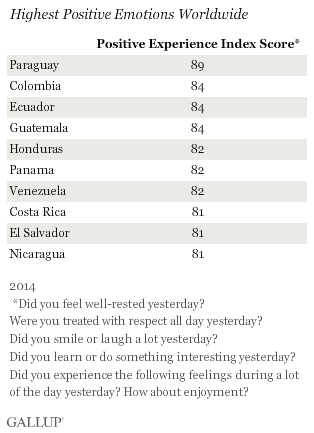 People reported feeling happy even in war-torn countries, "perhaps a testimony of the resiliency of the human spirit," Gallup officials said in a statement.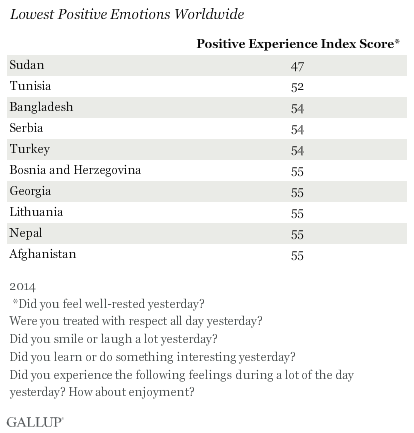 Overall, the world has an average index score of 71 out of 100, but all of the Latin American countries that ranked in the top 10 scored above 81. At least 70% laugh/smile a lot, experience enjoyment, are treated with respect and are well-rested in Latin America.  For the curious, here is the complete list:
| | |
| --- | --- |
|  Countries | Positive experiences index score |
|  Paraguay | 89 |
|  Colombia | 84 |
|  Ecuador | 84 |
|  Guatemala | 84 |
|  Honduras | 82 |
|  Panama | 82 |
|  Venezuela | 82 |
|  Costa Rica | 81 |
|  El Salvador | 81 |
|  Nicaragua | 81 |
|  Philippines | 80 |
|  Singapore | 80 |
|  Switzerland | 80 |
|  Uruguay | 80 |
|  Argentina | 79 |
|  Bhutan | 79 |
|  Canada | 79 |
|  Chile | 79 |
|  Dominican Republic | 79 |
|  Netherlands | 79 |
|  New Zealand | 79 |
|  Norway | 79 |
|  Rwanda | 79 |
|  Sweden | 79 |
|  United States | 79 |
|  Denmark | 78 |
|  Finland | 78 |
|  Indonesia | 78 |
|  Luxembourg | 78 |
|  Puerto Rico | 78 |
|  Taiwan | 78 |
|  Uzbekistan | 78 |
|  Bolivia | 77 |
|  Germany | 77 |
|  Kenya | 77 |
|  Belgium | 76 |
|  France | 76 |
|  Ireland | 76 |
|  Mauritius | 76 |
|  Mexico | 76 |
|  Nigeria | 76 |
|  Sri Lanka | 76 |
|  Australia | 75 |
|  Austria | 75 |
|  China | 75 |
|  Peru | 75 |
|  South Africa | 75 |
|  Thailand | 75 |
|  United Kingdom | 75 |
|  Brazil | 74 |
|  Mauritania | 74 |
|  Namibia | 74 |
|  Senegal | 74 |
|  Spain | 74 |
|  Belize | 73 |
|  Mali | 73 |
|  Portugal | 72 |
|  Saudi Arabia | 72 |
|  Tanzania | 72 |
|  Malaysia | 71 |
|  Vietnam | 71 |
|  Ghana | 70 |
|  India | 70 |
|  Italy | 70 |
|  Jamaica | 70 |
|  Poland | 70 |
|  Cambodia | 69 |
|  Malawi | 69 |
|  Malta | 69 |
|  Sierra Leone | 69 |
|  Guinea | 68 |
|  Myanmar | 68 |
|  Slovenia | 68 |
|  Zimbabwe | 68 |
|  Botswana | 67 |
|  Cyprus | 67 |
|  Greece | 67 |
|  Hong Kong | 67 |
|  Jordan | 67 |
|  Kyrgyzstan | 67 |
|  Madagascar | 67 |
|  Zambia | 67 |
|  Japan | 66 |
|  Niger | 66 |
|  Ivory Coast | 65 |
|  Kazakhstan | 65 |
|  Russia | 65 |
|  Slovakia | 65 |
|  Turkmenistan | 65 |
|  Algeria | 64 |
|  Angola | 64 |
|  Burkina Faso | 64 |
|  Cameroon | 64 |
|  Estonia | 64 |
|  Latvia | 64 |
|  Macedonia | 64 |
|  Northern Cyprus | 64 |
|  Tajikistan | 64 |
|  Uganda | 64 |
|  Albania | 63 |
|  Burundi | 63 |
|  Czech Republic | 62 |
|  Lebanon | 62 |
|  Chad | 61 |
|  Haiti | 61 |
|  Hungary | 61 |
|  Iran | 61 |
|  Israel | 61 |
|  Mongolia | 61 |
|  Benin | 60 |
|  Bulgaria | 60 |
|  Congo (Brazzaville) | 60 |
|  Ethiopia | 60 |
|  Iraq | 60 |
|  Montenegro | 60 |
|  Romania | 60 |
|  Yemen | 60 |
|  Armenia | 59 |
|  Gabon | 59 |
|  Palestinian Territoies | 59 |
|  South Korea | 59 |
|  Belarus | 58 |
|  Egypt | 58 |
|  Kosovo | 58 |
|  Togo | 58 |
|  Congo (Kinshasa) | 57 |
|  Croatia | 57 |
|  Liberia | 57 |
|  Pakistan | 57 |
|  Azerbaijan | 56 |
|  Moldova | 56 |
|  South Sudan | 56 |
|  Ukraine | 56 |
|  Afghanistan | 55 |
|  Bosnia &Herzegovina | 55 |
|  Lithuania | 55 |
|  Nepal | 55 |
|  Bangladesh | 54 |
|  Serbia | 54 |
|  Turkey | 54 |
|  Tunisia | 52 |
|  Sudan | 47 |