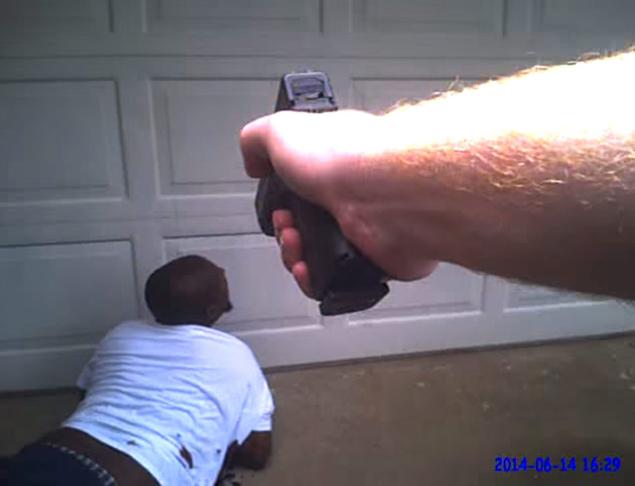 Family members of bipolar-schizophrenic Jason Harrison have filed a lawsuit against Dallas Police Department for killing the 38-year-old man because he was…. holding a small screwdriver. The two officers, John Rogers and Andrew Hutchins, are back on full duty while the case awaits review by a grand jury.
Harrison's mother called 911 on June 14, 2014 requesting assistance from the police to take her son to the hospital. The officers, equipped with the less-lethal tasers, showed up as expected. When they saw a 'violent' Harrison however, it seems that they feared for their lives and immediatly reached for their pistols. They shot the mentally ill man, who posed no real threat to them.
The police claimed that they were forced to shoot Harrison after he lunged at them with a screwdriver. However, a newly released body cam video shows Harrison's mother walking out of the house, explaining to them that her son was being irrational. Harrison walks out of the house holding a small screwdriver, the tiny kind used to unscrew small computer screws,. The officers scream at him, the confrontation gets violent and he is shot dead.
"This is a perfect video for the Dallas Police Department to use in training as an example of what not to do. You don't yell at them — that only agitates them," said older brother Sean Harrison. However, officers' attorney, Chris Livingston, said, "Killing someone with a screwdriver would be pretty easy. It'll only take one blow. You can't de-escalate someone coming at you with a weapon".
"Dallas Police Department has completed its internal investigation into whether the officers broke any laws. The department did not make a ruling on that issue and instead forwarded the file to the Dallas County district attorney's office. Internal investigators are still reviewing the case to see if the officers violated any policies," said police spokesman Lt. Jose Garcia.
UK police killed zero people in 2013 and one person in 2014. From 2013-2014, German police killed no one.  Iceland police have only killed one person so far.  In 2014, 14 people were killed by law enforcement officers in Canada; that is 78 times fewer people than the US.
In 2014, Chinese police officers killed 12 people. US police, however, have killed 92 times more people than a country with nearly 1.4 billion people. A country that the US often accuses of suppressing its own people. Should US police continue to be rewarded for their terrible track record?
Get Your Anonymous T-Shirt / Sweatshirt / Hoodie / Tanktop, Smartphone or Tablet Cover or Mug In Our 
Spreadshirt Shop
! 
Click Here