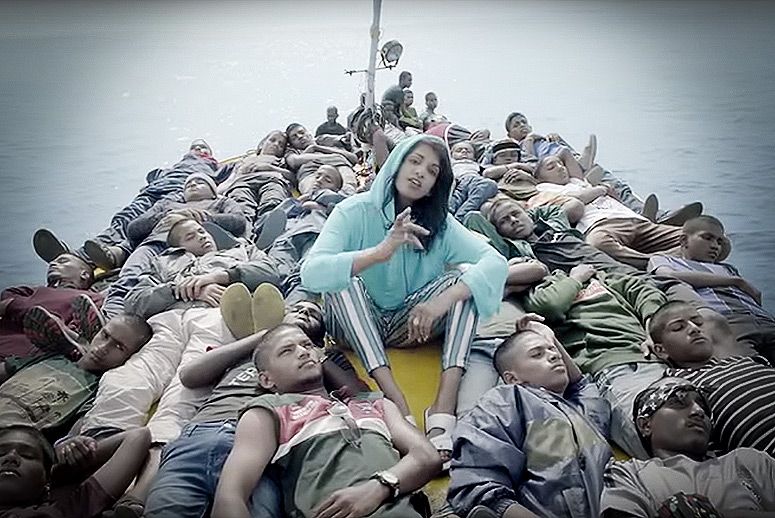 While the year gone by became the year ISIS waged war on the world and was marked with unprecedented refugee crisis, shocking episodes of police excesses, violence against innocent unarmed black men and women, it was also a year that gave hope with the United States legalizing same-sex marriage and countries committing to curb global warming. The year also saw countless artists creating music with a message. Musicians have a long history of incorporating protest and social issues into their songs – 2015 was no different.
Here're 12 such powerful music videos that touched upon social, political, and cultural issues as diverse as racism, feminism, police brutality, refugee crisis, and LGBT rights.
Pussy Riot – I Can't Breathe
Remember Eric Garner? Remember the words he repeated eleven times before a NYPD cop choked him to death? Russian all-girl punk band Pussy Riot's first song in English – "I Can't Breathe" – was dedicated to Eric and to "all those from Russia to America and around the globe who suffer from state terror – killed, choked, perished because of war and state sponsored violence of all kinds – for political prisoners and those on the streets fighting for change". The video is dark, claustrophobic and haunting – an "industrial ballad", in the words of Pussy Riot, and was inspired by Eric's death and dedicated to all of those "who can't breathe".
Rihanna – American Oxygen
Rihanna surprised her fans with the release of what she called as "one of the most important music videos I have made to date" on April 16. "American Oxygen" highlighted contradictions in equality and progress by taking snippets from the country's history, including the footage of the civil rights movement, 9/11, Obama's swearing-in, protests in Ferguson and Missouri, amongst others. As of date, the video on YouTube has been viewed more than 58,750,000 times.
Prince – Baltimore
Remember Michael Brown and Freddie Gray? "To address the unrest in Baltimore and the socio-political issues around the country in the wake of a slew of killings of young black men", Prince released his protest song "Baltimore" on SoundCloud in May ahead of the Rally 4 Peace concert at the city's Royal Farms Arena. Through the song, the singer sent thoughtful messages like "Peace is more than the absence of a war", and "If there ain't justice, then there ain't no peace".
Run The Jewels – Close Your Eyes (And Count To F**K)
Rap duo Killer Mike and El-P's stark black-and-white video "Close Your Eyes (And Count To F**K)", showing a white cop and a young unarmed black man fighting, addressed police brutality and racism in an immensely raw, nuanced, and powerful way. The video's director, A G Rojas, told Pitchfork: "Our goal was to highlight the futility of the violence, not celebrate it."
Usher – Chains
In October, Usher, one of the most successful R&B performers, released "Chains" to address the detrimental effects of police brutality in the most honest, descriptive way – by forcing viewers to stare into the eyes of unarmed victims. The video was an ode to the fallen soldiers of racial injustice – from Michael Brown, Trayvon Martin, Eric Gardner, to Tamir Rice and Amadou Diallo. Using facial recognition technology, the full interactive video dubbed "Don't Look Away" plays at http://Chains.Tidal.com only when it senses the viewer is staring directly at the screen.
Vince Staples – Señorita
The first single from Vince's debut studio album Summertime 06, Señorita attacked the white people for taking liberties with their position in society and killing people of color. The video addressed issues tearing America apart right now – racism, religious extremism, and intolerance towards sexual orientation – in the most subtle yet harsh way.
Kendrick Lamar – Alright
"Alright" is the most fun song on this list but also the one that packs a punch – brutally. "Alright" provided assurance for black people and supporters of Black Lives Matter that, in solidarity, "we gon' be alright". The song made a strong impact in the 2015 summer of protest, as Black Lives Matter activists all over America chanted "we gon' be alright" to provide a sense of hope for a peaceful future.
M.I.A – Borders
Did you know 12 million Syrians are fleeing their country due to war? In November, MIA, whose father was a refugee, released "Borders", a politically-charged single that questioned society's agendas, freedom rights and privileges, functioning as a rebellion against the new world. The video visualized the dangerous challenges refugees face when fleeing war-torn countries — from climbing barbed-wire fences to treacherous boat rides — to find a place they could call home.
Lady Gaga – Til It Happens To You
Lady Gaga's powerful message to sexual assault survivors "Til It Happens to You" is nominated at the 58th Annual Grammy Awards for Best Song Written for Visual Media – for a reason. Through the fictional story of four college students who experience different forms of sexual assault, the powerful video not only depicts various instances of violence against women, it also shows what can happen if no action is taken, detailing not just the trauma of the attacks but also the aftermath.
Melanie Fiona – I Tried
Grammy winner Melanie Fiona got real in the video for her new single "I Tried" when she performed in a glass cage in the middle of a dark room to raise awareness about serious social justice issues like domestic violence, mass shootings, police brutality, rape, racial inequality, and human trafficking. "I hope this visual sparks emotion, thought, dialogue, reflection, and ultimately, positive change," she said of the video.
Jennifer Hudson – I Still Love You
Jennifer Hudson, the Oscar- and Grammy-winning performer, made a bold statement in support of same-sex marriage in "I Still Love You". The music video began with a gay man asking his father to attend his wedding, reminding his dad that even though it's been a while, he still loves him.
Macy Gray – All I Want For Christmas
In "All I Want for Christmas", the Grammy-winning "I Try" singer took a shot at Republican presidential candidate Donald Trump, while calling for the legalization of marijuana, free health care, gun control, and increased attention to climate change. Gray opened her Christmas shopping list with the disclaimer, "All I want for Christmas is a whole bunch of stuff / But anything that you can buy me won't be enough / Because everything I'm hoping for is intangible…" before issuing a wish-list for prison reform, compassion for immigrants, and global warming to be taken seriously.
---
This Article (12 Gripping Music Videos That Challenged The Status Quo In 2015) is free and open source. You have permission to republish this article under a Creative Commons license with attribution to the author and AnonHQ.com.