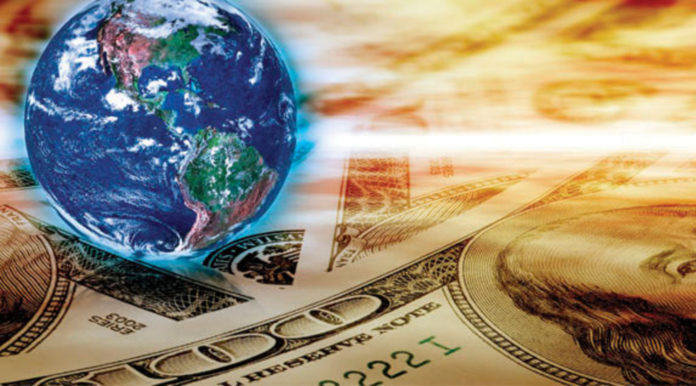 NASDAQ has finally done it. It has climbed back to the peak level of the dotcom bubble. In March 2000, the NASDAQ had touched an all time high of 5,048.62. Recently, this record was broken again and Wall Street was delighted. In other words, if you had invested at the peak of the dotcom bubble, you have reached breakeven right now…. after 15 long years! Unfortunately, the truth is that stocks have not been soaring because the U.S. economy is fundamentally strong.  Just like the last two times, what we are witnessing is an irrational financial bubble.  Sometimes, these irrational bubbles can last for a surprisingly long time, but in the end they always burst.  And even now, there are signs of economic trouble bubbling to the surface all around us. [1]
Here are 11 signs that the next phase of a global meltdown is just around the corner.
It is being predicted that half of all oil fracking companies in the US will be "dead or sold" by the end of 2015.
The number of oil rigs in operation continues to fall as the oil industry lays in havoc. Its hard to believe that the number of rigs in operation in the United States has fallen for 19 weeks in a row.
Fast food giant, McDonald's has announced that it is set to close 700 "poor performing" restaurants this year. If the economy was getting better, this wouldn't have been the case.
Greece's economy is on the verge of bankruptcy. The Greek government has been "running on empty" for months. Deputy Finance Minister Dimitras Mardas, set alarm bells ringing when he declared the country had been 'running on empty' since February.
The price of coal has been crashing again, and it is already lower than it was at any point during the last recession. This is a big deal because coal accounts for approximately 40 percent of global electricity generation. Falling coal prices indicate the slowdown in economic activity.
Iron ore prices have also taken a beating.  It is down 35 percent in the last nine months, and David Stockman believes that this is because of a major deflationary crisis that is brewing in China.
Chinese imports and exports are both absolutely collapsing, and since China accounts  for more total global trade than anyone else in the world, this is not a good progression for the world economy.  China's monthly trade data shows exports fell, since March last year, by 14.6% in yuan terms, compared to expectations for a rise of more than 8%. Imports meanwhile fell 12.3% in yuan terms, compared to forecasts for a fall of more than 11%.
More and more American companies are filing for bankruptcy. The number of publicly traded companies in the United States that filed for bankruptcy during the first quarter of 2015 was more than double the number that filed for bankruptcy during the first quarter of 2014.
In the United States, new housing sales declined at their fastest pace in almost two years.
U.S. manufacturing data has been shockingly weak lately. US Manufacturing PMI plunged to 54.2 in April (from 55.7). Against expectations of a rise to 55.6, this is the biggest miss on record.
U.S. stocks are currently more costly than they have ever been in history, when priced according to "the average blue-collar hourly wage".
There are many who believe that we are currently going through the "calm before the storm". Here's what  Snapchat founder and CEO Evan Spiegel had to say: Fed has created abnormal market conditions by printing money and keeping interest rates low. Investors are looking for growth anywhere they can find it and tech companies are good targets – at these values, however, all tech stocks are expensive – even looking at 5+ years of revenue growth down the road. This means that most value-driven investors have left the market and the remaining 5-10%+ increase in market value will be driven by momentum investors. At some point there won't be any momentum investors left buying at higher prices, and the market begins to tumble. May be 10-20% correction or something more significant, especially in tech stocks.
It may  be days, weeks or even months away… but the financial crisis is surely underway.. And it will hit us soon.
Sources:
[1] http://theantimedia.org/11-signs-next-phase-global-economic-crisis/
---
You want to discuss a certain topic with likeminded people or you want to organize a local protest or you have an idea for a project that can help people in need in your local community or all around the world? Join our forum! www.anonboards.com
---
You want to support Anonymous Independent & Investigative News? Please, follow us on Twitter: Follow @AnonymousNewsHQ
---