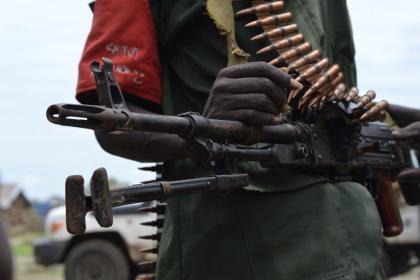 At least 208 people from western Ethiopia were killed by South Sudanese raiders. 108 children were also kidnapped during the raid. Ethiopian government spokesman Getachew Reda told Reuters that the "Ethiopian Defence Forces are taking measures. They are closing in on the attackers." He also told Al Jazeera that the Ethiopian forces had already killed 60 of the raiders and would enter South Sudan if necessary.
The attack occurred on Friday in Ethiopia's Gambela region, an area that has taken in over 284000 South Sudanese refugees.
"On Friday and Saturday we received 80 people, and nearly all of them had bullet wounds," said Dr. Changkuoth Thuok, Gambela Hospital's medical director. "The hospital was overrun with patients, which is why you see some of them lying in the corridors."
2000 livestock were also taken during the raid. Though cattle raids have occurred in the past, conducted by Murle tribesmen from South Sudan's Jonglei and Upper Nile regions, they had been smaller scale occurrences. Nonetheless, the raiders are not believed to be affiliated with South Sudanese government or South Sudanese rebel forces.
Survivors of the attack give similar eye-witness accounts of raiders wearing green uniforms bearing no insignia, large enough in number to completely surround the villages. The survivors identified the attackers as members of the Murle ethnic group, but a number of the witnesses were also surprised to note that a few of the raiders came from the Dinka ethnic group – the same ethnicity as South Sudanese president Salva Kiir, who is at war with rebel forces led by former vice president Riek Machar. Those killed were mostly from Riek Machar's ethnic group.
"If they had come just to take our livestock, why all the killing?" asked Bol Chuol, 26. His child was one of those who was kidnapped during the raid. "They kept following people and killing them even after they had all the cattle."
"These kinds of raids have happened before, but never in so many villages like this," said Gatbel Guek, 26. His left arm was fractured when it was struck by a bullet. "This was a very deadly attack."
Just two months prior, Ethiopian authorities killed hundreds and arrested thousands in a "brutal crackdown" of Oromo ethnic group anti-government protesters according to Human Rights Watch.
"They walked into the compound and shot three students at point blank range," a student said in the report, describing how Ethiopian security forces put down the protesters. "They were hit in the face and were dead."
Ethnic violence is common in this restive African region, often conducted at the behest of the authorities.
Sources: Al Jazeera, NY Times, HR Watch
---
This article (Over 200 Killed, 100 Children Kidnapped by South Sudanese Raiders) is a free and open source. You have permission to republish this article under a Creative Commons license with attribution to the author(CoNN) and AnonHQ.com.