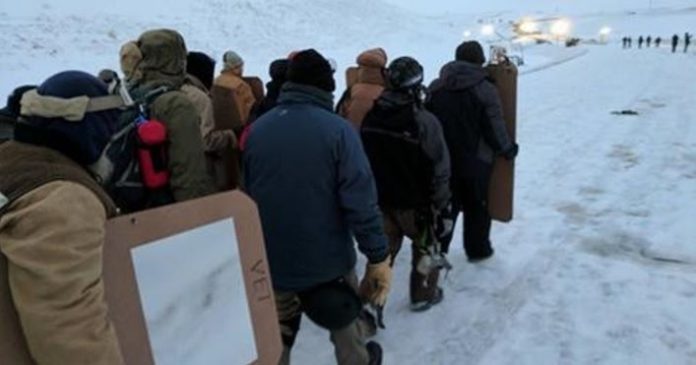 Nearly 2000 US army vets have started to arrive at the Dakota Access Pipeline protest camp in North Dakota. Their intention is clear – to form a "human shield" around the protesters, protecting them from the violent militarized police force that is defending the desecrating construction company.
Thousands of protesters have been fighting to halt the impending construction of a $3.8 billion oil pipeline which would desecrate lands sacred to the Standing Rock Sioux and threaten the health of local water supplies. 
There have been open violations of human rights by the police force with their intimidation tactics, setting attack dogs on protesters, sexually humiliating and arresting hundreds on trumped up charges.
This failed to cause a stir in the protesters spirits and they stayed strong. The police then  escalated the violence last week when they deployed tear gas, concussion grenades, and rubber bullets into the crowds of resisters.
One protester had her arm partially amputated after a shell brutally tore her muscles apart and another may lose her sight from the tear gas. This was followed by attacks with water cannons in sub-zero temperatures, causing hundreds to be treated for hypothermia.
The police have now announced they will be blocking food and medical supplies from reaching the protest camp and have ordered them to disperse by December 4th. Tribal leaders have rejected the evacuation order and will not back down.
A two legion strong group of veterans, some having walked thousands of miles to reach the site, will "self-deploy" themselves in a "human shield" to protect the innocent protesters.
Veterans are already arriving at camp. #NoDAPL pic.twitter.com/oMdxsKxaVT

— Ruth Hopkins (@RuthHHopkins) December 1, 2016

Service veterans spokesperson Ashleigh Jennifer Parker said in a statement:
We want to offer them a moment of peace and, if we can, take a little bit of pressure off. People are being brutalized; concussion grenades are being thrown into crowds. They're spraying people, even old women, and other elders of the tribe with tear gas and pepper spray and all of this is just unconstitutional. I can't believe the media hasn't taken more of an interest in this.
While the media obsesses over Donald Trump's tweets, unconstitutional brutality has been playing out in North Dakota. We applaud our brave veterans for their determination and wish them the best of luck in the face of the unfeeling boots of an oppressive Republican regime.
This one protestor walked 200 miles:
Veteran Chris Turley walked over 200miles to Standing Rock to show solidarity f/t water protectors. Let's show him some love. Share! #NoDAPL pic.twitter.com/q25iSfF4VQ

— IndigenousEnviroNet (@IENearth) December 1, 2016

Image credits: Ruth Hopkins via USUncut
If you'd like to donate to the veterans at Standing Rock, you may do so here.