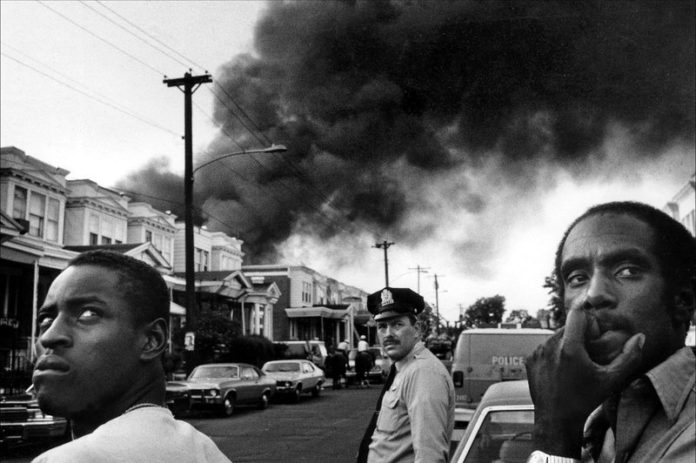 On May 13, 1985, police dropped a bomb on a Philadelphia suburb, committing what would turn out to be the only aerial attack on civilians by police in United States history. What has come to be known as the MOVE bombing was in fact a terrorist attack committed against American citizens by law enforcement – who have gone unpunished to this day. An attempted raid on an African American liberation movement headquarters became a massacre that most never even knew occurred.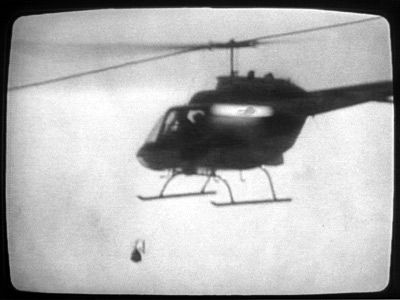 In this day and age of instant news and live video feeds, police have been caught more often than they would like engaging in misconduct and brutality. Incidents like the MOVE bombing serve to remind us that police have committed crimes against humanity long before the days of Twitter and Facebook. Some would describe the black liberation movement as radicals. They were a group who lived communally and tried to resist outside the scope of man's law for what they described as natural law.
To their neighbors, they were a nuisance. They allegedly built a bunker on the roof of their building, from which they would broadcast with a megaphone anti-establishment messages 24 hours a day. There was tension between them and the police, as a raid on one of the MOVE houses in 1978 resulted in a police officer being shot and killed. Nine members of the organization went to prison for the officer's death. After that, police were seemingly awaiting another opportunity to move in on the group.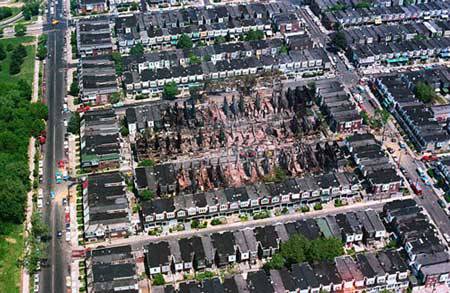 On May 13, 1985, hundreds of Philadelphia police swarmed the house, along with fire trucks and ambulances. Their intent was to raid the house and arrest everyone inside who had existing warrants. Once police tossed tear gas into the home, the battle began. Bullets flew from both sides. After hours of frustration, the Philadelphia police made a decision that would scar the reputation and image of police in the US for a decade. A police helicopter was dispatched with two bombs that were dropped onto the house. Being a row house, all the buildings on that block were tightly packed together. The bombs would tear through the entire neighborhood, destroying 60 homes leaving nearly 300 people homeless.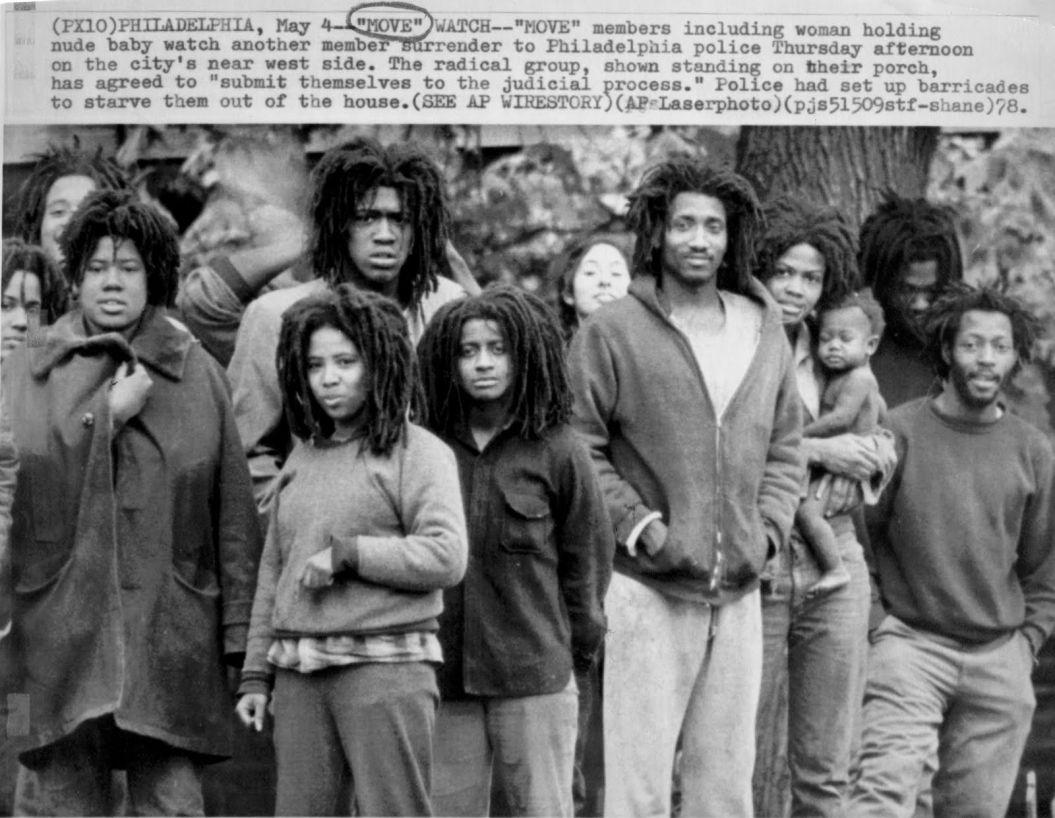 Eyewitnesses to the bombing recall that as the home's occupants ran from the inferno behind them, they were met by a hail of bullets. Police assassinated every person they saw fleeing for their lives. Witnesses also claim that the fire department refused to put out the flames. Their excuse was the fire coupled with aggressive combatants made it impossible for them to do their job. Those who were there tell a different story of intentional sabotage. Eleven people died that day, all of whom were members of MOVE and lived at that house. Five of the deaths were children.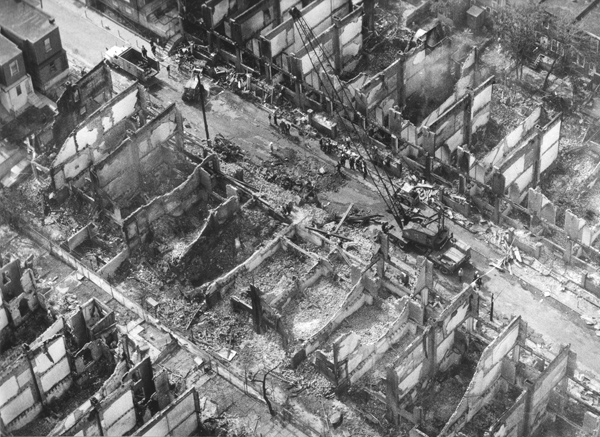 The decision to bomb the MOVE headquarters was made between the Philadelphia police and the city's first black mayor, W. Wilson Goode. Despite the incredible carnage and gross civil rights implications, the bombing itself had little impact in Philadelphia or anywhere else. Politicians like the mayor went on as though nothing had happened – he even won re-election in 1987. The bombing came at a time when the war on drugs was ramping up and thus, the goal of demonizing the black community had taken hold. While police claimed this a simple raid to enforce warrants, the underlying truth is that this act was overt racism at a time when police and politicians found ways to justify their misplaced hatred; and the public just went right along with it.
The bombing was, and remains to this day the only aerial bombing by police to occur on American soil. Still, no one has had to answer for this atrocity. The mid-eighties were a time when politicians dumped money hand over fist into police organizations to fight the war on drugs, which in reality, was a war against the black community. For the bombing, which was without a doubt an act of terror against Americans, to go unpunished and largely unacknowledged only goes to show the depths of corruption that our American system of policing has endured.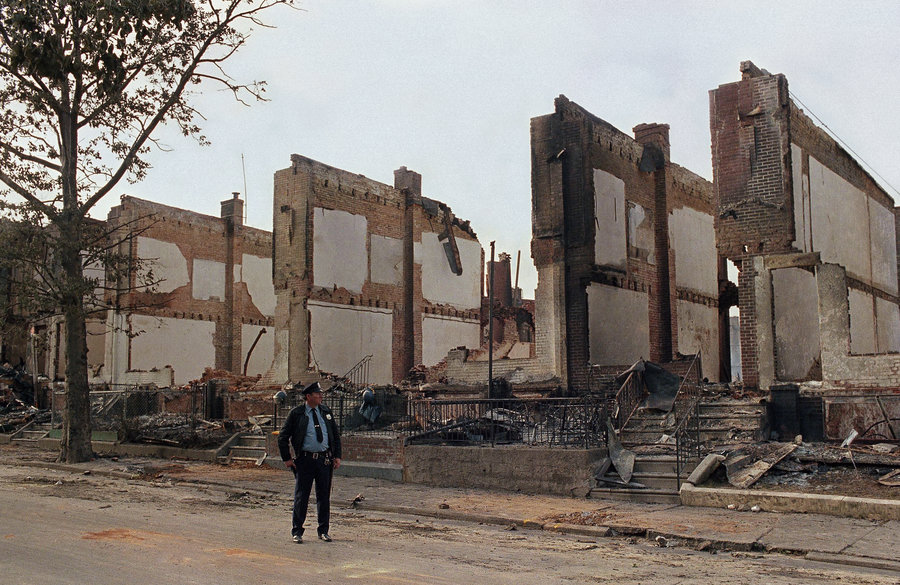 The Osage Street neighborhood that suffered this tragedy has never recovered. In their attempt to quell one household, they destroyed over 60 homes. The disproportionate carnage and use of aerial weapons against handguns taught the police world nothing. The problems highlighted by the bombing have not changed or shifted in the last 32 years in any way. Police still use indefensible methods against a largely unarmed and unwitting public for the sole purpose of maintaining dominance over society.
The homes that were rebuilt on that block were done so with limited funding and no construction oversight. This resulted in crumbling foundations and a buyback of property by the city for minimal values. The city essentially bombed the neighborhood a second time, leaving many who resided in the area and depended on their homes, with next to nothing. The crumbling empty houses that line Osage street do nothing for the community except serve as a reminder of the night that the police brought with them misery and death cloaked as liberty and justice.
---
This article (32 Years Later, No One Held Accountable for Police Bombing of Philadelphia Neighborhood) is a free and open source. You have permission to republish this article under a Creative Commons license with attribution to the author and AnonHQ.com.
---
Supporting Anonymous' Independent & Investigative News is important to us. Please, follow us on Twitter: Follow @AnonymousNewsHQ