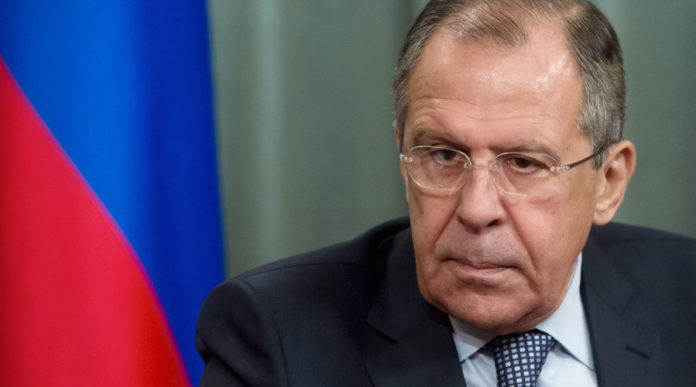 It would seem that the downing of a Russian jet, leading to the execution of its pillot and subsequent downing of a rescue helicopter, was a planned provocation, according to Russian Foreign Affairs Minister Sergei Lavrov.
"We have serious doubts that this act was unintentional. It looks very much like a preplanned provocation," Lavrov said, adding that the incident was "an obvious ambush."
He states that the region where the jet was downed was full of foreign fighters affiliated with terrorists, not just the Turkmen people. The fighters had "infrastructure" such as weapons depots and command centers in the region.
"I asked [Turkish FM Çavuşoğlu] whether Turkey's close attention to this region, including the calls to create a buffer zone there, was motivated by a desire to protect this infrastructure from destruction. I didn't receive any reply to this question," Lavrov said.
The jet downing occurred just as Russia destroyed terrorist oil convoys and facilities. This attack "sheds new light" on the matter.
"Very strange statements were voiced after a NATO meeting called by the Turks, which didn't express any regret or condolences and in effect were aimed at covering up what the Turkish Air Force did yesterday," Lavrov said. "A similar reaction came from the European Union."
Can you imagine what the mainstream media would have been trumpeting if Russia had been the one to bring down a Turkish jet? Or if Russian-provided missiles brought down an American rescue helicopter? Instead, as usual, it is Russia's fault for the murder of two of its own men.
"We cannot fail to react to what happened. Not because we must retaliate. It's just that there are too many issues in Turkey that pose a direct terrorist threat to our citizens. And not only ours," he said.
He also noted that the US demands that members of the anti-ISIS coalition, who use American jets, have to work together with the US military when launching attacks.
"I wonder if this demand of the Americans covers… Turkey. If it does, I wonder whether Turkey asked permission from the US to fly its US-made planes and take down – let's say 'an unidentified' – plane over Syrian territory," Lavrov said.
Indeed, with a US jet and a US TOW involved in the downing of two Russian aircraft, Lavrov's musings aren't unfounded.
Finally, he states that destroying ISIS would be easy: simply close that "porous" Turkish border and ISIS would slowly be strangled of its stolen-oil-money and its recruits:
"President Hollande suggested measures to close the Turkish-Syrian border to stop the flow of militants and finances to terrorists. It's remarkable that President Obama didn't react to it. I believe it's a good suggestion and that during the visit tomorrow President Hollande will tell us details. We are prepared to consider these measures in earnest. Many people say that sealing the border would effectively eliminate the terrorist threat in Syria," Lavrov said.
Although the US had not acted prior to Lavrov's accusation, it seems that it has been forced to take his(and a number of other sane individuals') advice just three days later by calling for Turkey to close its borders. It is probable that Turkey will ignore this call, and Obama will shrug his shoulders and do nothing about it.
Sources: RT
---
This Article (Russian FM Sergei Lavrov: Su-24 Downing "Pre-planned Provocation") is free and open source. You have permission to republish this article under a Creative Commons license with attribution to the author(CoNN) and AnonHQ.com.