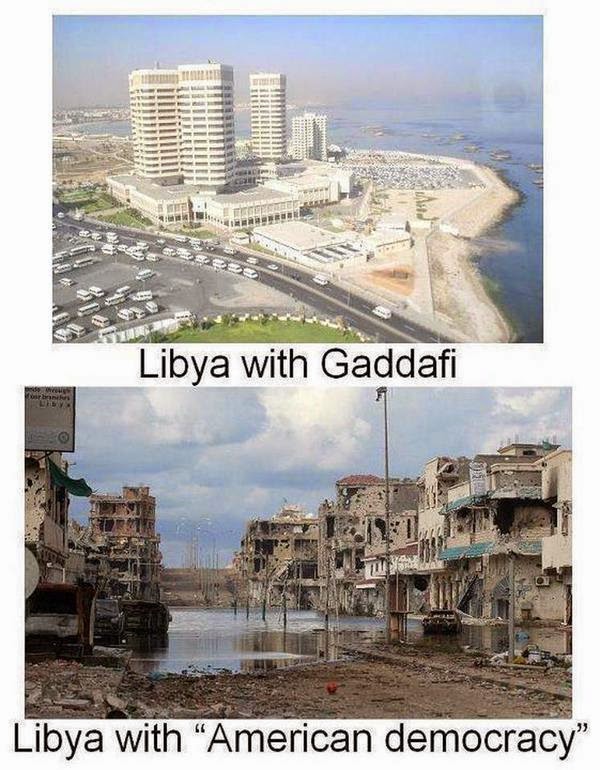 Libya has been a war-zone of late; ever since the overthrow of Qaddafi via NATO bombardment and NATO-armed militias, it has basically collapsed from one of Africa's wealthiest nations into a failed state with  two competing governments.
The south is plagued with ISIS. The northern coast, human traffickers. In the east sits the Western-backed government. In the west, Islamist-allied militias have taken over Tripoli, the capital city of Libya. Both governments have their own parliament. Both governments were formed from coalitions of former rebels and militias.
Talk of a unity government failed to reach a consensus in October, with the Western-backed government rejecting the deal. However, there is finally hope of lasting peace, tenuous though it may be, with the two factions finally signing an agreement Thursday.
"The doors remain wide open to those who are not here today," U.N. envoy Martin Kobler said at the ceremony. "The signing of the political agreement is only the first step."
Western politicians believe that promised aid, war weariness, prospects of better oil extraction, and the threat of ISIS will keep the two governments together.
A newly-formed presidential council, which will name the new government in a month, will consist of nine members. The eastern government's House of Representatives will serve as the main legislature as well as an advisory State Council.
"There are some people who want to hold on to little kingdoms, but very, very small kingdoms, little tiny patches where they hold authority, but Libya's going to move on," U.S. envoy to Libya Jonathan Winer told Reuters. "Ultimately, Libyans have to be responsible for Libya."
The US State Department, of course, has offered "full political backing and technical, economic, security and counterterrorism assistance".
It is unknown just how representative this government will prove to be, and whether the "kings" of the "very, very small kingdoms" will be willing to give up their holdings without a fight.
"We have reached an agreement, but the biggest challenge now is to implement it," said Salah Huma, a member of parliament and negotiator for the eastern-based government.
Western officials have prioritized "securing" Tripoli for the new administration- then, a new national army will be trained and equipped with the probable aid of "foreign advisers".
"Building the Libyan army and the police would not come overnight, you wouldn't wake up and all the militias are gone," Kobler told Reuters. "This is a long process, and the army has an important role and has to be unified."
Sources: Reuters, Business Insider, Reuters, al-Arby, Al Jazeera, Washington Post
---
This Article (Peace At Last For Libya? Factions Sign UN Deal, Form Unity Government) is free and open source. You have permission to republish this article under a Creative Commons license with attribution to the author(CoNN) and AnonHQ.com.