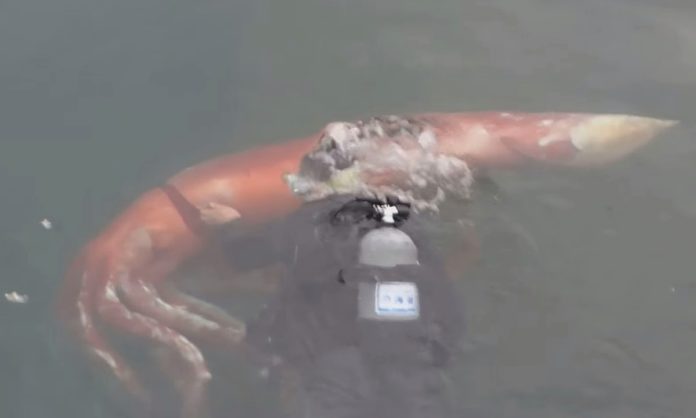 A monstrous creature has risen from the depths in a Japanese harbor. No, it wasn't Godzilla (this time). On Christmas Eve, a giant squid was observed by onlookers on a pier in Toyama Bay in Central Japan. Thanks to the efforts of one brave diver, Akinobu Kimura, breathtaking video footage of the squid was captured. 
"My curiosity was way bigger than fear, so I jumped into the water and go close to it," he told CNN. Check out his amazing video below:
"This squid was not damaged and looked lively, spurting ink and trying to entangle his tentacles around me. I guided the squid toward to the ocean, several hundred meters from the area it was found in, and it disappeared into the deep sea."
Live giant squid sightings are exceedingly rare- so much so that they were considered a myth for hundreds of years. Dead giant squid have been found washed ashore or in the bellies of sperm whales in recent years, but it was not until 2004 when a live giant squid was observed for the very first time. The Discovery Channel later filmed the first live adult giant squid in 2012.
Both times, the squid were found in their natural habitat- in the ocean depths.  This is the first time a live adult giant squid was observed so near the surface of its own volition, and the first time one was touched by a human being.
In a TED conference, Oceanographer and squid expert Edie Widder said "How could something that big live in our ocean and remain unfilmed until now?
"We've only explored about five percent of our ocean. There are great discoveries to be made down there, fantastic creatures representing millions of years of evolution."
Remembering the origin story of that other gigantic Japanese monster, it is unknown if Fukashima (where extremely radioactive water continues to be pumped into the sea with impunity) or climate change might have had anything to do with the appearance of such a rare beast in the relatively shallow waters of Toyama Bay.
Sources: CNN, National Geographic, The Asahi Shimbun
---
This Article (Unprecedented: Giant Squid Surfaces In Japanese Harbor) is free and open source. You have permission to republish this article under a Creative Commons license with attribution to the author(CoNN) and AnonHQ.com.