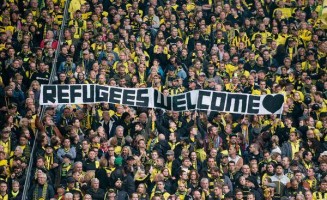 From January to August of this year, over 400,000 people applied for asylum in Germany—100,000 of these applications were made in the month of August alone. According to the German Federal Department for Migration and Refugees, approximately 103,708 Syrians applied for asylum in 2015. The agency has accepted more than 57,000, and says applicants have a 93.2% approval rate. The agency expects tens of thousands more to be accepted in the coming months. In fact, despite being only a fraction of its size, in 2015, Germany accepted more refugees than the United States.
Though it is illegal for immigrants to hold jobs in Germany, the country has seen the economic success of countries such as Hungary, and is actively working with legislature to change the laws. It's argued that by giving migrants jobs and putting them to work, they can boost production and the overall economy: http://www.nytimes.com/2015/09/18/business/international/migrants-refugees-jobs-germany.html?_r=0
It's estimated that in 2016, there will be 330,000 new migrants entering Germany's labor force—a figure which is expected to nearly double in the year 2017: http://www.bbc.co.uk/news/business-35125213
In part for her work with the refugee community, the chancellor of Germany, Angela Merkel, won the Times Person of the Year Award in 2015: http://time.com/time-person-of-the-year-2015-angela-merkel/
……………………Meanwhile, in the United States……………………
Donald Trump Promises To Ban Muslims From The United States: http://www.thedailybeast.com/articles/2015/12/07/trump-ban-all-muslim-immigration-to-u-s.html
15 States Have Banned Refugees: http://anonhq.com/indiana-governor-facing-lawsuit-for-discriminating-against-refugees/
G.O.P. Talking Points Include Proposals To Close U.S. Boarders Entirely: http://www.bloombergview.com/articles/2015-11-19/republican-campaign-against-refugees-is-just-beginning
The Department of Homeland Security Will Begin Mass Deportation in January 2016: http://www.wsj.com/articles/u-s-plans-mass-deportation-of-illegal-central-american-migrants-1450949524
So while the United States is busy spewing out Xenophobic hate speeches and deporting millions of people, countries like Germany are embracing refugees and putting people to work for the betterment of the entire country. According to government agencies, it is estimated that nearly 200,000 new refugee children will be entering into Germany's school systems. To date, the country has hired 8,500 new teachers and has set up 8,264 special classes to help the refugee children catch up to the academic standards of their peers. Germany has announced new plans to hire 20,000 more teachers for refugee students in 2016.
And as if that wasn't enough: Germany also offers monthly stipends of hundreds of dollars per month to refugee families to help them with essential needs while they re-settle. Compared to the United States, which offers refugees a one time $1,000 stipend upon moving to the country. During such chaotic times and mass immigration, it is nice to write a story about a country that is doing something positive in response to the current international crisis. The USA could benefit from taking notice.
---
You want to support Anonymous Independent & Investigative News? Please, follow us on Twitter: Follow @AnonymousNewsHQ
---
This article (Germany Continues To Set World Standard For Helping Refugees) is free and open source. You have permission to republish this article using a Creative Commons license with attribution to the author and AnonHQ.com. Join the conversations at www.anonboards.com