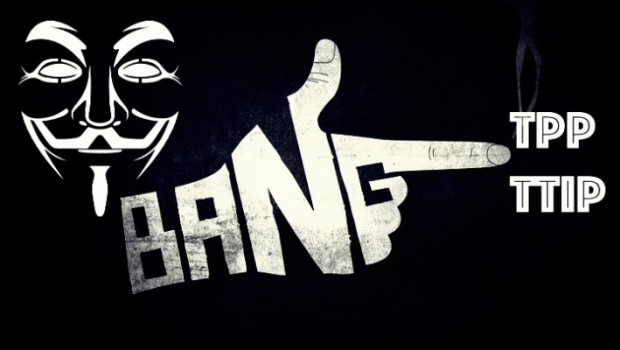 The TPP, TTIP, TISA, however you look at these, the argument forged by John Hilary and others on the short documentary, WikiLeaks – The US strategy to create a new global legal and economic system: TPP, TTIP, TISA, is challenging the population to recognize the agreements for what they are.
"Quite explicitly, the US and the EU are saying that they want these new trade agreements to form the blueprint, the template, for all future trade deals. And that means they're rewriting the rules for the global economy, and that means for everybody," Hilary says.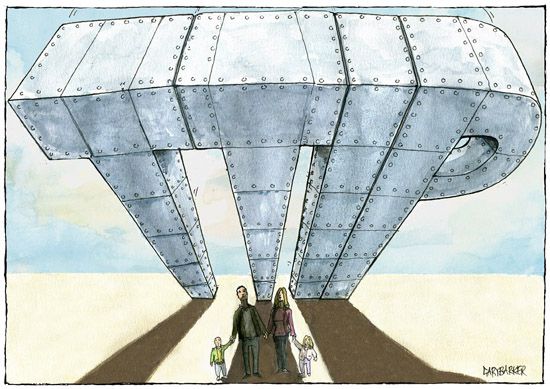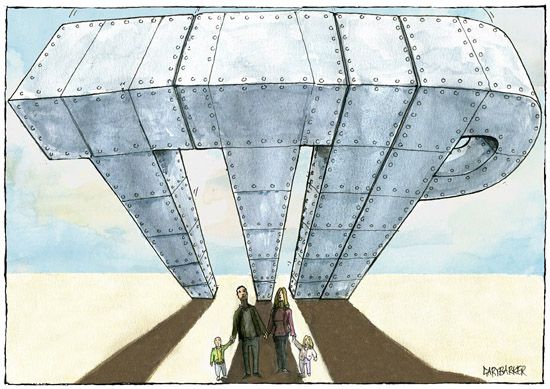 The World Trade Organization was eventually bypassed to establish the "three big T's," TTP, TTIP and TISA, to establish a global dominance. These agreements reflect the fear that the U.S. is feeling with the rise of China and other developing countries with emerging economies: Brazil, India, Russia, South Africa.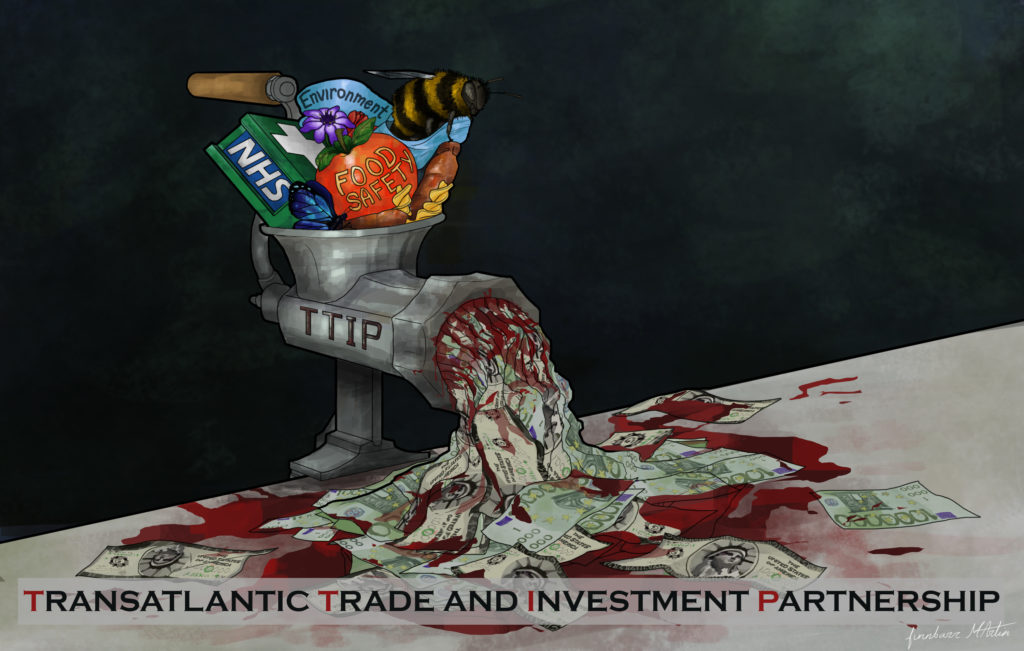 According to Assange, the United States has constructed a "grand enclosure," whereby TTP, TTIP and TISA are establishing an integration process. Assange uses the examples of pulling Latin America away from Brazil to integrate with the U.S. in this enclosure; to integrate South East Asia and pull it away from China; and Western Europe away from the Atlantic. The figures are astounding: "51 other countries," Assange says of adding to the enclosure through this method, "1.6 billion people and two thirds of GDP."

Although WikiLeaks have obtained and disseminated leaked and secretive information involving TTP and TISA, much of TTIP is still unknown.
Investigative journalist John Pilger discussed the VIP access to TTIP negotiations, voicing his concerns over the exclusion of governments and people from TTIP agreements, yet, multi-national corporations have the front row seat in the meetings. Essentially, these treaties that give these corporations a free pass to run wild, have huge implications over the public. If new regulations impact on the corporation, they can sue. If a protest alters their profits, they can sue.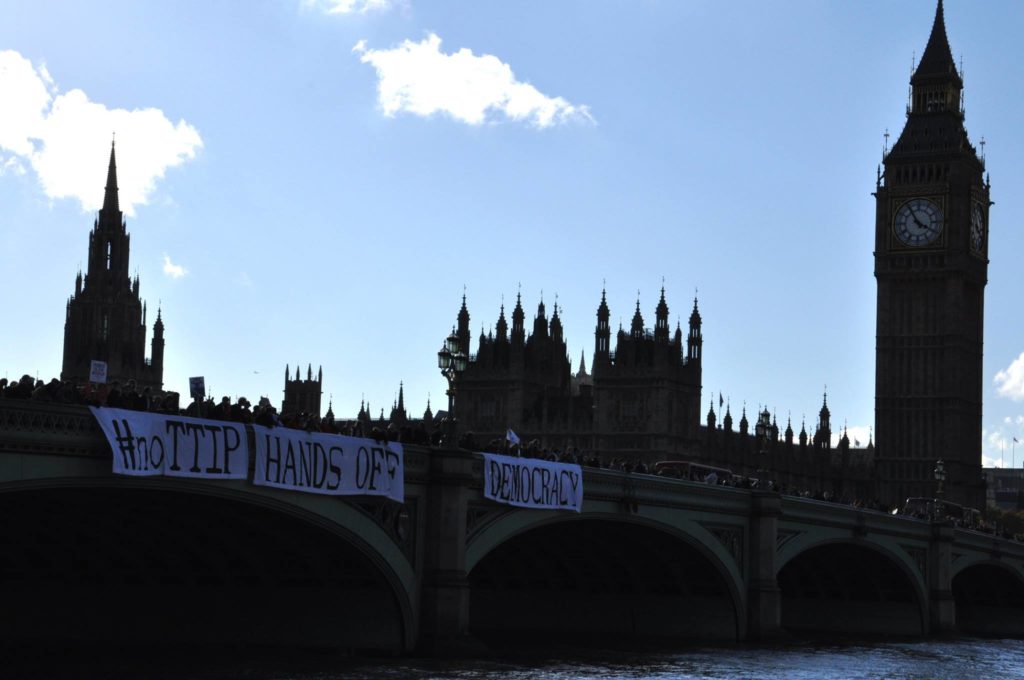 Matt Kennard from the Centre for Investigative Journalism warns us about the ramifications of "corporations [wanting] to lock in their power,' he says. "If [TTIP passes] with ISDS in it, the privatization of the National Health Service, which is happening in the UK, can never be reversed."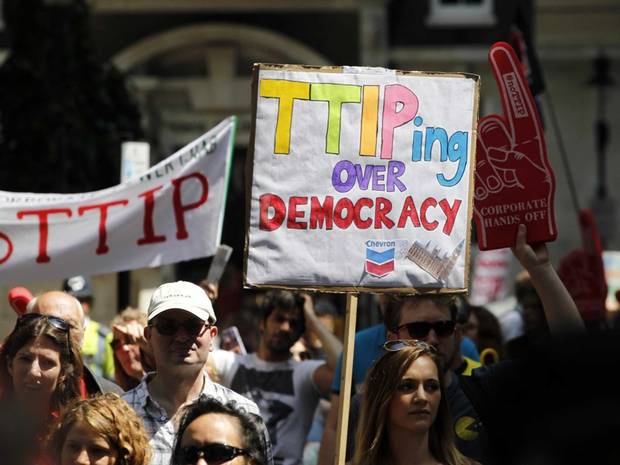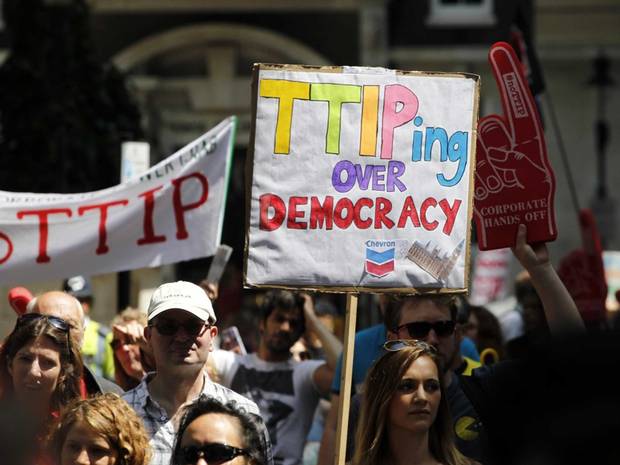 These corporations want to make it impossible for the government to reverse decisions. Without the knowledge of these agreements, without the ability to debate them and oppose them, ask yourself the one question posed: is this the 'democracy' you asked for?
---
This Article (WikiLeaks: "The US strategy to create a new global legal and economic system: TPP, TTIP, TISA") is a free and open source. You have permission to republish this article under a Creative Commons license with attribution to the author AnonWatcher and AnonHQ.com.