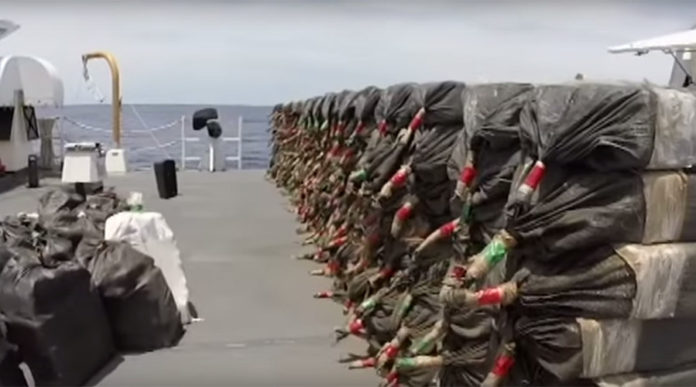 After seizing 16,000 pounds of cocaine late last year, in one of the biggest drug busts of the sort in history, the Coast Guard lost a massive 4,000 pounds of the drug on the way back.
According to the Coast Guard's press release:
"After removing 12,000 pounds of the narcotics aboard, the crew of Stratton attempted to tow the vessel to shore as evidence. However, the semi-submersible began taking on water and sank."
The Coast Guard had left 4,000 pounds of cocaine in the submersible, apparently to "stabilize it during the towing evolution," but it allegedly sank before they reached the main Coast Guard ship.
Despite losing a quarter of their evidence, the Coast Guard's representative Charles W. Ray was keen to spin the endeavor as a "success", and forgot to mention the incredible loss.
"Our success intercepting this drug-laden, self-propelled semi-submersible is a testament to the collaboration of our partner agencies and demonstrates the importance of our increased presence in the Western Hemisphere. Every interception of these semi-submersibles disrupts transnational organized crime networks and helps increase security and stability in the Western Hemisphere," Ray said.
The submersible in question was discovered by a US Navy aircraft some 200 miles south of the US border with Mexico. As the vessel approached shore, it was seized along with all its contents- four smugglers were arrested and 181 million dollars of cocaine was confiscated.
The below video shows the raid in progress. Interestingly, the video does not show the vessel sinking.
While the Coast Guard has seized 25 similar vessels in the Eastern Pacific since 2006, this is the largest haul from a semi-submersible ever recorded.
Since May last year to August, the Coast Guard has been able to stop the smuggling of 33,000 pounds of cocaine worth 540 million dollars.
Sources: Free Thought Project, Vice News
---
This Article (Coast Guard Loses 4,000 Pounds Of Cocaine After Historic Drug Bust) is free and open source. You have permission to republish this article under a Creative Commons license with attribution to the author(CoNN) and AnonHQ.com.