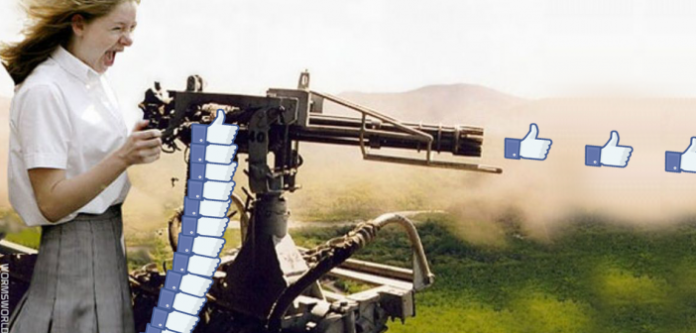 Facebook COO Sheryl Sandberg has some novel advice for people who wish to combat ISIS's Facebook pages. Instead of reporting them, which one would think is the logical course of action that would lead to their termination, she believes that people should use what she calls "like attacks" to combat social network terror.
At a panel on the World Economic Forum in Davos, in response to question about what Facebook was doing to fight ISIS recruiting, she claimed that it was impossible to prevent incendiary posts because "as soon as you take something down another one pops up".
The answer then, apparently, was to give IS recruitment pages a whole lot more free publicity, shining a light on their practices while bombarding their prospective recruits with peaceful messages.
She then explained how Facebook users in Germany "liked" a neo-Nazi Facebook page and proceeded to flood it with positive messages.
"What was a page filled with hatred and intolerance was then tolerance and messages of hope," she said.
"Rather than scream and protest, they got 100,000 people to like the page, who did not like the page and put messages of tolerance on the page, so when you got to the page, it changed the content and what was a page filled with hatred and intolerance was then tolerance and messages of hope.
"The best antidote to bad speech is good speech and the best antidote to hate is tolerance."
"The best thing to speak against recruitment by ISIS are the voices of people who were recruited by ISIS, understand what the true experience is, have escaped and have come back to tell the truth." She states that "counter-speech" is the best means of combating terror organisations.
Of course, it is unknown why ISIS could not simply set up a new Facebook page if they were badly compromised by "like attacks" – the same reasoning that apparently prevented Facebook from taking action (cough-theydon'treallycareandwantyoutodotheirjob-cough). Liking a terror organisation's Facebook page might also bring the unwanted attention of some US spy agency or another- "but I was trying to promote hope and peace" might not cut it when a friend of yours saw your like notification and decided to contact ISIS to learn more about it.
Also, liking multiple KKK, ISIS and Neo Nazi pages might cause everyone you know to give you a strange look whenever they see you, but who knows, maybe the Facebook COO is onto something.
Facebook has long received criticism for being unable (or unwilling) to stem the dissemination of ISIS propaganda on their network; at one point it even stopped Anonymous from exposing ISIS recruiters– by banning the Anonymous group that was doing their job. Apparently, hating ISIS is also hate speech (according to Facebook).
In apparent response to these accusations of inaction (or negative action), it has pledged 1 million Euros towards the support of NGOs that counter hate speech- though it is unknown just how that would prevent IS from getting new recruits.
Facebook, and several other tech companies, also met with US government officials a few weeks back to discuss how they could combat terror organisations.
Sources: Tech Worm, Engadget, Wired, Counter Current news
---
This Article (Facebook COO: Want To Stop ISIS? LIKE Them) is free and open source. You have permission to republish this article under a Creative Commons license with attribution to the author(CoNN) and AnonHQ.com.