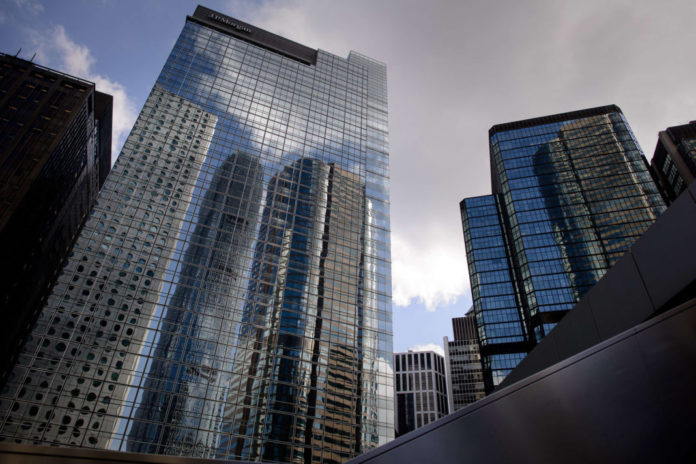 Sometimes the sceptic in us will manage to find a snippet of information that blows open the conspiracy to nothing more than a tale barely worth noting. It's fair. One must take all the information presented and disseminate until the full picture begins to surface. Sometimes the picture is obvious, sometimes it becomes more convoluted as the sifting of information scratches the surface.
During one such digging, names have appeared, that at the very least, deserve to be examined. Call it what you want: conspiracy, betrayal, paranoia or questionable – I list 48 names in the finance sector that have mysteriously died (suicided) between 2013 and now. These untimely deaths deserve our attention.[1]
Shawn D. Miller – Citigroup Managing Director. [2]
Died: November 18, 2014.
Found in his condo bathtub, police reported Miller had slashed his own throat, ear-to-ear. He was seen walking into his apartment with an unidentified man who left the apartment alone. There were no signs of forced entry. Police are treating the case as suspicious.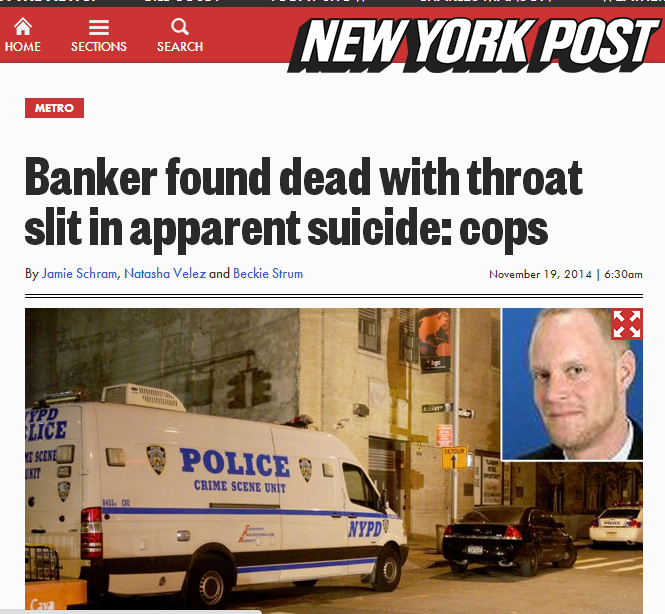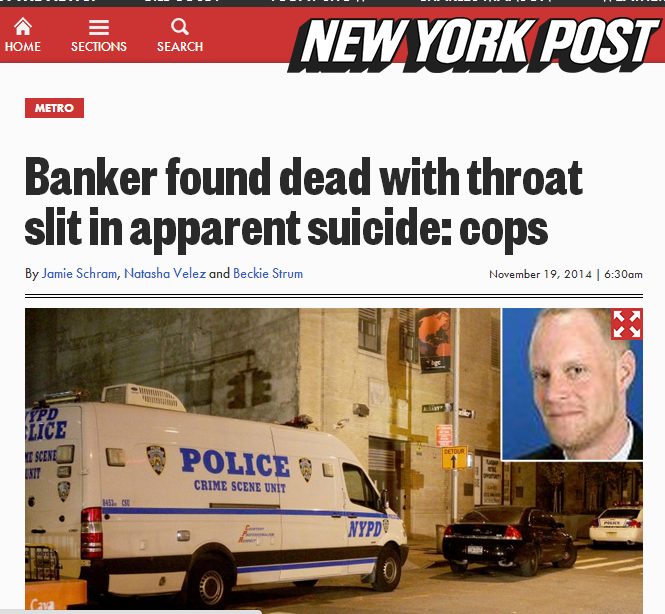 Julian Knott – JP Morgan Executive Director, Global Tier 3 Network Operations. [3]
Died: July 6, 2014.
According to the police report filed, Julian shot his wife of 18 years repeatedly with a shotgun and then turned it on himself. Family and friends reported them to be happy. Treated as a murder-suicide.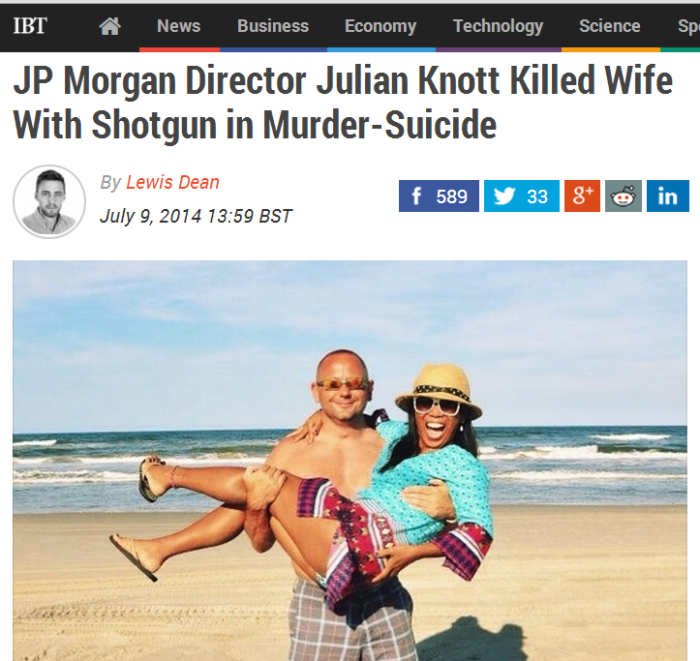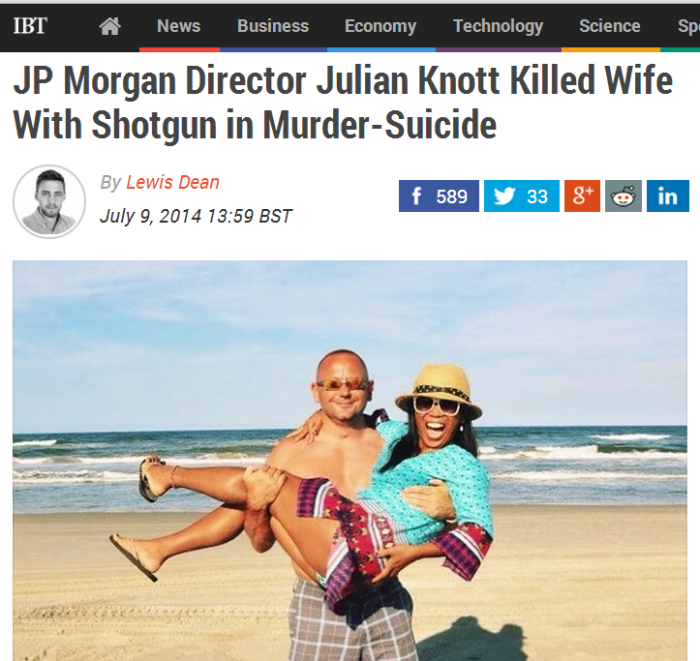 Richard Gravino – Application Team Lead, JP Morgan. [4]
Died: June 24, 2014.
Cause of death is still reported on the internet as unknown. Toxicology reports were due Sept/Oct of 2014.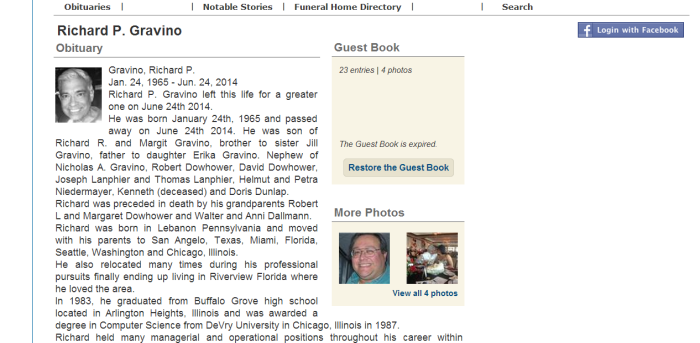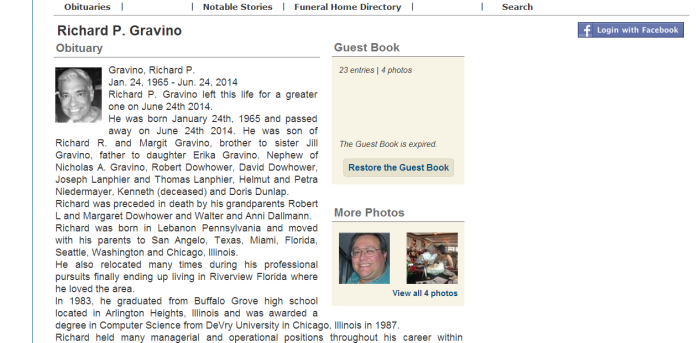 Daniel Leaf – senior manager at the Bank of Scotland/Saracen Fund Managers. [5]
Died: May 24, 2014.
Plunging to his death after a 1000 foot fall, this death does have several witnesses who were hiking with him at the time. This death does appear (for the moment) to be a straight forward accidental death.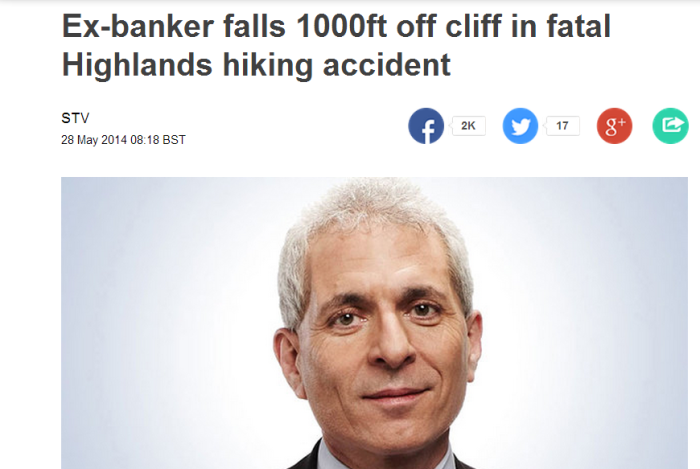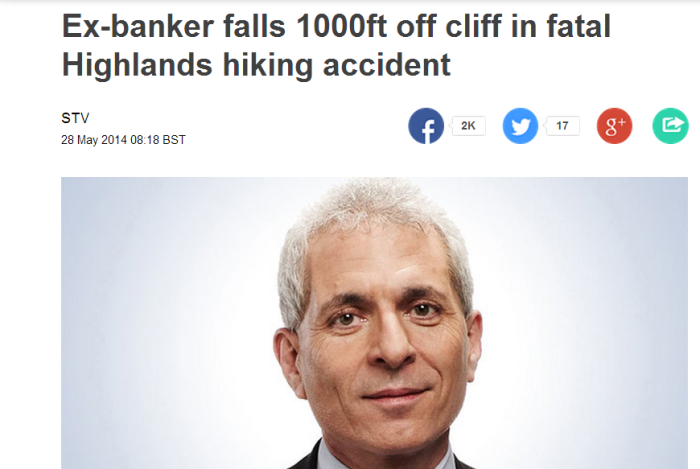 Nigel Sharvin – Senior Relationship Manage Ulster Bank Manage portfolio of distressed businesses.[6]
Died: May 23, 2014.
Missing from a Stag party at 2am, the alarm wasn't raised for a half hour after. Nigel was found drowned in a Spanish marina.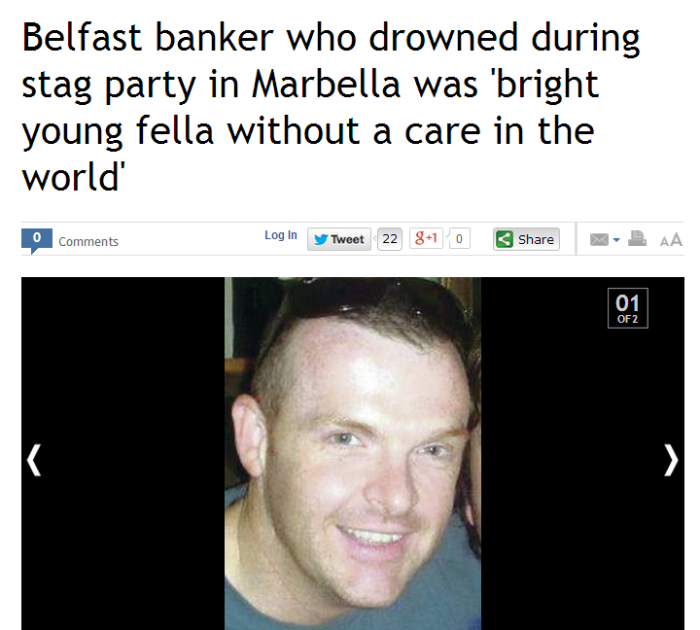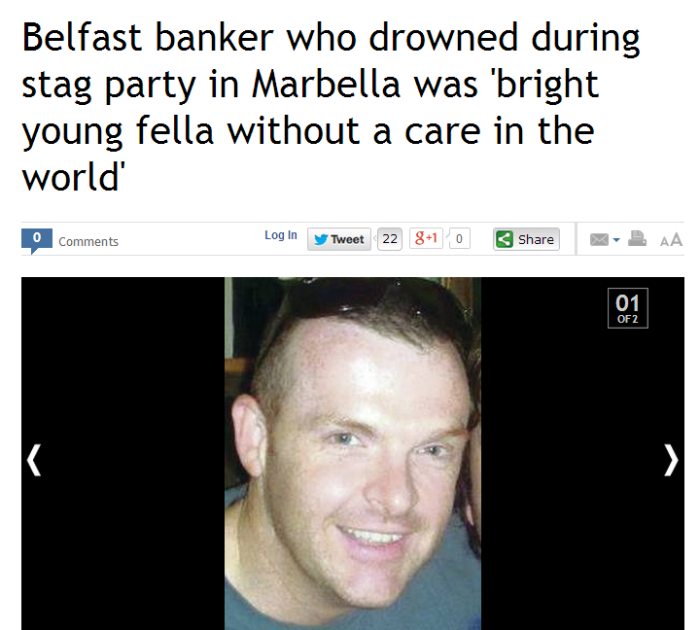 Naseem Mubeen – Assistant Vice President ZBTL Bank, Islamabad. [7]
Died: May 9, 2014. Little information exists on Mubeen other than he jumped to his death.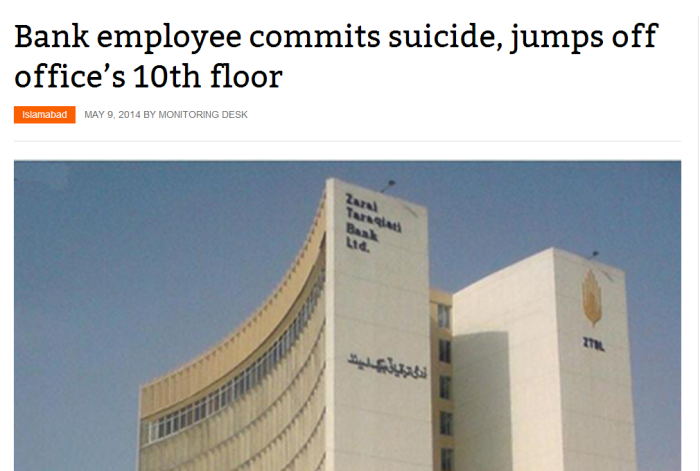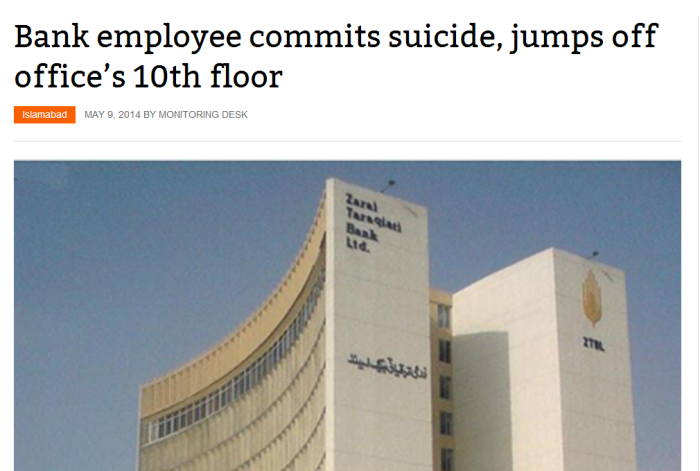 Thomas Schenkman – Managing Director of Global Infrastructure, JP Morgan [8]
Died: May 7, 2014.
Thomas died suddenly. Cause of death unknown and difficult to find during research other than obits. – though still listed to work at JP.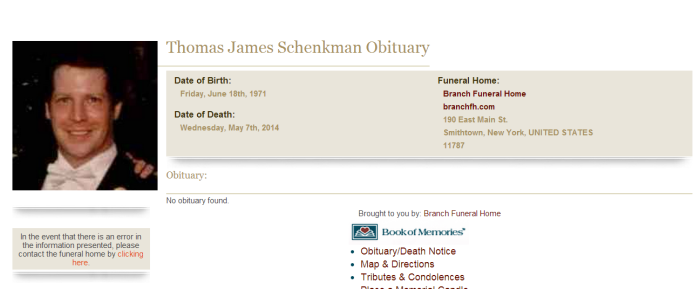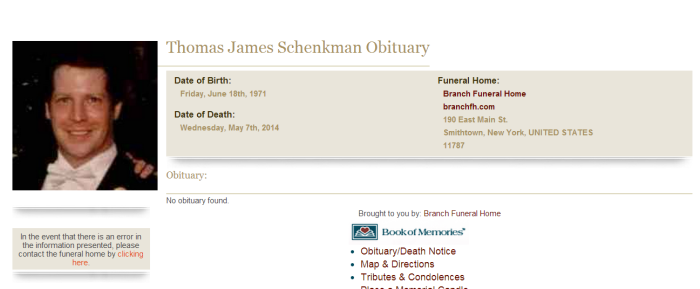 Andrew Jarzyk – Assistant Vice President, Commercial Banking at PNC Financial Services Group.[9]
Died March 30, 2014.
Andrew went for his usual jog and never returned. He was found floating in the Hudson River on April 28th, with only dental records and identifying markers such as tattoos to assist in his identification. The cause is still unknown.
Li Jianhua – Non-bank Financial Insitituions Supervision Department of the regulator. [10]
Died: April 23, 2014.
Li, member of the China Banking Regulatory Commission, aged 49, was found dead after a suspected heart attack. No suspicious circumstances reported.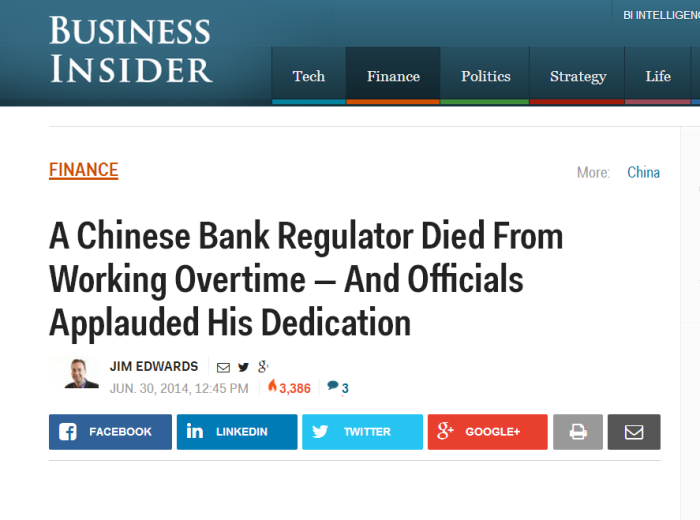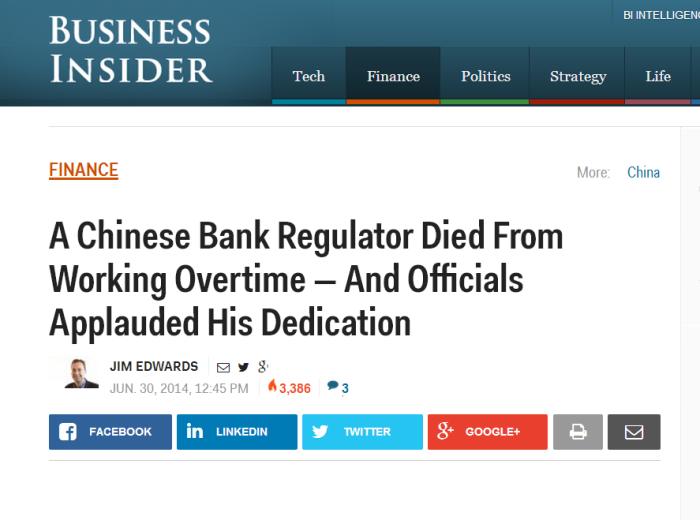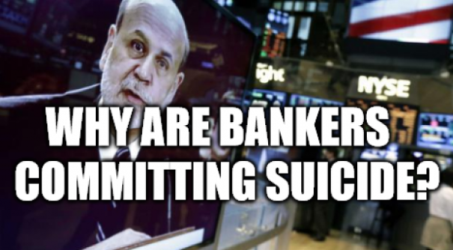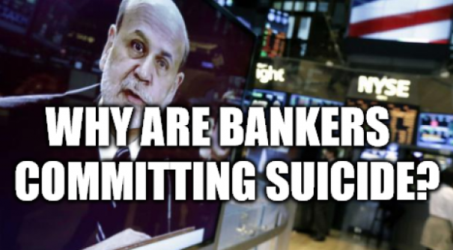 Lydia (no last name) – France's bank, Bred-Banque-Populaire.[11]
Died: April 22, 2014
Lydia jumped to her death from a 14th floor after reported discussions with her superiors.
Benedict Philippens – Director/Manager at BNP paribas. [12]
Died: April 18, 2014.
Benedict was gunned down in a drive-by shooting His 9 year old nephew and wife also died in the shooting.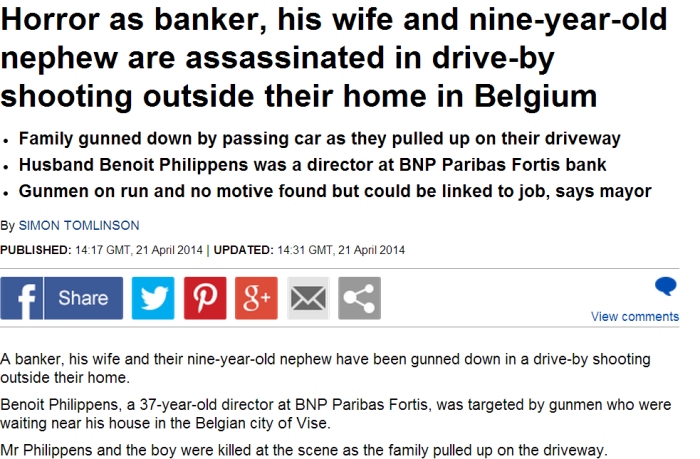 Tanji Dewberry – Assistant Vice President, Credit Suisse. [13]
Died: April 13, 2014.
Tanji and her 8 year old son were killed in a house fire that spontaneously started. Since the tragedy it has been declared a fire caused by electrical fault.
Juergen Frick – Bank Frick and Co. [14]
Died: April 7, 2014.
Shot by a man after a feud about an investment fund. The alleged killer is believed to have committed suicide shortly after, but with nothing confirmed.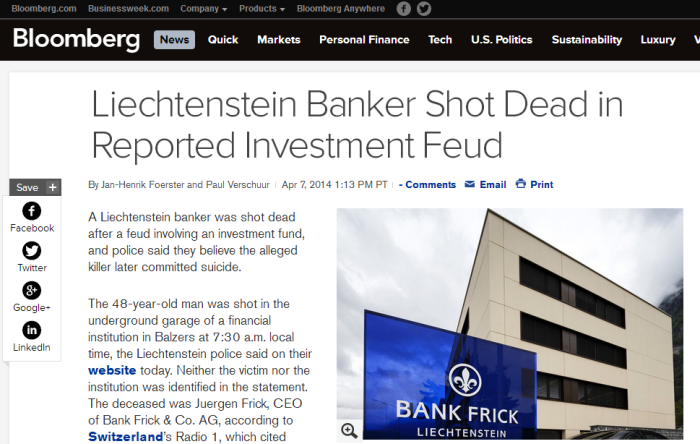 Jan Peter Schmittmann – former CEO of Dutch Bank ABN Amro. [15]
Died: April 5, 2014.
Jan reportedly shot his wife, one of his daughters, and then himself after suffering depression. This case raised concerns of mental health issues in the finance sectors.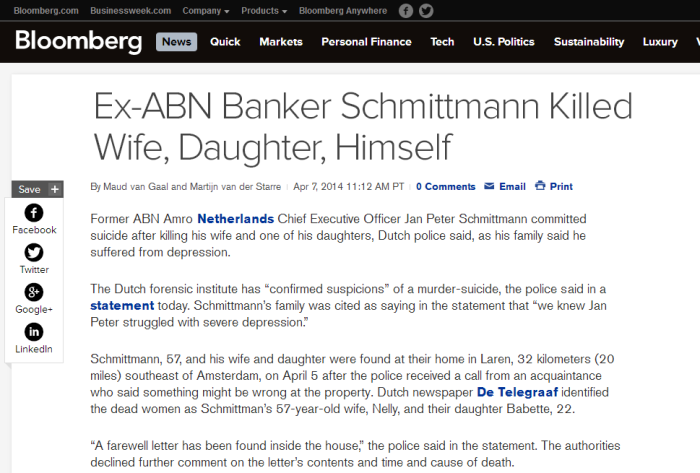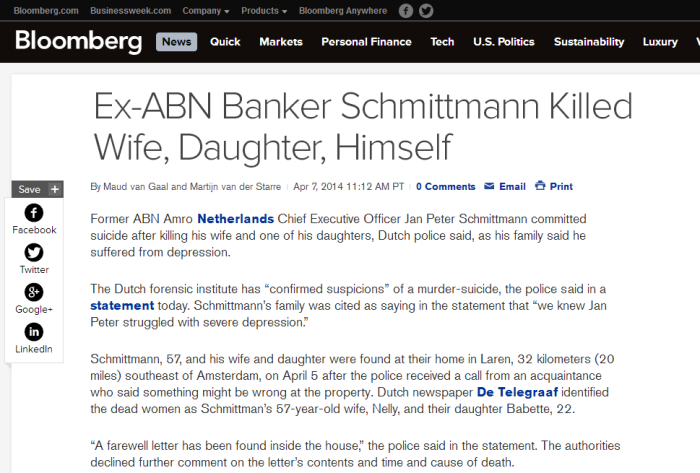 Amir Kess – co-founder and managing director at Markstone Capital Group private equity fund.[16]
Died: April 3, 2014.
Amir was hit by a car while riding his bicycle.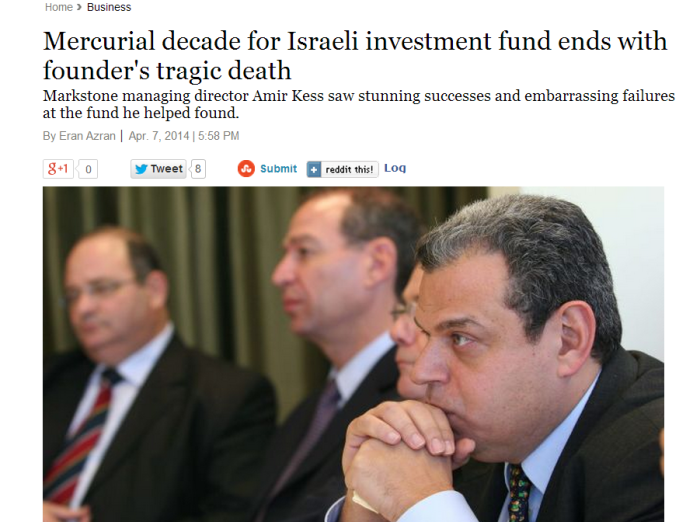 Mohamed Hamwi – System Analyst at Trepp (a financial data and analytics firm).[17]
Died: March 12, 2014.
Mohamad was shot in the face and chest. His iPhone and wallet were intact when his body was found.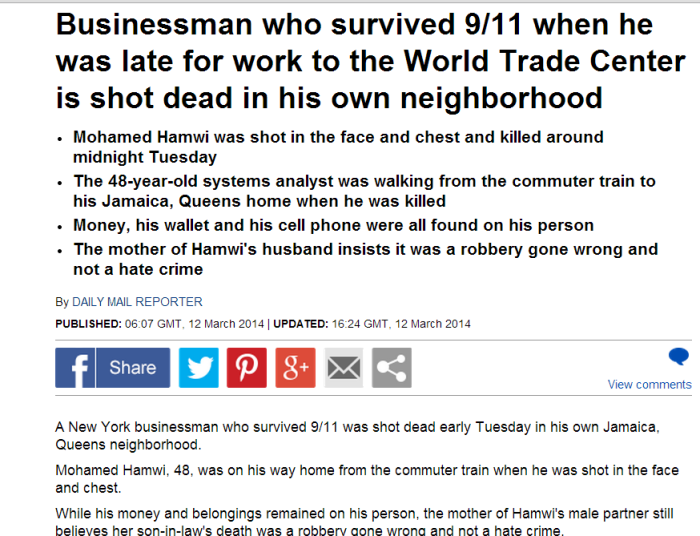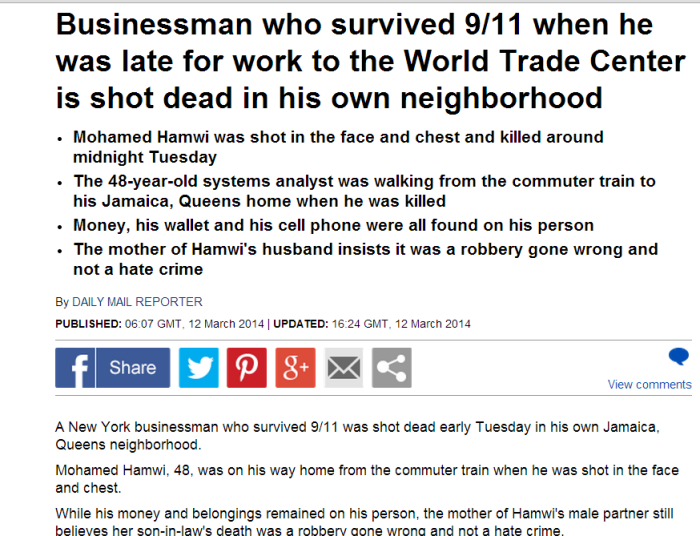 Kenneth Bellando – former JP Morgan.[18]
Died: March 12, 2014.
Kenneth, a successful investment banker, aged 28, allegedly jumped to his death from the 8th story of a building.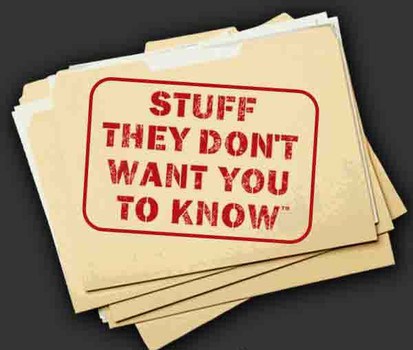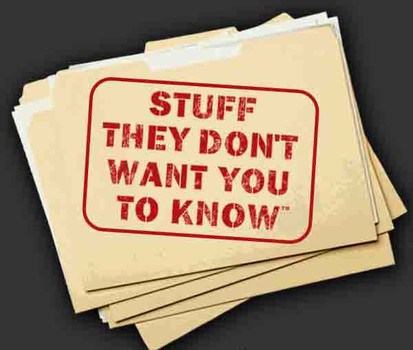 Edmund Reilly – trader at Midtown's Vertical Group.[19]
Died: March 11, 2014.
Witnesses testified to the fact that Reilly threw himself in front of a train, ending his life.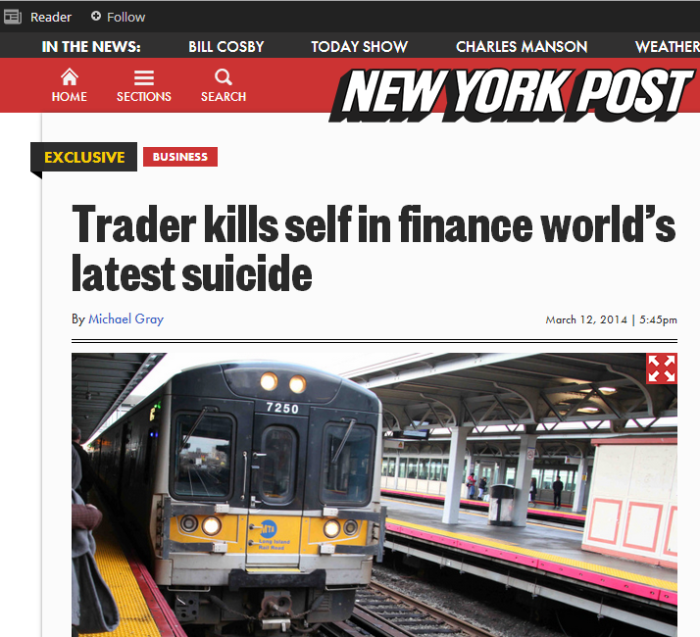 Autumn Radtke – CEO of First Meta Bitcoin.[20]
Died: February 28, 2014.
Autumn was discovered dead in her home. Toxicology reports have yet to be released for the CEO of a bitcoin exchange.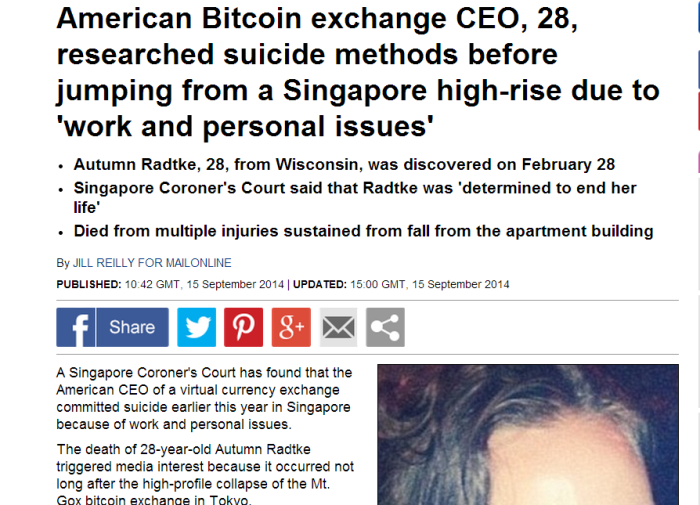 James Stuart, Jr. – Former National Bank of Commerce CEO.[21]
Died: February 19, 2014.
Stuart was mysteriously found dead in his home with no cause of death cited.
Li Junjie – JP Morgan.[22]
Died: February 18, 2014.
Alleged suicide by jumping from a building, 30 floors up.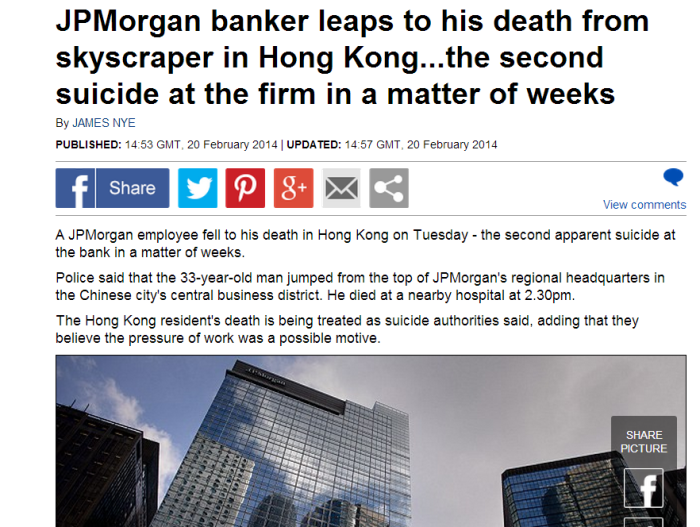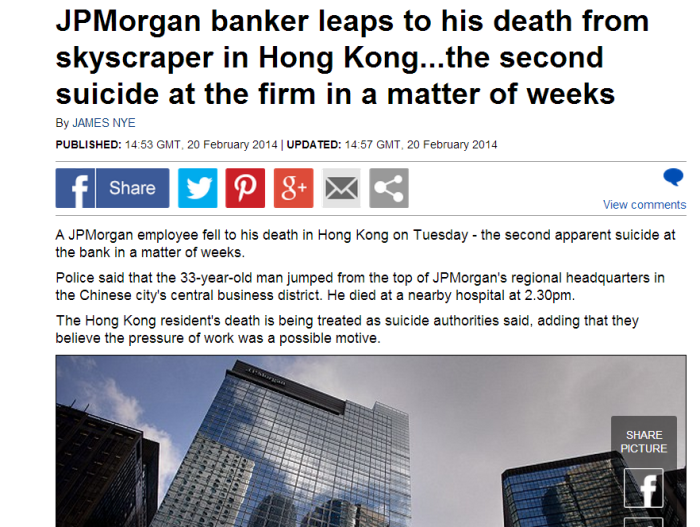 Richard Talley – Founder and CEO of American Title Services.[23]
Died: February 4, 2014.
Talley died in his garage from multiple nail gun wounds to his torso and head. The coroner concluded that they were self-inflicted. State insurance regulators were investigating his company at the time of death. Official ruling: suicide.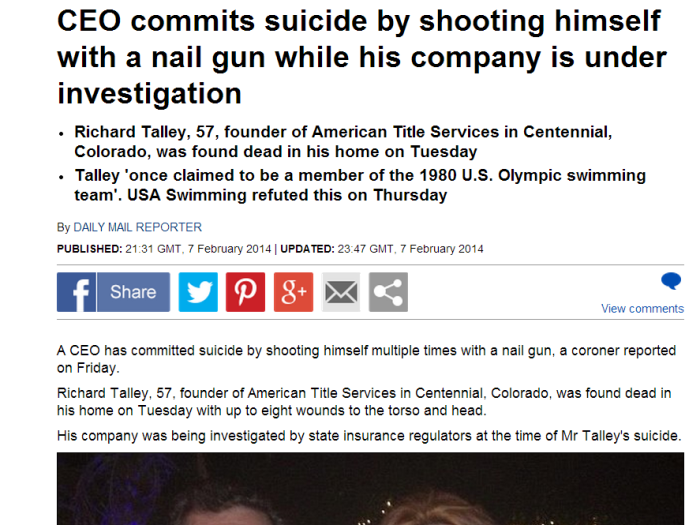 John Ruiz – Morgan Stanley Municipal Debt Analysis.[24]
Died: February 4, 2014.
Sudden death, unknown cause.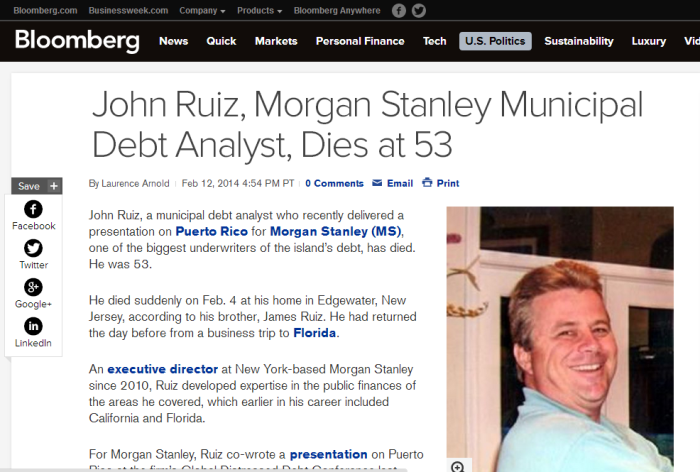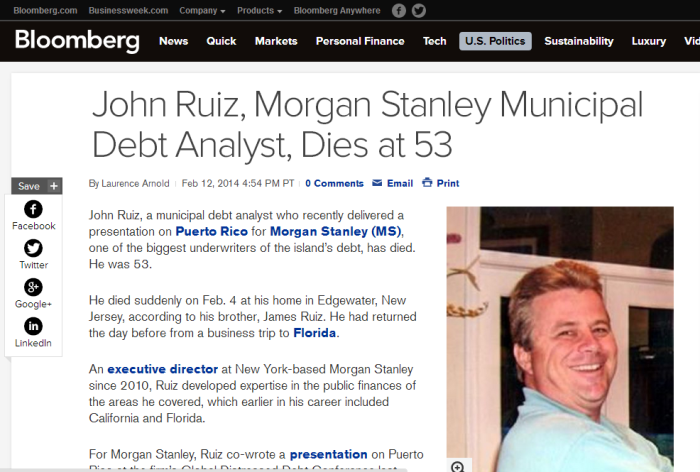 Ryan Henry Crane – Executive at JP Morgan.[25]
Died: February 3, 2014.
Sudden death, unknown cause.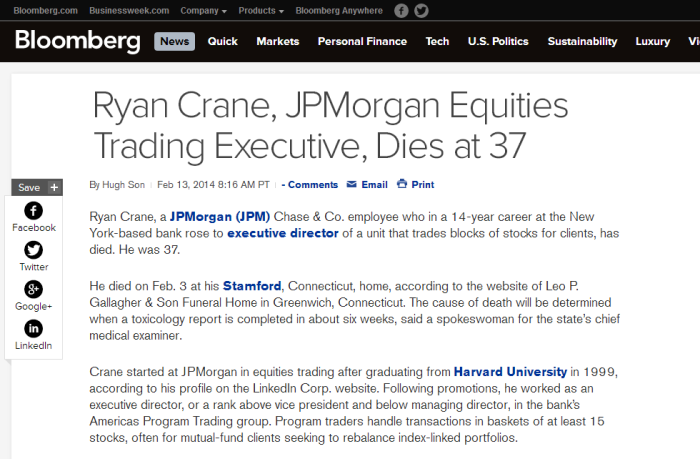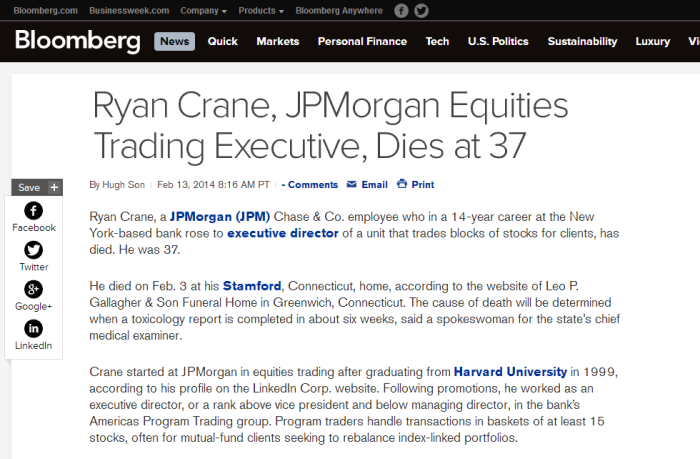 Mike Dueker – former assistant vice president and research economist at the Federal Reserve Bank of St. Louis. [26]
Died: January 31, 2014.
Duker jumped to his death from a ramp near Tacoma Narrows Bridge after being reported missing.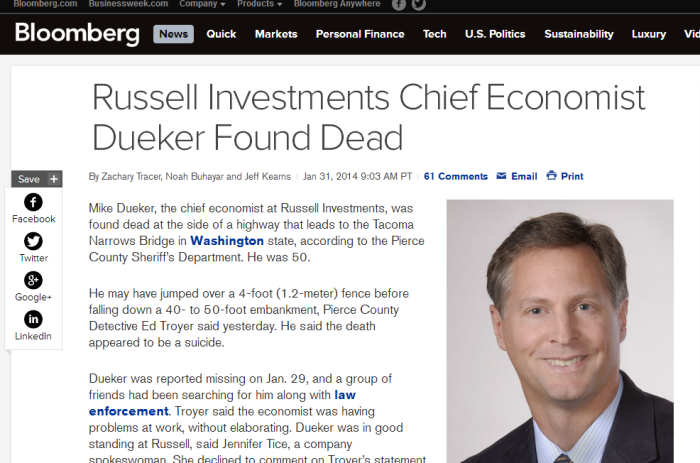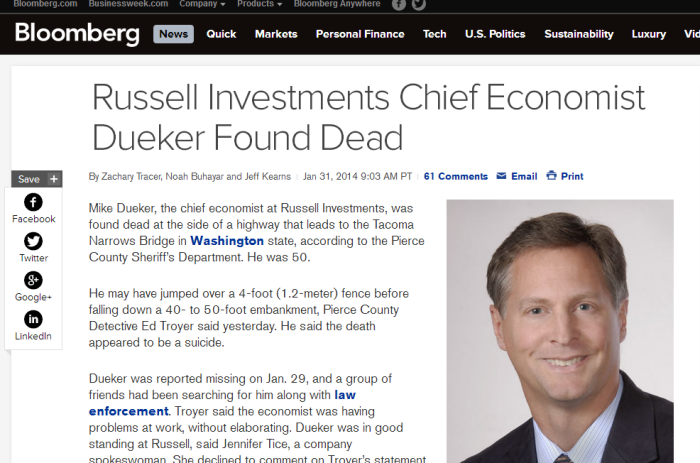 Gabriel Magee – JP Morgan Employee.[27]
Died: January 28, 2014.
The body of Magee was found on a 9th floor rooftop, under suspicious circumstances yet quickly declared suicide by European officials. Since then, London has re-opened the case for thorough investigation.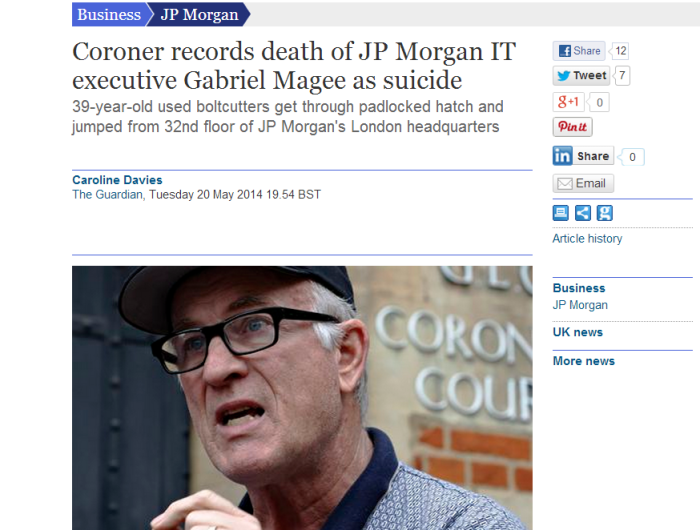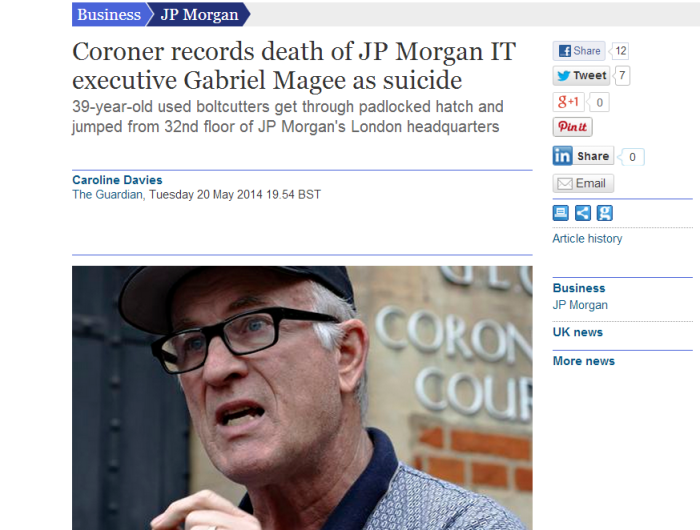 William Broeksmit – Retired Deutsche Bank Risk Manager.[28]
Died: January 26, 2014.
William was found hanging at his home.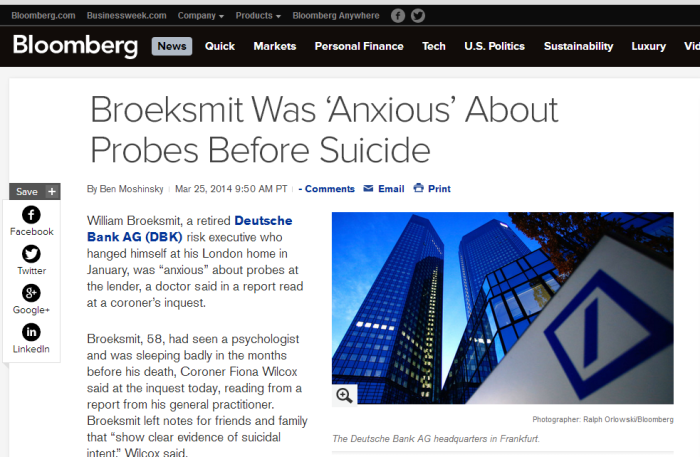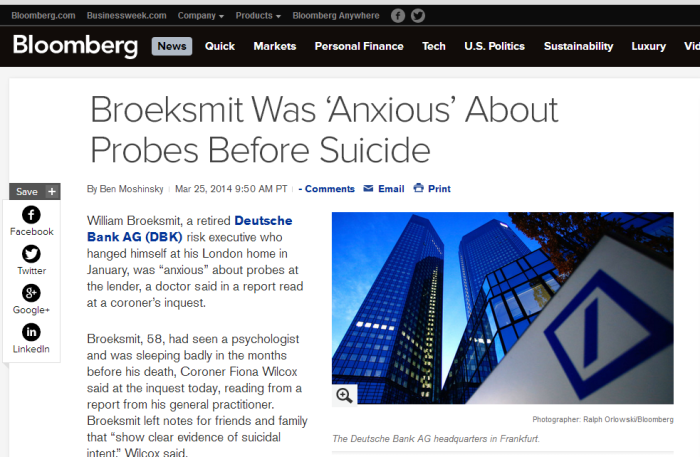 Karl Slym – managing director of Tata Motors.[29]
Died: January 26, 2014.
Karl fell from his 22nd story Thai hotel apartment window to his death. The usually small window size that Karl fell from, led police to claim it impossible to fall from accidentally. Ruling: Possible suicide.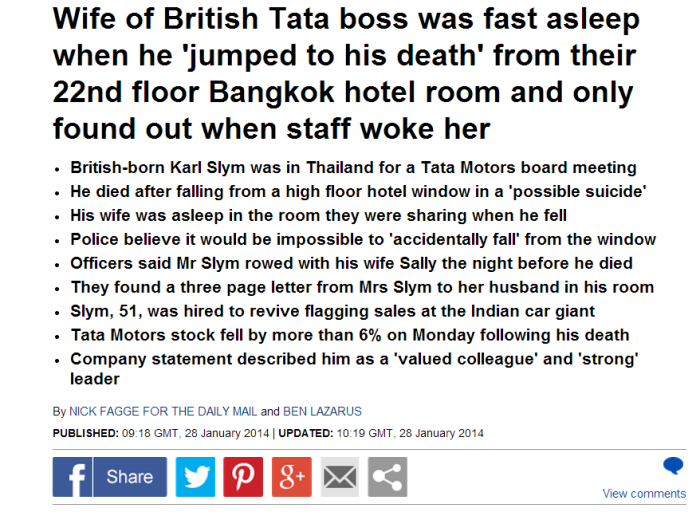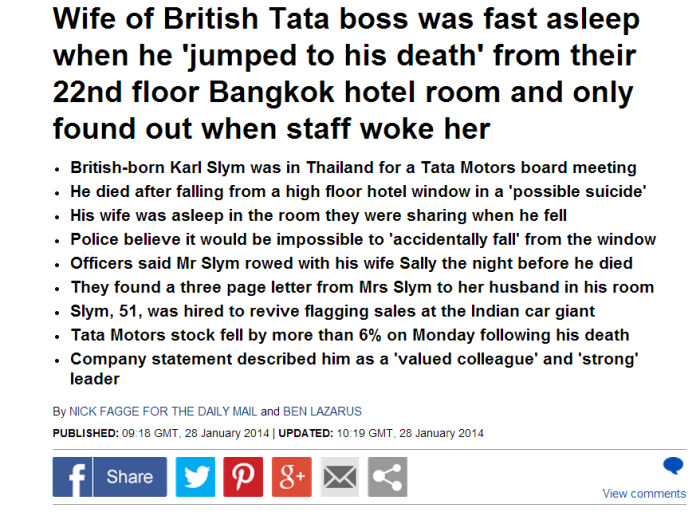 Tim Dickenson – Communications director at Swiss Re AG.[30]
Died: Feb. 2014.
Sudden death, unknown cause.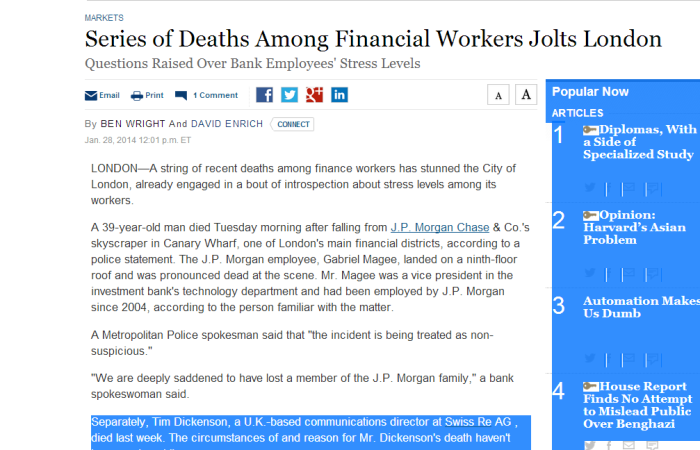 Lewis Katz – owner of the Philadelphia Inquirer, Philadelphia Daily News, and Philly.com. & Investment Professional at Gabriel Investments [31]
Died: June 1, 2014.
Lewis Katz died in a mysterious plane explosion shortly after a $88 million deal surfaced between the Philadelphia Daily News and the Inquirer. Katz was hopeful it would change the direction of the media involved and stop in house fighting. The plane never left the tarmac, and exploded into a ball of flames at minimum speed.
2013 names with similar stories are as follows: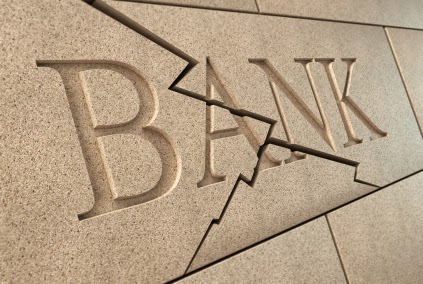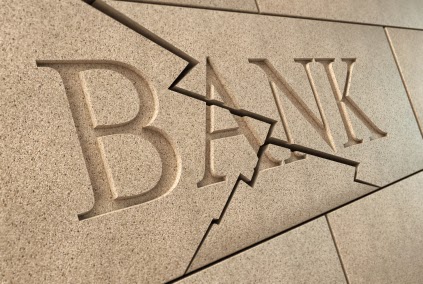 Jason Alan Salais – Information Technology specialist at JPMorgan. Sudden heart attack.
Robert Wilson – retired hedge fund founder. Jumped to his death.
Joseph Ambrosio – Financial Analyst for JP Morgan. Sudden acute respiratory syndrome.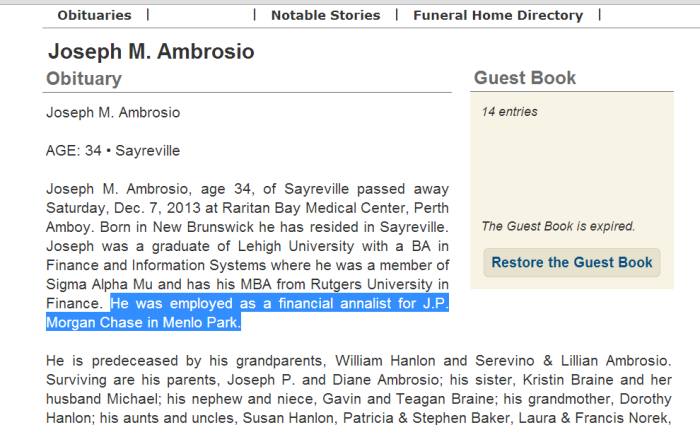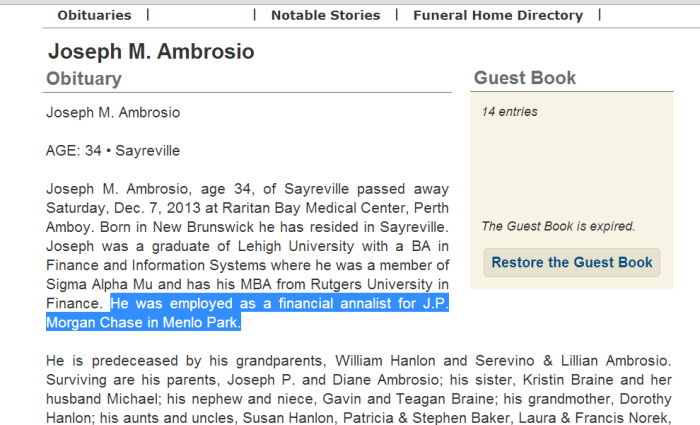 Benjamin Idim – Diamond Banker at Gwarimpa. Car accident.
Susan Hewitt – Deutsche Bank. Susan slipped and drowned in a creek next to her home.
Patrick Sheehan – Wells Fargo Banker. Motor car accident.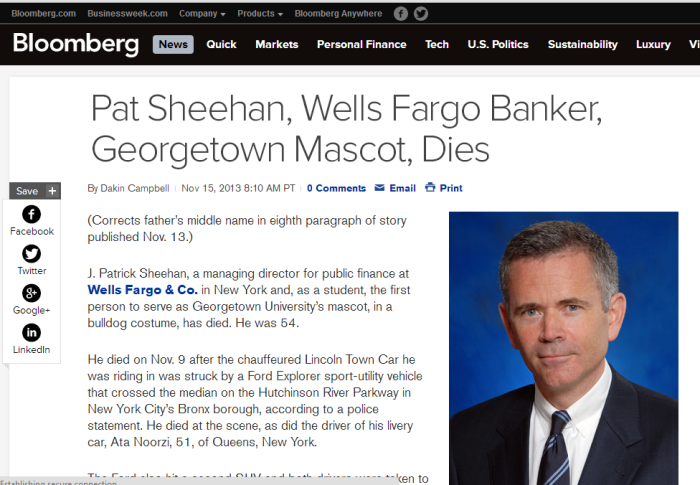 Michael Anthony Turner – Career banker. Cause of death is unknown.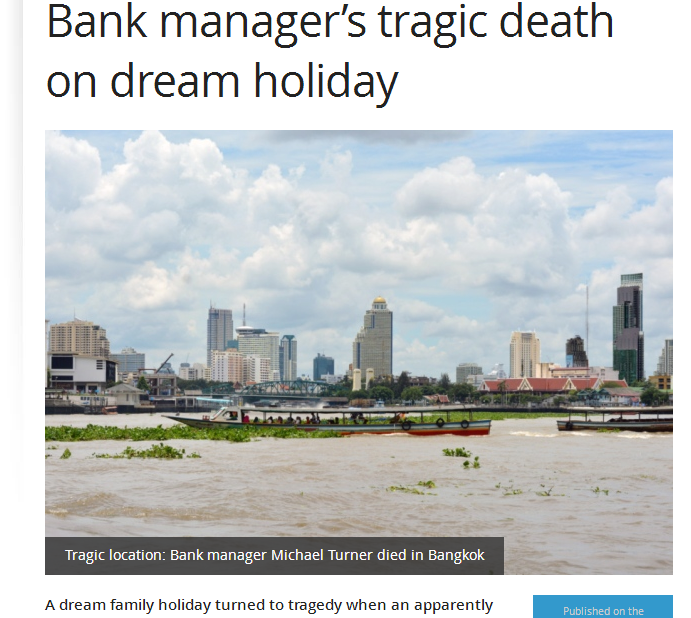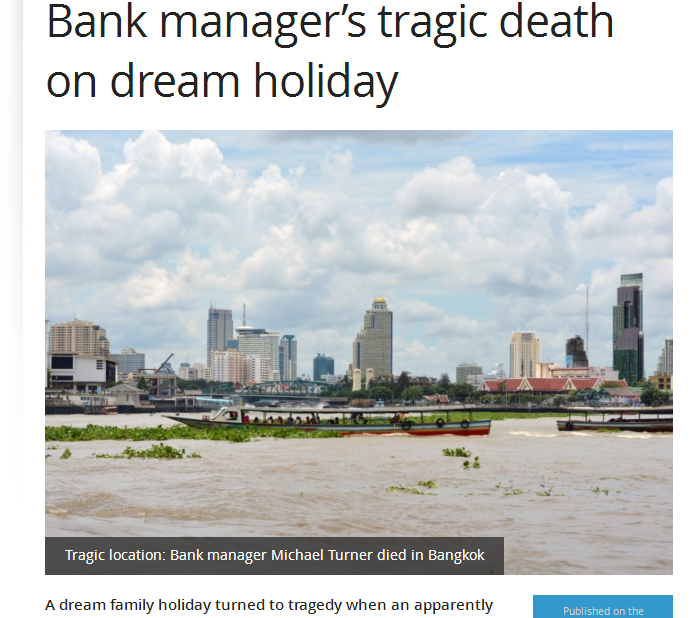 Venera Minakhmetova – Former Financial Analyst at Bank of America Merill Lynch. Hit by a car while bicycle riding.
Michael Burdin – Executive at Bank of America. An apparent suicide.
Ezdehar Husainat – former JP Morgan Banker She died from being crushed by her own SUV with her children in the car.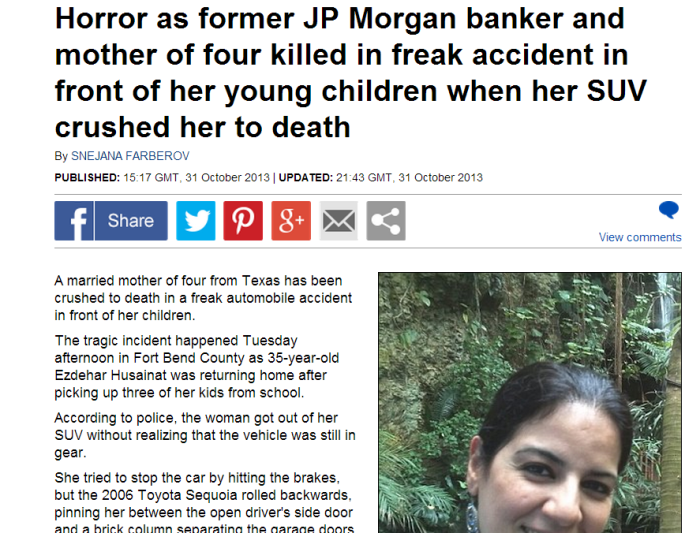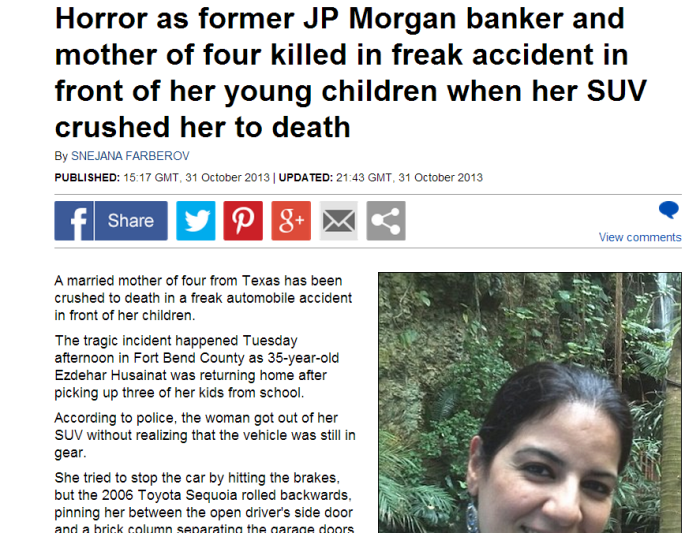 Guy Ratovondrahona – Madagascar Central Bank. No cause of sudden death released.
Pierre Wauthier – Zurich insurance finance boss. An apparent suicide.
Moritz Erhardt – Intern at Bank of America. Epileptic seizure.
Hussain Najadi – CEO of merchant bank AIAK Group. Hussain was shot by an assassin.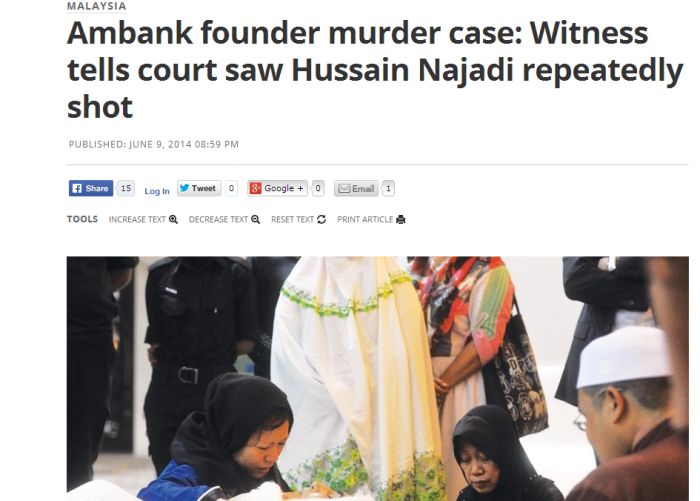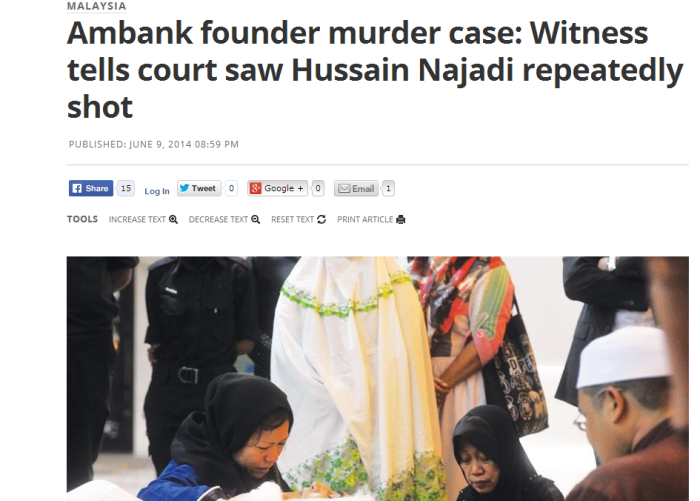 Carsten Schloter – Swisscom Chief Executive. An apparent suicide.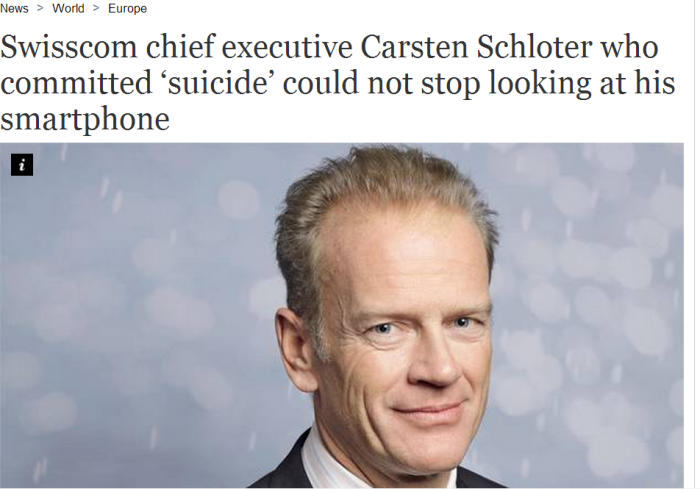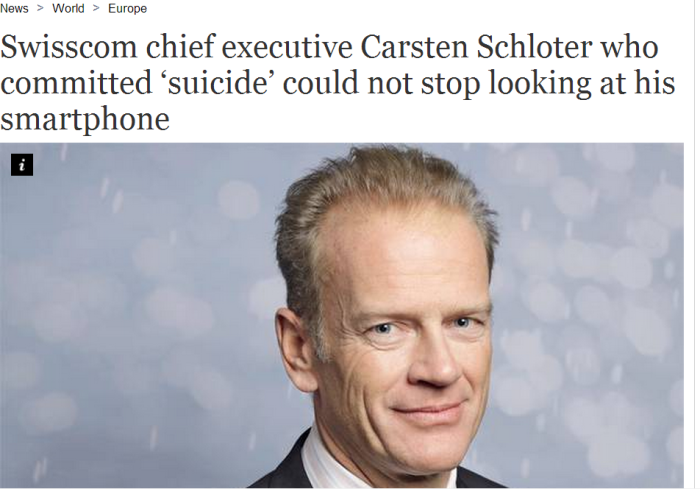 Sascha Schornstein – RBS in commodity finance. Sascha went missing after his plane disappeared. His body was never recovered.
David William Waygood – banker and company director. An apparent suicide.
David Rossi – Head of communications for Monte dei Paschi. Jumped to his death.
---
[1] CEO death list. Retrieved from http://pastebin.com/HtC0wms6
[2] (2015, February 21). Investigators reveal Citigroup executive, 42, found dead in his bathtub had 'slashed his own throat ear-to-ear after drug- and booze-fueled bender' [Daily Mail]. http://www.dailymail.co.uk/news/article-2841465/Citigroup-executive-42-dead-bathtub-Manhattan-apartment-throat-slit.html
[3] Dean, L. (2014, July 9). JP Morgan Director Julian Knott Killed Wife With Shotgun in Murder-Suicide. [International Business Times]. Retrieved from http://www.ibtimes.co.uk/former-london-jp-morgan-manager-julian-knott-killed-wife-shotgun-murder-suicide-1455980
[4] Martens, R., & Martens, P. (2014, July 14). Three New JPMorgan IT Deaths Include Alleged Murder-Suicide. [Wall Street on Parade]. Retrieved from http://wallstreetonparade.com/2014/07/three-new-jpmorgan-it-deaths-include-alleged-murder-suicide/
[5] (2014. May 28). Ex-banker falls 1000ft off cliff in fatal Highlands hiking accident. [STV]. Retrieved from http://news.stv.tv/highlands-islands/276853-daniel-leaf-killed-after-falling-in-cairngorms-hiking-accident/
[6] [2015, February 21). Belfast banker who drowned during stag party in Marbella was 'bright young fella without a care in the world' [Belfast Telegraph]. Retrieved from http://www.belfasttelegraph.co.uk/news/northern-ireland/belfast-banker-who-drowned-during-stag-party-in-marbella-was-bright-young-fella-without-a-care-in-the-world-30303611.html
[7] Retrieved from http://www.americanthinker.com/blog/2014/12/is_someone_targeting_the_worlds_bankers.html
[8] Obituary Retrieved from http://www.legacy.com/obituaries/newsday/obituary.aspx?pid=170964261
[9] Farberov, S. (2014, May 1). Bank manager, 27, washes up dead in Hoboken harbor a month after he went missing while training for a half-marathon. Retrieved from http://www.dailymail.co.uk/news/article-2617028/Bank-manager-27-washes-dead-Hoboken-harbor-month-went-missing-training-half-marathon.html
[10] (2014, April 24). Li Jianhua, director of the non-bank CBRC sudden heart attack death. [Justice League]. Retrieved from https://justiceleaguetaskforce.wordpress.com/2014/04/24/li-jianhua-director-of-the-non-bank-cbrc-sudden-heart-attack-death/
[11] Durden, T. (2014, April 24). 52 year old French banker jumps to her death in Paris after questioning her superiors. Retrieved from http://www.zerohedge.com/news/2014-04-24/52-year-old-french-banker-jumps-her-death-paris-after-questioning-her-superiors
[12] (2014, April 21). 15th Dead Banker, BNP Paribas Banker execution? Benedict Philippens. [Imaginary Capital Markets]. Retrieved from http://imaginarymarkets.com/15th-dead-banker-bnp-paribas-banker-execution-benedict-philippens/
[13] Golgowski, N. (2014, April 14). Children's author and her young son die in New Jersey house fire. Retrieved from http://www.nydailynews.com/news/national/children-author-young-son-die-n-house-fire-article-1.1756192
[14] Foerster, J., & Bandel, C. (2014, April 8). Liechtenstein Banker Shot Dead in Reported Investment Feud. [Bloomberg.com]. Retrieved from http://www.bloomberg.com/news/articles/2014-04-07/liechtenstein-police-says-48-year-old-man-killed-in-bank-garage
[15] (2014, April 8). Ex-ABN Banker Schmittmann Killed Wife, Daughter, Himself. [Bloomberg.com]. Retrieved from http://www.bloomberg.com/news/articles/2014-04-07/police-probe-deaths-of-former-abn-banker-wife-daughter
[16] (2014, April 3). The Markstone manager Amir Kess was hit by a car while cycling to work. Retrieved from http://www.globes.co.il/en/article-markstone-manager-amir-kess-killed-in-road-accident-1000929588
[17] Parascandola, R., Sit, R., & Tracy, T. (2014, March 11). Systems analyst, 48, shot dead in Jamaica, Queens: cops. Retrieved from http://www.nydailynews.com/new-york/nyc-crime/investment-banker-48-shot-dead-queens-article-1.1717474
[18] Gray, M. {2014, March 17). Banker leaps to his death in finance world's 8th suicide this year. [New York Post]. Retrieved from http://nypost.com/2014/03/17/investment-banker-leaps-to-his-death/
[19] Nye, J. (2014, March 13). Manhattan trader throws himself in front of commuter train – the 11th suicide of financial professionals this year alone. [Daily Mail]. http://www.dailymail.co.uk/news/article-2579769/Manhattan-trader-throws-commuter-train-mark-11th-suicide-financial-professionals-year-alone.html
[20] (2014, March 6).Retrieved from http://www.news.com.au/finance/markets/bitcoin-exchange-boss-autumn-radtke-found-dead-of-suspected-suicide-in-singapore/story-e6frfm30-1226846560794
[21] Menzie, N. (2014, February 28). Alarming Spate of Suicides, Mysterious Deaths Among Bankers Prompt Speculation. Retrieved from http://www.christianpost.com/news/alarming-spate-of-suicides-mysterious-deaths-among-bankers-prompt-speculation-115425/
[22] Gray, M. (2014, February 18). JPMorgan suicide is 3rd mysterious death in weeks. Retrieved from http://nypost.com/2014/02/18/jpmorgan-bankers-suicide-is-3rd-mysterious-death-for-company/
[23] (2014, February 8). CEO commits suicide by shooting himself with a nail gun while his company is under investigation. [Daily Mail]. Retrieved from http://www.dailymail.co.uk/news/article-2553964/CEO-commits-suicide-nail-gun-company-investigation.html
[24] (2014, February 13). John Ruiz, Morgan Stanley Municipal Debt Analyst, Dies at 53. [Bloomberg News]. Retrieved from http://www.bloomberg.com/news/articles/2014-02-13/john-ruiz-morgan-stanley-municipal-debt-analyst-dies-at-53
[25] Son, H. (2014, February 14). Ryan Crane, JPMorgan Equities Trading Executive, Dies at 37. Retrieved from http://www.bloomberg.com/news/articles/2014-02-13/ryan-crane-jpmorgan-equities-trading-executive-dies-at-37
[26] (2014, January 31). Mike Dueker, former St. Louis Fed official, found dead in Tacoma (Source no longer available – removed from site). Retrieved from http://article.wn.com/view/2014/01/31/Mike_Dueker_former_St_Louis_Fed_official_found_dead_in_Tacom/
[27] Martens, P. (2014, February 9). Suspicious Death of JPMorgan Vice President, Gabriel Magee, Under Investigation in London. Retrieved from http://wallstreetonparade.com/2014/02/suspicious-death-of-jpmorgan-vice-president-gabriel-magee-under-investigation-in-london/
[28] Arnold, L., & Comfort, N. (2014, January 29). William Broeksmit, Ex-Deutsche Bank Risk Manager, Dies at 58. [Bloomberg Business]. Retrieved from http://www.bloomberg.com/news/articles/2014-01-28/william-broeksmit-former-deutsche-bank-risk-manager-dies-at-58
[29] Fagg, N., & Lazarus, B. (2014, January 28). Wife of British Tata boss was fast asleep when he 'jumped to his death' from their 22nd floor Bangkok hotel room and only found out when staff woke her. [Daily Mail]. Retrieved from http://www.dailymail.co.uk/news/article-2547261/Wife-British-Tata-boss-Karl-Slym-fast-asleep-jumped-death-22nd-floor-Bangkok-hotel-window.html
[30] Nicholls, S. (2014, January 29). Canadian firms respond to suicide spree. [WP]. Retrieved from http://www.wealthprofessional.ca/news/canadian-firms-respond-to-suicide-spree-176263.aspx
[31] Dale, M. (2014, June 1). Lewis Katz Dead: Philadelphia Inquirer Co-Owner Killed in Private Plane Crash. Retrieved from http://www.huffingtonpost.com/2014/06/01/lewis-katz-dead-killed-plane-crash-_n_5426162.html