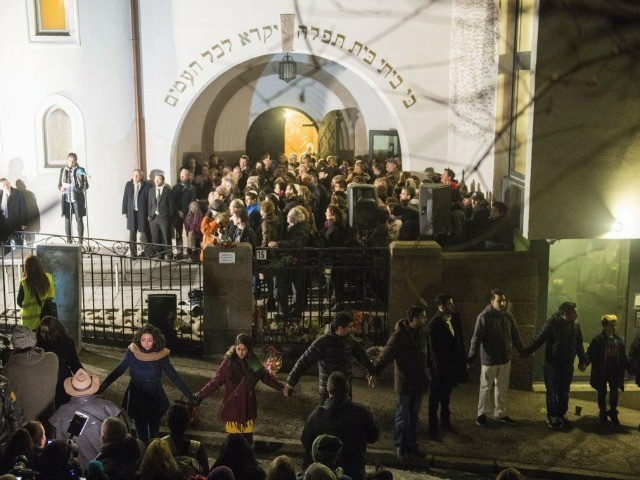 More than 1000 people formed a peace ring outside Norwegian capital Oslo's only synagogue, offering protection for the country's Jewish population and condemning deadly anti-Semitic attacks against Jews in Europe.
Omar el-Hussein, a Danish citizen of Palestinian origin, shot dead two people – a filmmaker and a volunteer Jewish security guard – in the Danish capital Copenhagen last weekend. In January, Muslim gunmen attacked and killed 17 people at the offices of Charlie Hebdo magazine and inside the kosher grocery store.
Shouting "No to anti-Semitism, no to Islamophobia", the crowd announced their intent to stand against all forms of religiously justified violence and proved themselves allies of the Bergstien Street synagogue in Oslo.
Organizer Hajrad Arshad intended the rally to "extinguish the prejudices people have against Jews and against Muslims". She added, "We think that after the terrorist attacks in Copenhagen, it is the perfect time for us Muslims to distance ourselves from the harassment of Jews that is happening".
"We want to demonstrate that Jews and Muslims do not hate each other. We do not want individuals to define what Islam is for the rest of us. There are many more peace-mongers than warmongers," co-organiser Zeeshan Abdullah told the crowd.
"If anyone wants to commit violence in the name of Islam, you have to go through us first" http://t.co/nB5qIDlYh2 http://t.co/uQaJGVzx8o

— Jewish Daily Forward (@jdforward) February 23, 2015
In the wake of the Copenhagen attacks, far-right populist movements like the Danish People's Party are gaining traction by advocating harsher police treatment of potential terrorism suspects and the Muslim community. But with the ring of peace, Oslo's Muslim community has thwarted these efforts of spreading hatred in the name of Islam.
---
Source: mic.com