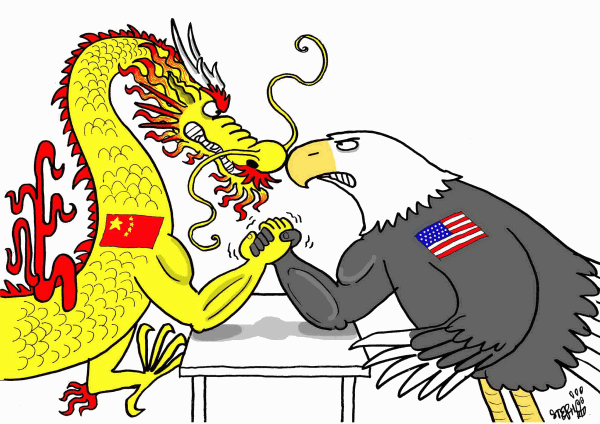 TestTube created a video recently which explains the unstable relationship between China and the U.S.
The mainstream reasons to dislike China are well-known; they range from currency manipulation, to the difficulty  U.S. manufacturers face when setting up in China (wait, isn't the U.S. concerned about jobs being usurped by the Chinese as well?),  to the lack of Intellectual Property protection and to the allegations of Chinese hacking. Basically, the Chinese are protecting their own interests too much.

On the other hand, the video notes that China and the U.S. are also highly interdependent; 423 billion dollars of Chinese exports go to the United States. Cheap products allow U.S. consumers to save money, and U.S. spending allows the Chinese to earn money. The Chinese also buy the most U.S. debt, which helps to fund U.S. government spending. China, on the other hand, depends on the U.S. to keep paying off that debt… though China has recently been looking to dump that debt, perhaps losing confidence in the United States' willingness to repay a national debt that has grown to 19 trillion dollars.
China's relationship with countries that the U.S. has ostracized, like Iran and North Korea, allow it to bring both sides together in negotiations.
While China is one of the most polluting nations in the world, it is also the one most invested in combating the rotten fruits of industrialization via green energy – it is by and far the leader in green energy investment (investing more than all of Europe combined). It's  a policy that the U.S. government has at least publicly shown support for. China's advocacy for green tech would allow the U.S. to convince the world, and particularly poor developing nations, that it is possible make the switch to green energy.
The video concludes that the cooperation between the two super powers would allow them to better dominate the world… which may not necessarily be so great for smaller nations.
---
This Article (Why The U.S. Needs China) is a free and open source. You have permission to republish this article under a Creative Commons license with attribution to the author(CoNN) and AnonHQ.com.