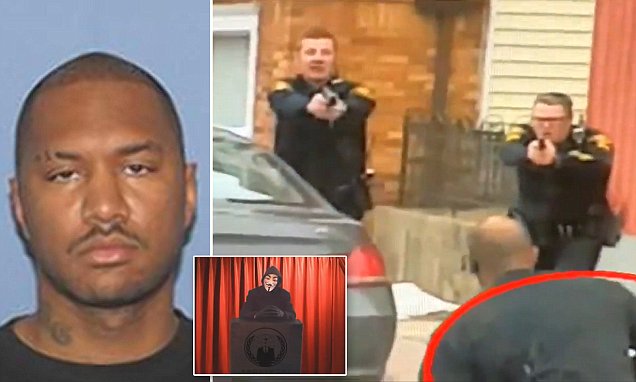 The personal details of 52 Cincinnati Police Department officers were released by an Anonymous group calling itself Anon Verdict recently. It was  consequential for the Police Department's handling of a police shooting that caused the death of a black Ohio man named Paul Gaston.
The video explains why the group decided to release the personal info of the officers:
"Greetings world, we are Anonymous Anon Verdict. The following clip you are about to see are three separate cell phone clips of Cincinnati Police Department murdering a black man named Paul Gaston while he held his hands up on February 17th. With the evidence provided it is quite obvious that he was complying and had his hands in the air"
"When you murder a human being when you have other choices of containing your suspect available we will make your officers information public record."
"We will not only release the officer who murdered the citizens information but we will release those that have stood by in the department that did not speak up. We have lost more lives to the Thin Blue Line than we have lost in the Afghanistan War."
The group compares the shooting death of the black man with that of a white man who got away with pointing a replica pistol at the police just a day before. Both incidents occurred in Ohio, an open-carry state.
According to Lieutenant Steve Saunders, the information acquired by the group could have been found via public records and social media. While the details were pulled from Pastebin, one quickleak link on the video description still works as of writing.
Below is full footage of the shooting incident. It shows Gaston on his knees with his hands locked behind his head. While he initially complies with an order to get on the ground, he rises up again and appears to move his right hand towards his waist. But according to police, he was reaching for a realistic-looking pellet gun in his waistband. However, the lack of context makes his motivation unclear: he could have been trying to indicate that the gun was fake. His behavior leading up to the incident was however, described as erratic. Nine shots were fired by officers Scott McManis, Zachary Sterbling, and Eric Kohler.
Sources: Anon Verdict, Daily Dot, The free Thought Project, Raw Story
---
This article (Anon Verdict Shares Info of 52 Police Officers for Shooting Death of Black Man with Fake Gun) is a free and open source. You have permission to republish this article under a Creative Commons license with attribution to the author(CoNN) and AnonHQ.com.