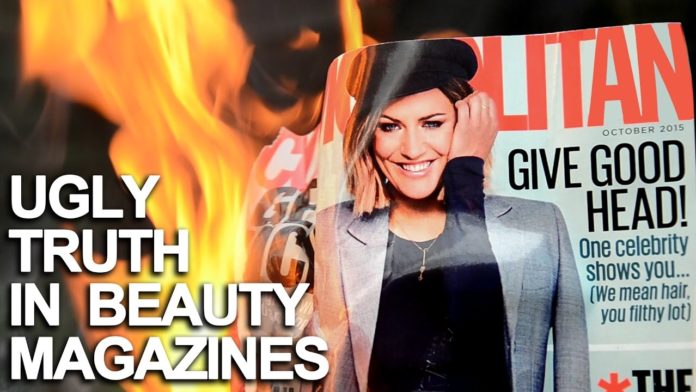 The global personal care products industry is set to reach $630 billion by 2017.  The global health and wellness sales are expected to hit a record high of $1 trillion by 2017. The global cosmetic surgery and services market is set to exceed $27 billion by 2019. The global premium cosmetics market is expected to go beyond $126 billion by 2019. That's because more than 75 percent of women don't like their bodies, and because it is expensive to be a 'perfect woman'.
Since the you-are-not-good-enough advertising and something-is-wrong-with-you marketing continues to successfully create a negative body image to make women feel bad about their bodies, women around the world feel chronically insecure, overweight and inadequate; get fixated on trying to change their body shape and develop an eating disorder; suffer from serious mental health problems such as anorexia and bulimia; and destroy their self-esteem.
To meet the unreal beauty standards made to look attainable by the incredibly gorgeous models and retouched digitally altered images of a 'perfect body', most women become cradle-to-grave consumers of multi-billion dollar beauty and fashion industries.  The burden of unattainable beauty, however, has far-reaching implications for women's economic and emotional well-being.  But does anyone care?
Manchester-based 35-year-old Oskar T. Brand — a self-proclaimed sit-down comedian, de-motivational speaker, safe distance activist, anti-bullshit lobbyist, glass-half-empty specialist, truth engineer, reality janitor, ambassador of the funny and whatever — cares and he wants each and every woman, as well as men, to care too.
Incorporating some really shocking facts and the 70-second clip titled "Body Evolution" (a video that went viral in 2011 when it illustrated how an average woman was transformed into a mannequin-esque version of herself via a full-body Photoshop session wherein her legs were lengthened, breasts were lifted, eyes were widened, and glow was added to each inch of her skin), Brand has created a shocking four-minute video about the ugly truth hidden in beauty and fashion magazines.
If tomorrow, women woke up and decided they really liked their bodies, just think how many industries would go out of business. — Gail Dines, Professor of Sociology and Women's Studies at Wheelock College, Boston.
How much money do you spend annually because you don't love what you were born with? The beauty and fashion industries are thriving because they are fundamentally anti-women, and anti-you. Be happy with who you are, love the skin you're in, accept your (already) perfect body; remember, the person in front of the mirror was born beautiful.
Related Articles:
20 Before & After Images Of Celebs Reveal Society's Unrealistic Standards Of Beauty
#AerieREAL: Photoshop-Free Body-Positive Ads Spike American Eagle's Lingerie Sales
---
This article (A Must-Watch: Shocking Video Exposes the Beauty Industry's Ugly Truth) is a free and open source. You have permission to republish this article under a Creative Commons license with attribution to the author and AnonHQ.com.