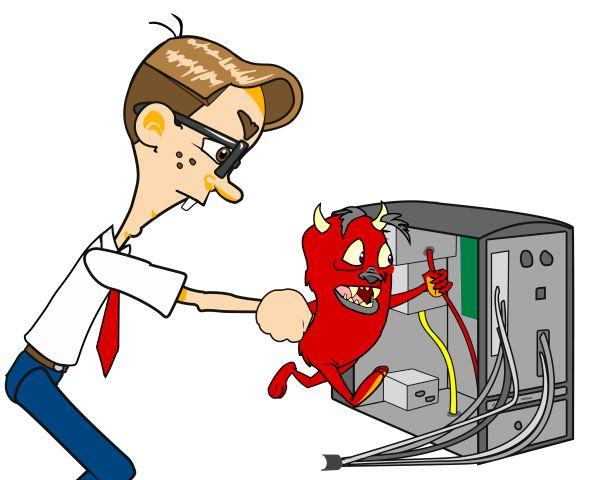 If you PC is performing slower than usual, or if your screen is bombarded with pop-ups and lots of advertisement and suddenly crashes then you machine might be infected with a malware, spyware, adware or a virus – even if you've got the latest antivirus application installed. Despite the fact that other issues including hardware problems can build up equally aggravating problems but it is always a good idea to look for infections in case your computer is behaving weirdly.
So without any further waiting let's get our hands dirty.
Entering the Safe Mode
A lot of people make the huge mistake of using their systems which are infected by the virus, even knowing that their computer is infected, so that's a big no, one should always, and I mean always, disconnect the infected PC from the internet so the malware doesn't have a mean to share your data with the hacker and they shouldn't use that PC until its completely clean.
If you know that you have malware on your system, and then boot your system in its Safe Mode. For those of you who are unfamiliar with the Safe Mode, it only loads up the required programs to perform the necessary tasks needed. So naturally, if your system has a virus then since the Windows is running in Safe Mode and has loaded only the required programs, thus it will stop the malware or the virus from booting up. So why is this important, because it will allow the files to be removed easily as they will not be functioning or busy operating a task.
However, since Windows 10 has tightened its security and updated a few features on their operating system, as a result it has also updated the traditional way of entering Windows Safe Mode, as easy as it was for Windows 7 and 8 it is a bit different now for Windows 10. So if you are using Windows 10, then below is the way of entering its safe mode:-
Step 1 – Firstly, click the Start Button.
Step 2 – Then, select the Power option (do it the same way as if you were going to restart, however, don't press it).
Step 3 – After completing Step 2, press and hold the Shift Key (doesn't matter which one) and then hit Restart.  If the process is done right, a screen will appear with further options.
Step 4 – Once the menu is in front of you, select Trouble-Shooting then go to Advanced Options after that select Startup Settings. This will take you to a new window, where you shall hit the Restart Button.
Step 5 – If Step 4 is done right then it will take you to a new window (don't worry the new window with options usually takes longer to appear) where you shall see an ordered list of options telling you how to restart your system – search for Safe Mode, (usually option number 4) and hit enter.
Also, if you notice remarkably faster performance in Safe Mode then this is also an indication that your system may have an infection. It could also mean that you have a lot of software(s) on your system that is slowing your PC down as they start up with the operating system.
Getting Rid of That Garbage
So finally now that we have entered into the Windows Safe Mode, and only the important programs are running (this does not mean you are not able to run other software's), you would want to start a virus/malware scanning software. And you can do so by searching the name of the virus scanning software and let is scan for viruses or malware in your system.
However, it is always recommended that you should delete any temporary files in your system, fragment disk and run disk cleanup software as this can help run the virus scanner faster and can also at times delete the malware itself.  You can run the disk cleanup software by typing the term in the search bar in the start menu and same goes for the disk defragment as well.
The Right Malware Scanner
Okay so now that you know what to do and let the scanner do its magic, and for most of the common infections (as there are a lot of different types of malware and viruses and they have different ways to be dealt with, however, this article is for removing standard infections.) a simple scanner is all you need. However, in some cases, your pre-installed anti-virus detector may not have detected the malware or the virus, so in that case, on should install a different anti-virus or anti-malware scanner. Also, most of the free anti-viruses can't identify all of the viruses and malware as there are millions of different types of malware and viruses and the updates take the time to come to these free versions.
However, there are various types of antivirus software, and the ones that are most frequently used are the real-time scanners and the on demand scanners.
The real time scanners are the ones that most popular and at times are pre-installed on your systems. They scan your systems once a day, once a week or even a month depending on how you set them. And if you mount an external storage, then they will scan it too (depending, if you have set that option to yes). And it is highly recommended that there should only be a SINGLE real time virus scanner present on a system.
However, the on-demand scanners are the less popular as they – you can guess by the title – scan only if you tell them to. Although less popular, they are very handy, as most of their virus or malware databases are tailored with a specific virus or malware, along with common viruses. And unlike a real-time virus scanner, it is recommended that a user should have more than one on demand virus or malware scanners installed because if one of the scanners can't find it maybe the other one might detect it.
So again, if you system is infected we reckon you get yourself a few on demand scanners and scan your system with them one by one, we know it's a long process but it's always better to be safe. However, once you are done scanning your system with all the installed on demand scanners then you can perform a final scan with you real time malware or virus scanner.
Here are a few free on-demand scanners (unordered list) :-
Malwarebytes
SUPER Antispyware Free Edition
BitDefender Free Edition
Emsisoft Emergency Kit
Kaspersky Virus Removal Tool
Stinger
ClamWin Free Antivirus
Microsoft's Malicious Software Removal Tool
Dr.Web CureIt!
Avast
EMCO Malware Destroyer
Norton Power Eraser
Using Malwarebytes as an Example for Removing the Infection
Since we love Malwarebytes so we have decided to show you how to scan your system using it, however, it is entirely up to you can select any on demand scanner from the list above and you can comment and tell us what scanner do you prefer. Getting back to the topic, download it, if you haven't downloaded it you can download the file from a different PC and use a USB stick to transfer it to your infected system. In case, if you do not have another system at your disposal then you can reconnect your infected system (use it as a last resort) to the internet and then download and install Malwarebytes. And once that is done, disconnect your PC from the internet before you start scanning your system.
Once you have downloaded the scanner in your system, do the following:-
Step 1 – Click on the setup file and start the installation process.
Step 2 – After the installation process is completed start the scanner and keep select Threat Scan as the default scanning option.
Step 3 – Once you have selected the default scanning option then click on Start Scan. This will allow the software to update its virus and malware database and once that is done it shall scan your system.
The on-demand scanner offers various options including a custom scan options, but it is always recommended that the first scan should be a Threat Scan, as that usually finds almost all of the infections in the first go. Also depending on the hardware of your system a custom scan can take from 30 minutes to a full good hour or even more, while the quick scan option can take anywhere from 5 to half an hour. Like all the other scanners Malwarebytes also shows you the files that it is scanning along with the infected files (if it finds any), it also distinguishes the files that have been infected by the malware and that are the malware itself.
Now let us look at the situation from a different angle, let's say, that you started Malwarebytes or any scanner and it suddenly crashes or disappears and won't open back again or even if it is opening it closes back instantly. This indicates that your system has a root kit installed, or possibly a malware that is programmed to kill any software that it detects as an anti-virus or a malware scanner. And there are some tricks that you can use (which can't be covered in this article as they are lengthy and time-consuming) but it would be better if you re-install Windows, which is after backing up your files.
However, once the scan is complete the software will show you the findings and if Malwarebytes shows you a green flag then you should opt for a custom scan as you can define what areas you want to be scanned, or you can even go for the other scanners from the list mentioning them above. And in case if it does find a malicious presence then it will give you the option to either remove it or ignore it. Click the Remove button that will be present in the bottom left section of the software as it will help you remove the selected infection(s) present in your system. Once the scanner has removed those files it will ask to reboot the system so it can fully remove the infection(s) from your system. If you are still seeing the problem, run a full scan on Malwarebytes as well as other scanners and then for the final scan use your real-time anti-virus scanner.
Fixing That Annoying Internet Browser
As we know most of the malware and viruses are meant to damage the operating system and most of the times the hardware itself. However, one of the most common and the most prominent feature of a common malware is to alter your web browser's settings. Meaning, if you start your browser, it will take you to a custom web page possibly the hackers server, open up malicious advertising windows, and most of the times the malware or the virus won't allow the browser to reach a specific URL.
So, before firing up your favorite internet browser, go to the settings and check your homepage and its settings.
Firefox, Google Chrome & Edge go to Settings menu and alter your homepage settings.
However, for Internet Explorer, you can go to Control Panel (for Windows 10, 8 and 7) and from there go to the Internet Options and in the top, you will see tabs. Go to General Tab and in there you can remove that annoying website where your browser takes you.
Back-Up Your Important Data
In case your PC is still acting up after all that scanning and the Windows on the system is refusing to work properly, then you might have to re-install that operating system. But before you mount the Windows CD and go all blazing on wiping your hard drive clean, you might want to copy all your important data to portable hard drive or a USB or even the settings and messages from your email clients such as Outlook or Thunderbird. Also, you can backup your drivers with Double Driver – that is if you have lost or didn't get a driver's disk with your system.
With all the necessary files and folders backed up, you can now re-install Windows or you can store the factory image back (that is if your system was given with on). Since there are many branded PC's and almost all of them have a unique key to restore the factory image that is to be pressed while in that boot process, so if you want to find out more about your system, it is considered best to go through the manual or Googling that information or even YouTubing it.
A Clean Computer Is a Good Computer
For a standard user, it is considered a good practice to have a real time virus or malware scanner running on your PC at all times, and it doesn't stop there you should also have it up to date. Also, keep a few on demand scanners and for further protection, you can always use the Alarm Zone Firewall or the Comodo Firewall, (you can choose from either one as both of them are exceptional firewall security programs).
If you are not satisfied with the list of free on-demand scanners and anti-viruses you can mention your favorite anti-virus solutions in the comments below and update our readers with them. The internet is full of the latest free anti-virus programs, all you need to do is research and tally them with the needs of your system.
Also, you might want to use Web of Trust or WOT plug-in in your web browser, as it helps identify users a malicious website with a colored WOT logo at the end of every link in your web search. Red – being dangerous, Yellow – being not safe, Green – being good to go and transparent – being not yet rated. You can also use OpenDNS for further protection as it will help you block any malicious website. You can also run your web browser in sandbox mode to prevent it from getting any malicious program into your browser and eventually in your computer. For that, you can use antivirus software called Comodo or use a third party software called Sandboxie that will help you run applications in a sandbox environment.
And even after so much protection it is best to check your online accounts, such as your email accounts, bank accounts, social media accounts, online storage accounts, if you PC was infected and you cleaned it we would strongly recommend you to change your passwords for all your accounts as some malicious viruses and malware are designed to capture your login credentials.
To be further secure, if you made a backup then have the portable disk or the USB go through a full virus scan because we don't want to open a backed up file that contains any traces of the malware or the virus. In case if the old backups are infected then you should delete them and create new back-ups excluding those infected files.
Keep your operating systems up to date, have your security software's updated, always scan the portable hard drive or USBs before opening them, never directly go on an unknown website, instead use WOT to identify the website. Make sure that the software's that can automatically update themselves have that option checked to yes. Also, if you are concerned about your privacy, which is a big problem with Windows 10, select the option for download the updates automatically but let you select the options for installation.
Source: Malware Tips
---
You want to support Anonymous Independent & Investigative News? Please, follow us on Twitter: Follow @AnonymousNewsHQ
---
This Article (A Starters Guide to Removing a Standard Virus or a Malware From A Windows Machine) is free and open source. You have permission to republish this article under a Creative Commons license with attribution to the author and AnonHQ.com.