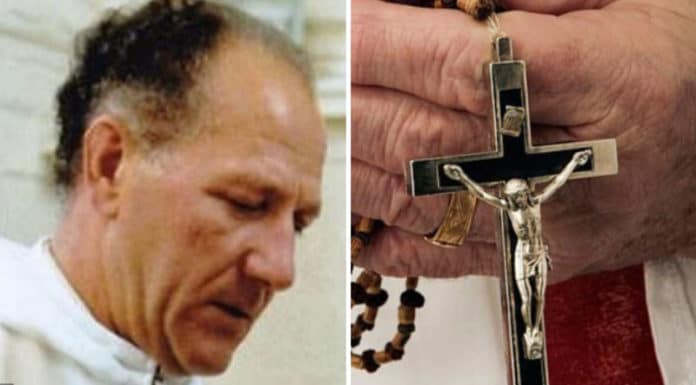 A 19-year-old was arrested for the brutal revenge killing of a pedophile priest accused of abusing him and at least three other young boys.
The suspect, identified only as Alexandre V., reportedly killed and tortured 91-year-old Catholic Priest Roger Matassoli at his home in Agnetz, Oise, in northern France, on November 4th.
The young man reportedly rammed a crucifix down the priest's throat, resulting in his suffocation. The suspect was initially taken to a mental health facility after his arrest, where he remained for nearly two months until he was formally charged this week.
Alexandre was caught by police while attempting to leave the scene and was charged with torture, murder, and resisting arrest. During interrogations, he told investigators he has no recollection of the events, but he did have a clear motive to carry out the attack.
Alexandre was among four young boys that Matassoli was accused of sexually assaulting between the years of 1960 and 2000. Although, authorities suspect that there are many more victims who have yet to come forward. In fact, the abuse went back so far that Alexandre's father was also a victim of Matassoli's abuse.
According to the Sun, Alexandre's grandfather killed himself when he learned of the abuse that his family was put through. It has also been reported that Alexandre has attempted suicide in the past. According to a family member who spoke to the media under the condition of anonymity, Alexandre was targeted between the ages of six and fifteen.
Despite the accusations against Matassoli, he was still on the church's payroll as of last year.
Beauvais bishop Jacques Benoit-Gonnin insisted that Matassoli was removed from his official duties at the church back in 2009, when the first allegations against him began to surface, insisting that he only remained on the payroll due to "ecclesiastical errors."
However, Matassoli has a history of abuse and suspicious behavior that goes back much further than 2009. In fact, he has been moved around between different churches at various times in his career due to allegations of abuse. In 1967, Moatassoli had to be moved from the diocese of Clermont over allegations of abuse, and was then moved from the diocese of Saint-Andre-Farivillers in 1984 for the same reason. In 1984, a naked photo of him was found by members of the community in a local landfill, but at the time he insisted that it was an innocent "souvenir from the army" that was taken when he was 18-years-old.
Last week, the Mind Unleashed reported that a 19-year-old girl in the U.S. is facing life in prison for killing a man who sexually abused her.
By John Vibes | Creative Commons | TheMindUnleashed.com