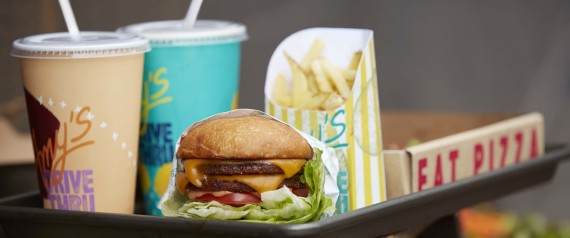 Amy's Kitchen, a company known for its vegetarian convenience food and frozen meals, has opened its first organic, vegetarian drive-thru restaurant in Rohnert Park, California.
Drive-thru diners have a choice of ordering meals that are vegan or gluten-free, pizza in either a rice or wheat crust, meat-free burgers, burritos, macaroni and cheese, salad, and chili, as well as milkshakes and vegan non-dairy shakes. More than 95% of the products at Amy's Kitchen are organic, and many of the ingredients are locally sourced, from the potatoes in the french fries to the grains in the burgers. Every ingredient used at Amy's Kitchen is non-GMO and the entire menu is peanut- and egg-free for patrons with allergies.
The restaurant's tables are made from retired auto brake drums, its wood is either culled from off-cuts or upcycled from discarded pieces, and the tableware is made out of recyclable, non-GMO materials, collected on site for recycling. Even the takeout bags and boxes are printed with non-GMO ink.
"Everybody said we couldn't do it. Prepping and cooking an entirely vegetarian menu of burgers, pizzas and tortillas in under three minutes is a tall task, after all. But we set up a test kitchen in our warehouse space and we did it. We learned how to do it from scratch very quickly. Our relationships with farmers and our knowledge of how to make delicious food on a large scale has really made this project possible. We've been able to keep the quality high and the prices reasonable," owner Andy Berliner, who co-founded the company with his wife Rachel (and named it after their daughter), said in a statement.
The statement added, "Amy's Drive-Thru also plans to host a "living roof" with drought-tolerant and native plants which can reduce a building's energy needs and significantly expand a roof's lifespan. The establishment will also have an on-site water tower that collects rain to water the roof, a reclaimed water system for irrigation, and landscaping and an aquifer system that sends drain water into onsite swales."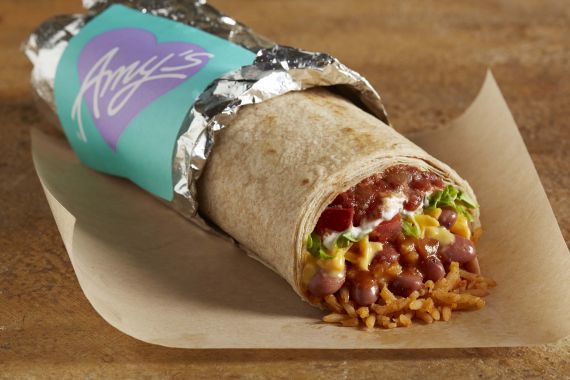 A single patty burger at Amy's costs $2.99. A standard burrito is priced at $4.69 (nudge, nudge, Chipotle) and a personal cheese pizza costs $5.89. Salads with in-season produce start as low as $3.99. On opening day, Amy's Drive-Thru served over 500 people — most of whom waited for more than an hour in line just to order.
Did McDonald's and Chipotle, who recently announced that they were phasing out the use of human antibiotics in their meats, or Taco Bell and Pizza Hut, who recently announced they will stop using artificial ingredients in their foods, foresee Amy's healthier and unadulterated food option and attempt to mend their ways?
---
This Article (Amy's Kitchen Launches Organic, Non-GMO, Gluten-Free, Vegan Fast Food) is free and open source. You have permission to republish this article under a Creative Commons license with attribution to the author and AnonHQ.com.