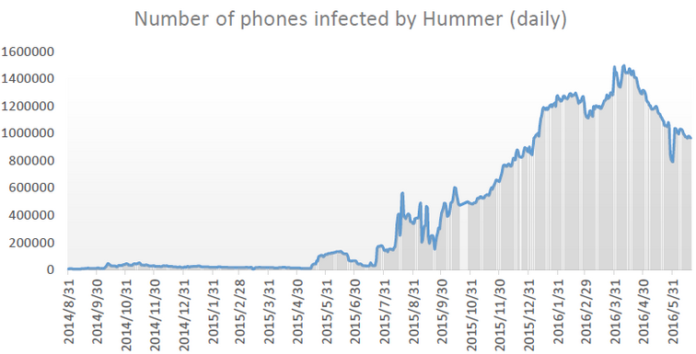 One of the most advanced and irritating android Trojan's details came out, courtesy of the mobile security firm, Cheeta Mobile Security. They issued a warning on 29th June, 2016 about an advanced android Trojan, named Hummer, which helps the Trojan developer earn up to $500,000 dollars every day. The Trojan, with 12 domains, are being installed, manipulating the users on the Internet.
Security researchers say this advanced Trojan infected millions of android users. When a mobile is infected with the HUMMER Trojan it will root the phone, managing to attain administrator status on the infected phone. This allows installation of many apps, games and pop-up ads, without the user's permission. This Trojan developer makes 0.50 $ every time the Trojan installs the virus. The Trojan has links with China and use 12 domains to update the Trojan. The irony is that the source of this Trojan has been updated on the Internet.
Well, ordinary anti-virus tools cant help in removing this Trojan, unfortunately. It is almost impossible to erase this Trojan, as it has already attained administration to your phone once infected. If you uninstall the appsinstalled by this Trojan, chances are the Trojan will reinstall them.
The Number of infections found in various countries:
1. India with 154,248 infections

2 .Indonesia with 928,893

3.Turkey with 63,906

4. china with  63,285

5.Mexico with 59,192
Cheetah Mobile security recommended their android Trojan killer to handle this Trojan, if you are infected by this Trojan. We at anonhq.com do not recommend the use of this particular app to get rid of this Trojan. Use at your own risk.
---
This article (Android Virus Developers Earn $500,000 Per Day) is a free and open source. You have permission to republish this article under a Creative Commons license with attribution to the author Legion and AnonHQ.com.