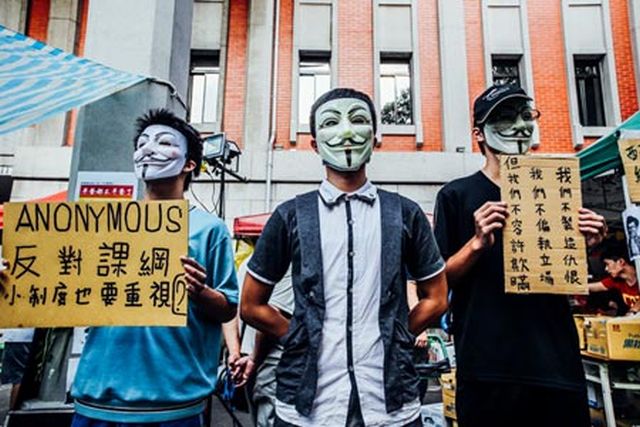 In order to show solidarity with Taiwan students protesting against China-centric high school curriculum, a group of hackers – Anonymous Asia – took down the websites of Taiwan's Ministry of Education, Office of the President, National Academy of Education Research, and Ministry of National Defense on August 1.
The #OpTaiwan, a coordinated effort that included hackers from Anonymous branches in the Philippines, Canada, Taiwan, Hong Kong, China and the United States, is believed to be linked to the controversial curriculum revisions to senior high school textbooks implemented by the Ministry of Education under the ruling Kuomintang government.
The curriculum changes disputed by protesters include a reference to Taiwan being "recovered by China" instead of "given to China" after the end of Japanese occupation in 1945. The 50-year period of Japanese rule is also referred to as an era when "Japan occupied" the island, replacing the previous phrase "Japan governed". The protesters argue that the changes whitewash the repressive authoritarian period under single-party KMT rule and inserts a China-centric ideology. The Democratic Progressive Party accuses President Ma Ying-jeou's Kuomintang Party (KMT) of being "cold-blooded" and calls for the curriculum changes to be rescinded.
"It is time to stand up and guard Taiwan, guard our children, fine-tuning is the beginning of brainwashing education," Anonymous wrote on Facebook. "Taiwan's government and the police, if you insult or hurt the demonstrators, we will attack the Taiwanese government websites, please treasure we give you the opportunity to withdraw from the front lines, this is not a threat, it's a promise," the video posted on YouTube warned.
Li Tsai-yen, Director, Department of Information and Technology Education, Ministry of Education, confirmed that the Ministry's website was crippled for more than 14 hours on Saturday due to two waves of attacks by hackers. The first wave struck shortly after 1 am and lasted until about 6 am, while the second began at around 2 pm and continued deep into the night, he said, adding that the attacks came from "all directions" and was the largest the ministry had seen in recent years. The DDoS attack is under investigation.
On August 2, around 800 protesters staged a protest outside Taiwan's Ministry of Education demanding Minister Wu Se-hwa's resignation and scrapping of the curriculum changes. The protesters also ripped apart the new versions of textbooks printed under the new curriculum guidelines.
Get Your Anonymous T-Shirt / Sweatshirt / Hoodie / Tanktop, Smartphone or Tablet Cover or Mug In Our Spreadshirt Shop! Click Here
---
This Article (Anonymous Attacks Taiwan, Shuts Down Government Websites) is free and open source. You have permission to republish this article under a Creative Commons license with attribution to the author and AnonHQ.com.