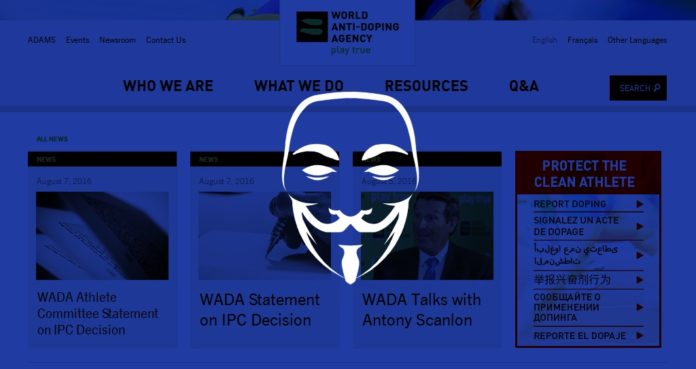 Anonymous made good on threats directed toward the organizers of the 2016 Olympics and the Brazilian government. The Olympics have drawn a spotlight on the cultural, political and economic conditions that have left the nation wrought with conflict and strife. Hacktivists posted on the Anonymous Brazil Facebook page the targets that were going to be hit. Among them were the Brazilian Sports Ministry, the Rio de Janeiro homepage and the official 2016 Olympic homepage.
The first data dump contained no personal information or sensitive government data, instead providing only the websites complete databases. The sites dumped were from the Brazilian Handball Federation, the Brazilian Triathlon Federation, the Brazilian Boxing federation and the Modern Pentathlon Federation.
The second batch of data dumps targeted Brazilian Paralympic Committee and the government portal for the city of Rio. "The media sells the illusion that the whole city celebrates and commemorate the reception of tourists from all over the world, many of them attracted by the prostitution network and drugs at a bargain price. This false happiness hides the blood shed in the suburbs of the city, mainly in the favelas thanks to countless police raids and military under the pretext of a fake war," read the statement that accompanied the hacks.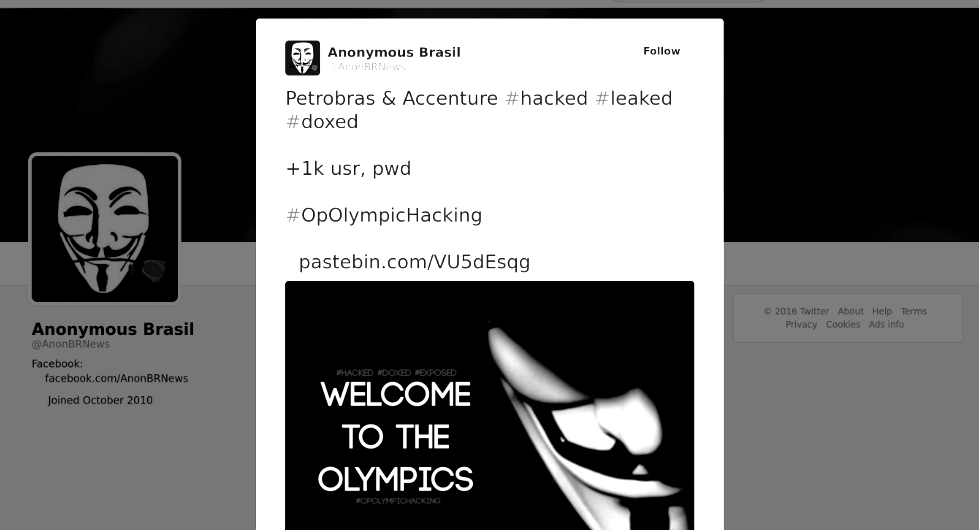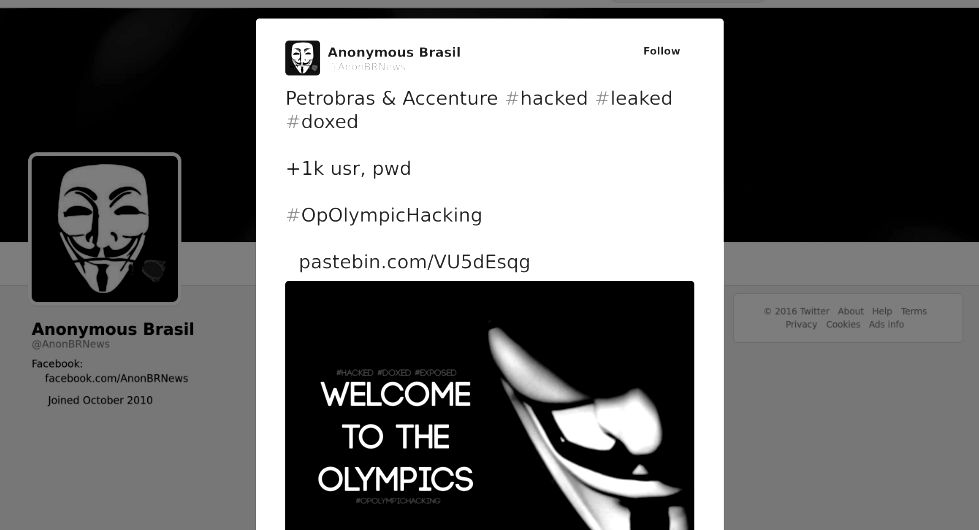 The bid to host the Olympics was won by Brazil in 2009, a time when the country did not anticipate its dire social conditions. A political scandal involving Petrobas, the nation's largest oil producer, saw hundreds of politicians implicated, including their president. Besides scandal, the country has been rocked with a devastating economy crisis, with many police, teachers and government employees experiencing delays in receiving their salary. Zika is another devastating factor in the current state of Brazil. While the Olympics is not the cause of Brazil's problems, they highlight the opulence that the Olympics appears to bring to each city it visits, with the contrasting reality of Brazil's declining status.
Anonymous Brazil were not the only hackers getting involved. Members of the Anonymous Poland group turned over a stolen file hacked from WADA, the World Anti-Doping Agency. The file contained 412mb worth of email account data, including passwords and the personal information of the site's authors. The information was turned over to HackRead, a hacktivist site whose slogan is Security Is A Myth. While reports suggest that the stolen data, including 3,121 email accounts, was a random attack, the timing of the hack closely corresponds with the decision to ban the Russian Paralympic team from competition over a handful of failed drug tests. Representatives from WADA admit the hack occurred, but claim that no testing data has been compromised.
Sources: NY Times, Softpedia – Anonymous Promises, Softpedia – Anonymous Hacks.
---
This article (Anonymous Hacks the 2016 Olympics – Brazil Government and WADA Targeted) is a free and open source. You have permission to republish this article under a Creative Commons license with attribution to the author and AnonHQ.com.