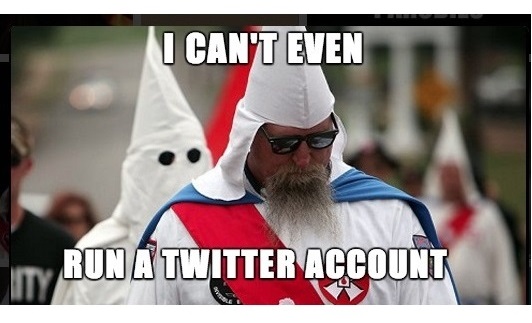 Only 8 weeks after returning to Twitter from serving a "4 month suspension" in violation to Twitters rules, the Ku Klux Klan's account has been halted again. In response to the Ku Klux Klan's violent threats against those protesting in Ferguson, Anonymous took over their Twitter account on the 16th November. The hashtag #OpKKK is moving quickly over Twitter, with little or no sympathy and tolerance for the KKK's past and present actions of hate toward their many victims.
The hacked @KuKluxKlanUSA account, has provided "large amounts of information on white supremacists." Anonymous have also released a statement on the 17th – posting it over the KKK's hijacked account – citing the reasons behind the cyber-attack, which you can read below (click to enlarge) :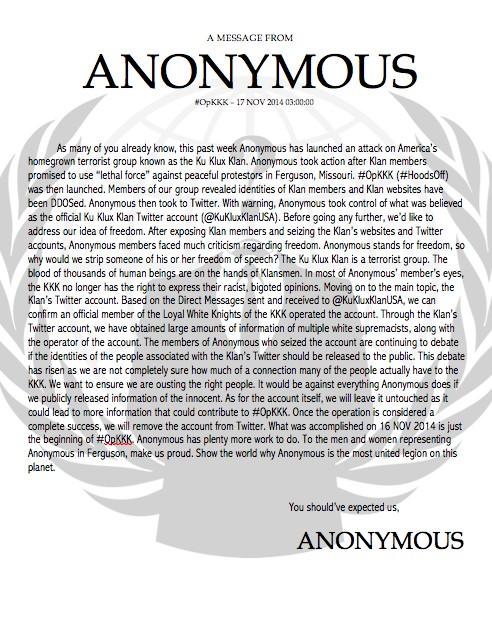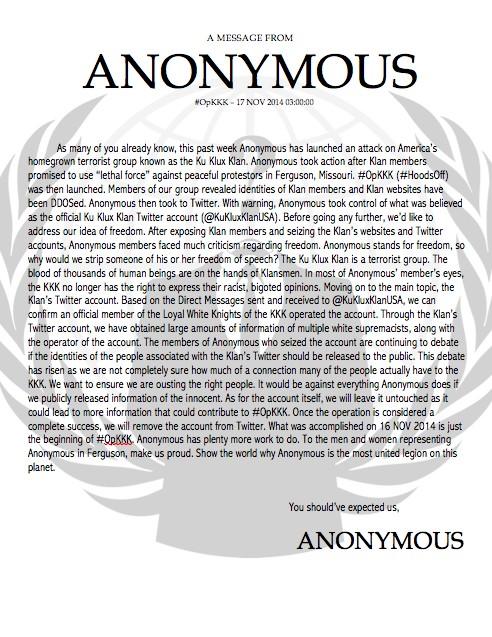 Anonymous have been criticized for their stance against the KKK; though the support received has outnumbered the negatives. Freedom of speech without censorship, in the context of violent ramifications imposed against those speaking, is to be protected. As stated in the above release by Anonymous, it is because of the KKK threatening our 'family' with violence that Anonymous retaliated. Fliers handed out in Ferguson warned of violent consequences against protestors if they continued their activism. The consequences, ferocious and unjust, outlined the ramifications to the people without any recourse.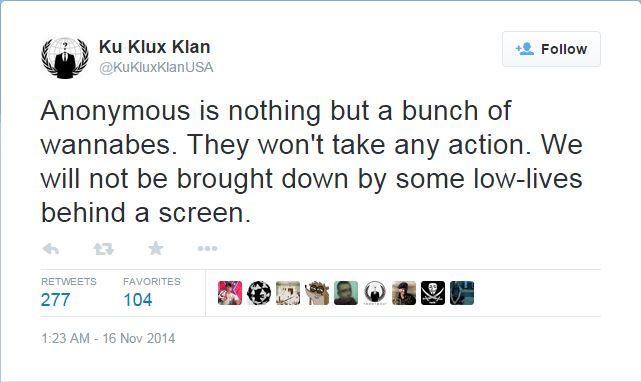 Given Anonymous' stance that when you seek to harm and perpetuate violence, protecting those who are innocent is a vital step to maintaining humanity. Anonymous acknowledged that these threats and attempts at inciting hate crimes wouldn't go unnoticed, that the KKK's act is considered 'terrorism.'
The movement against the KKK will continue, using the hashtags "OpKKK", "HoodsOff" and "unhooded." As in the statement above, "Anonymous has plenty more work to do."
ANON WATCHER'S PERSONAL AFTERWORD:
As someone who writes and reports for Anon on a regular basis between other professional writing gigs, seeing the racial intolerance from those who are oh-so narrow-minded, astounds me to no end. The '99 percenters' who are Anonymous do not stand for terrorism against people – men, women and children, regardless of color or creed. We believe in the freedom of speech without censorship and without the violent ramifications imposed. We believe in exposing the truth we find along the way in our endeavor to help this world become a safer place to inhabit – for us, for our children, and all those children's children we hope to see safe and at ease, separated from the current spiraling track that we are witnessing before us.
The KKK threatened our 'family' with violence – some of the 99%. This terrorism is unequivocally intolerable behavior against free will and the right to demonstration. It is an abuse against humanity in its truest sense – and if we are not to step up to it now, when do we start?
We do not forget or forgive those who seek purely to harm others as a means of self-justification, as the KKK do. When you seek to harm and perpetuate violence, it is Anonymous' belief to protect those who are innocent. Inciting hatred and violence is not a concept of freedom. It is the opposite. It is alienation of the weakest.
This week, Anonymous took some of that power back; to enable those who have the right to speak, to speak aloud. Holding a placard with words on it, is far, far different than handing out a flier threatening anyone with 'lethal force' who does so. Covering your face to conceal your identity as you commit violent acts upon people, is so far removed from covering your face as a form of protection from those very groups who want to tear you down and control you with their fear and hatred. We cover up to protect ourselves. It gives us this incredible power that they fear. They (KKK and anyone else you care to name in similar arenas) cover up to hide their atrocities.
Anonymous is our voice. The 99%. If it wasn't, I wouldn't be speaking to you right now. This is my opinion, only one opinion. My voice. We are on the cusp of something great for our future, if we can act as a collective to change it.
Use your voice to be heard too.
Related Article: Anonymous Revealing Ku Klux Klan's Identities
Link: Protect your PC and mobile devices from hackers & governments and surf anonymously