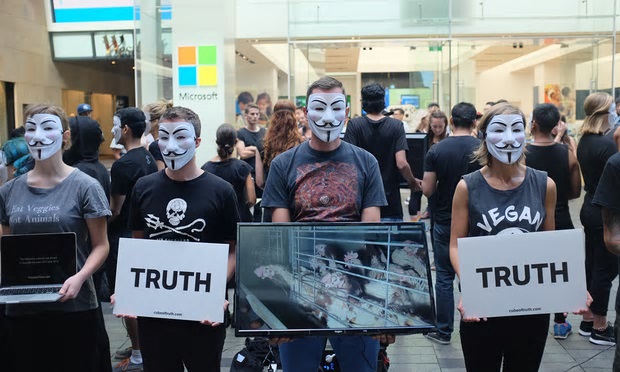 SYDNEY, AUSTRALIA – Anonymous took to the streets of Sydney's Pitt Street Mall, displaying peacefully to bystanders a montage of cruel animal agricultural practices.
The four-minute montage displayed animals beaten in pens, piglets dismembered on steel floors, sheep seemingly knowing their throats were slit as they remain alive and a cow bludgeoned half to death. Amongst the vivid display, onlookers saw other animals being abused in the name of agriculture.
The group baring Guy Fawkes masks continued flashing the screens, continuing in all directions with laptops and flat screens held to get the message across in the busy mall.
These Anonymous members belong to Anonymous for the Voiceless, or AV, and focus exclusively on animal rights.
AV started their own movement last year, beginning in the Victorian capital, Melbourne before moving their attentions to the busier Sydney in New South Wales this week. Taking to the streets in an Occupy-style, they also now have a headquarters in Chiang Mai, Thailand with several Anonymous chapters of this faction expanding all over the world.
Melbourne has equally experienced these events, demonstrating to the public what animals go through in captivity, but the Sydney chapter, only founded last year in November, launched their second public event, Curb of Truth, at Pitt Street Mall this week.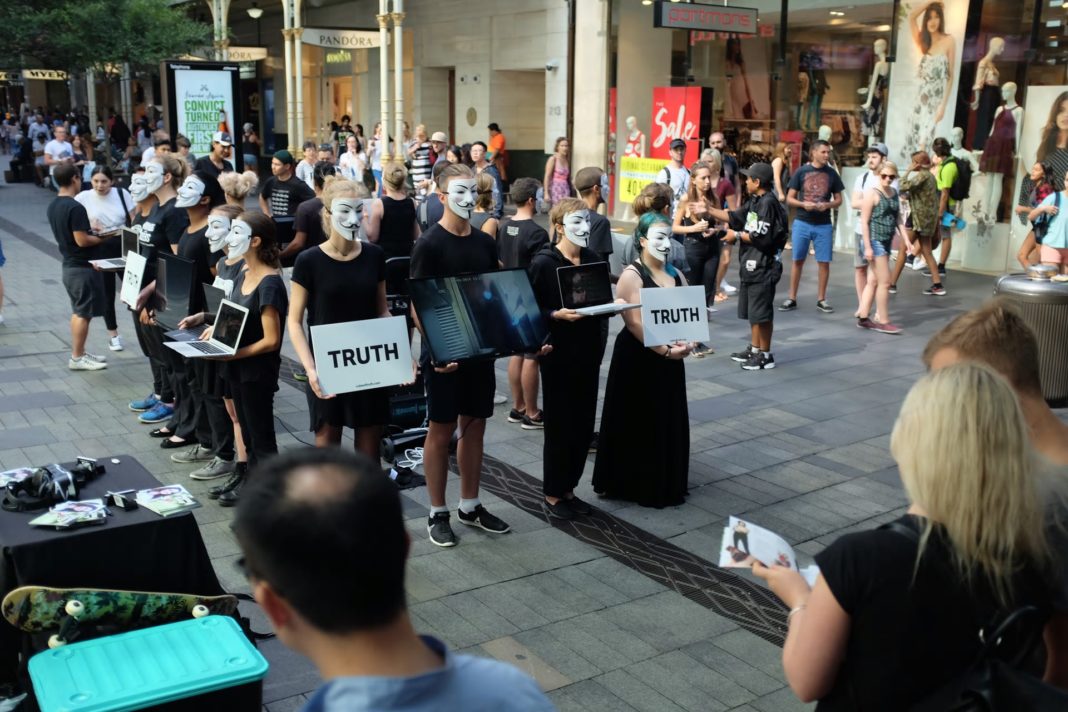 Curb of Truth's message was to go vegan and not participate in the cruel slaughter of animals. And the message appeared clear to spectators, with some frozen to the images displayed.
Chief executive of the National Farmers Federation, Tony Mahar, made it clear that his organization doesn't tolerate cruelty to animals.
"We were sickened by the contents of the video and we encourage authorities to take appropriate action," he said. "Farmers care for their animals and are themselves the strong advocates of good animal health and welfare outcomes … best practice farming is vital to the livelihood of Australian farmers. Not complying with animal welfare requirements is unacceptable," Mahar said to The Guardian during an interview.
Matt Stellino, the co-organziser of the Sydney chapter explains how the masks also help to draw focus on the important message. "The masks help make the cube inanimate, which encourages bystanders to view the screens for longer without the feeling that someone is staring at them," Stellino says. "They signify how, through clever marketing, people are being lied to, controlled; are asleep to the fact it's happening. They also help signal that change is coming."
---
---
Anonymous for the Voiceless is an animal rights organisation that specializes in street activism.
Over 96 demonstrations, we have convinced at least 3,323 bystanders to take the NEEDLESS cruelty in their diets and lifestyles seriously.
We employ direct action with highly effective public outreach using local standard-practice footage of what "food animals" experience every second of every day, hard-line discussions, virtual reality technology, succinctly informative resources and a unique value-based sales approach that closes the deal. We fully equip the public with everything they need in switching to a vegan lifestyle. We hold an abolitionist stance on animal exploitation.
---
---
However, sometimes the message isn't enough. Stellino recalls one man walking past, "One guy, he walked past and made a passing comment like, 'These fucking idiots. There's kids starving overseas and you want to worry about fucking animals…'" He recalls his response to the man. "Would you like to know how stopping animal consumption makes a direct impact on that [starvation]? We have 1.5 billion hungry, starving people on this planet. Yet we find the grain to feed the 60 billion livestock who eat more than each one of those people will. The math on it is simple, it's there. If we stop contributing it [the grain] towards animals, it can go towards the people."
Even the police have supported the task, ruling it wasn't illegal to view the graphic images in a public space, although some parents had plenty to complain about.
"We've got these big screens with what's actually going on: Baby chickens going through grinders, cows being hung up and having their throats split, little baby pigs being limp on the ground. That's what we have. When people see that they question themselves. We are in a better position to talk to them then. They might not have ever seen this stuff before," Lauren Godbier adds, the 22-year-old who founded the Sydney chapter.
The Anonymous chapter also offers a 22-day vegan challenge for anyone wishing to take it up. If it doesn't work out for dietary or health reasons, they even offer a nutritional scientist to sit down and help plan your diet with you.
If you want to know more, visit Anonymous for the Voiceless website, here.
---
This article (Anonymous For The Voiceless Takes to Sydney Streets, Fights for Animal Rights) is a free and open source. You have permission to republish this article under a Creative Commons license with attribution to the author AnonWatcher and AnonHQ.com.
---
Supporting Anonymous' Independent & Investigative News is important to us. Please, follow us on Twitter: Follow @AnonymousNewsHQ