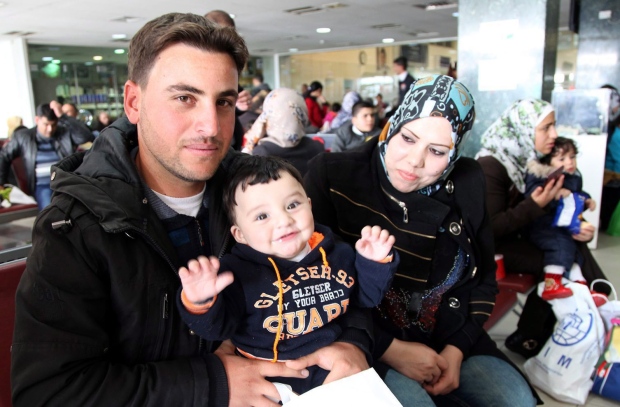 On February 27, a plane carrying the 25,000th Syrian refugee landed in Montreal, marking the end of the first phase of the Liberals' massive resettlement program. While the government hopes to settle a total of 35,000 to 50,000 by the end of 2016, the resettlement is proving too ambitious for the government's immigration and settlement agencies to handle on their own.
We have now welcomed over 25,000 Syrian refugees to Canada. Welcome home. #WelcomeRefugees pic.twitter.com/XJZYbYPaCi

— Justin Trudeau (@JustinTrudeau) February 29, 2016
In January, Virginia Johnson, one of two volunteers working at a Budget hotel in Toronto, told CBC Radio's Metro Morning host Matt Galloway that some government-sponsored Syrian refugees feel like they're "trapped in a prison" without hope due to a lack of communication, supplies and assistance. She said that others say they're not getting much help, and would rather go back to their refugee camps in Jordan and Lebanon – adding that the difference between government and privately sponsored refugees is "vast."
"The settlement agencies are overwhelmed. There's a huge opportunity for individuals to step up and help."
Kate Bate, the second volunteer, added, "We're very worried that what we are facing is two classes of refugees. We've got this nurtured, loved, family supported by 35 families, and then we've got 100 families supported by one or two people."
Finding both temporary and permanent housing for the newly arrived publicly sponsored refugees, remained a challenge for the federal government's resettlement program, however, Toronto's Jewish, Muslim and Catholic communities are helping refugees integrate into Canadian society.
In 2015, 98.9% of privately sponsored refugees arrived in Canada through faith-based, ethno-cultural sponsorship agreements. These holders pledged to provide financial and settlement support for at least a year, to the refugees they sponsor.
Lifeline Syria is one such settlement organization that facilitates the process of independent sponsorship, matching  groups with Syrian families settling in the Greater Toronto Area. Working with those families throughout their first year, they help in the building of their new lives.
Mint Press News reports:
"The sponsorship groups prepare for the families' arrivals by securing family doctors and dentists, as well as translators who will assist during these appointments and on other matters of business. They set up phone and Internet accounts, and get utilities turned on. They do fundraisers and collect donations of everything from warm coats, sturdy boots and cozy socks, to bunk beds and refrigerators. They network with other groups to exchange ideas, share Arabic-language materials, and ask questions about the process. Perhaps most importantly, they offer a built-in support community, eager to help the family they've sponsored integrate into all aspects of Canadian life."
My mom, and personal hero, is knitting toques to welcome Syrian refugees to Canada. https://t.co/0qUPbnEuyc pic.twitter.com/WiBAWMaZWr

— Jake Tobin Garrett (@jaketobin) February 20, 2016
A member of one of many sponsorship groups associated with Lifeline Syria, Kendra Hawke, an administrator at the University of Toronto, told Mint Press News, "The way it works up here is that you simply have to pledge to take care of the family for one year, and away you go."
Jenny Davis, another member, added, "Initially, I asked for 42 donations of $500. That was on Aug. 26, and 18 days later, the family had raised $27,000, the minimum amount required by the government for a private sponsorship of a family of four. Shortly thereafter, the group found itself sponsoring a family of 10."
Hawke's group lined up babysitters and tutors; gathered enough warm winter clothes, furnishings and appliances for the family of 10 to arrive and settle in quickly, and comfortably. The group members went out of their way to find a place that was walking distance from an Arabic community center, and all three levels of school that the children need, as well as easy access to transit.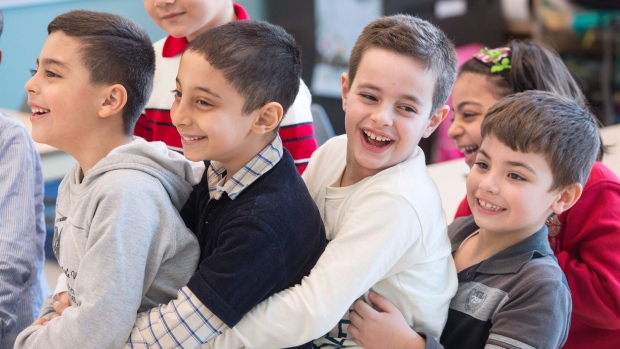 Hawke said sponsoring the Syrian family is an important way to teach her own sons about "how lucky we are to live here in Toronto and to share what we can, when we can."
"My kids are also of the age where war is used as entertainment — 'Halo', 'Call of Duty', and 'Transformers' movies. I want them to understand that war is responsible for entire families losing their homes and having to leave their countries. I am not as heavy-handed as that sounds, but just balancing the glamour that surrounds war for children with the reality is important."
Canada is admitting Syrian refugees who currently live in Jordan, Lebanon and Turkey. While they are not directly coming from refugee camps, all have official refugee status conferred upon them by the UN. While the government has set a target number for Syrians they'll support, they've not yet set a cap on how many private sponsorship applications they'll accept. As of February 27, there were 8,527 Syrians in Canada with private sponsors and applications continue to be received by government.
---
This article (As the Government Struggles, Canadian Citizens Help Syrian Refugees Start a New Life) is a free and open source. You have permission to republish this article under a Creative Commons license with attribution to the author and AnonHQ.com.