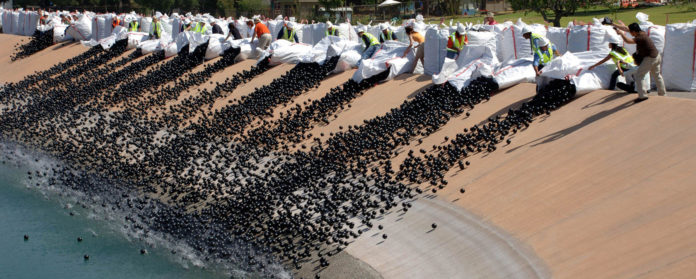 It seems that the drought has gotten so bad that innovative ideas are necessary to solve it. Taking a page out of previously-demonized litterers everywhere… We bring you "filling reservoirs with floating debris".
Some 20,000 black plastic balls were sent rolling into the Los Angeles Reservoir. That's a lot of balls.
LA just completed a project at the LA Reservoir to save 300 million gallons of water by deploying shade balls on its surface, saving our city over $250 million dollars while keeping our water clean & safe.

Posted by Mayor Eric Garcetti on Monday, 10 August 2015
The balls will apparently cover the entire surface of the reservoir, reducing the exposed surface area of the lake and thus preventing much of the evaporation. Apparently wind-blown dust will just skim past the surface of the balls, and not contaminate the water. Algae blooms, triggered by sunlight and nutrients, will also be prevented. All this sounds great and all, until these plastic balls find their way into the ocean somehow… Ah well.
"In the midst of California's historic drought, it takes bold ingenuity to maximize my goals for water conservation," Mayor Garcetti said in a news release. It also takes BALLS. Lots of BALLS. "This effort by LADWP is emblematic of the kind of the creative thinking we need to meet those challenges. Together, we've led the charge to cut our city's water usage by 13 percent, and today we complete an infrastructure investment that saves our ratepayers millions and protects a vital source of drinking water for years to come." Funny how he forgot to mention the water bottling companies that conveniently suck away much of your water so they can profit from your tax-payer-funded initiatives. Good job!
The initiative is "expected" to save 250 MILLION DOLLARS, which when translated from politician-speak to human-speak works out to about… tree fiddy.  At 0.36 cents apiece, and 20,000 balls, or 7,200 bucks… it seems like the initiative will save a LOT of money. And water, because these balls have reduced evaporation by a whopping 85-90 percent elsewhere in LA.
Sources: ATTN
---
This Article (Balls of Shade: California Shows It Has The Balls To Deal With Drought) is free and open source. You have permission to republish this article under a Creative Commons license with attribution to the author(CoNN) and AnonHQ.com.