Mary Jane Malinchak-McCann and Daniel McCann are certain their 16-year-old daughter, Annie, was murdered in 2008. Baltimore Police Department (BPD), however, swiftly deemed Annie's suspicious death suicide. BPD maintains Annie took her own life by drinking a 5-ounce bottle of Bactine, which resulted in fatal lidocaine poisoning.
BPD's conclusion that Annie committed suicide leaves many questions unanswered.  The Washington Post dubbed BPD's investigation into Annie's death "mystifying," but Daniel McCann has stronger words to describe their conduct: "At this point, we don't know what to believe, where incompetence ends and corruption or cowardice or cover-up kicks in."
Now, Senator Chuck Grassley, chairman of the Senate Judiciary Committee, is also questioning BPD's investigation into Annie's death.
In his letter to Baltimore's police commissioner, Kevin Davis, dated March 2, 2016, Grassley said the Senate Judiciary Committee is "seeking to understand more fully BPD's decision to treat the case as a suicide." Grassley gave Commissioner Davis until March 18 to respond to several questions regarding the investigation.
Among countless loose ends, there are two gaping holes in BPD's conclusion that Annie simply committed suicide by drinking a 5-ounce bottle of Bactine: five ounces of Bactine isn't enough to kill a person and there are indications that Annie was sexually assaulted.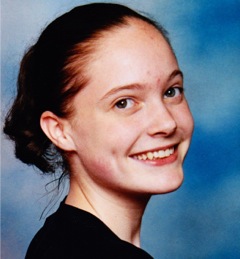 Annie McCann's body was found dumped near garbage bins in Baltimore in 2008.
The McCanns say several experts have stated that ingesting five ounces of Bactine would not be fatal, including the makers of Bactine, Bayer Corporation, who told the McCanns that "the amount of lidocaine in a single 5 ounce bottle would not be expected to produce death."
In addition, renowned forensic pathologist, Dr. Michael Baden, told the McCanns that a single 5-ounce bottle of Bactine would not account for the levels of lidocaine found in Annie's system on autopsy. Baden also told The Washington Post, in November 2009, that it would take five or six bottles of Bactine to produce the levels of lidocaine found in Annie's body.
Diana Downey, director of the funeral home responsible for Annie's funeral, wrote in an email to Grassley last November that the funeral home staff "always thought that Annie had been raped (sodomized) and beaten." Downey and the embalmer from the funeral home later spoke to the McCanns, detailing very clear physical evidence of sexual assault.
The information from the funeral home contradicts BPD's report on Annie's case. Daniel McCann said in an email that the "[p]olice file has two references to no evidence of rape." BPD has steadfastly refused to give the McCanns the results of Annie's rape kit, though, despite the McCanns' repeated requests for them.
Retired BPD detective, James Kontsis, whom the McCanns hired in December 2008 to investigate Annie's death, has described the case as mysterious and stated in an email that it "should be reopened, it is very unusual."
Clearly, Grassley has also recognized the shortcomings of BPD's investigation into Annie's death, and, among other things, asked if BPD consulted with Bayer to find out if ingesting a single 5-ounce bottle of Bactine is sufficient to cause death. He also asked why BPD has withheld Annie's rape kit results from the McCanns.
Grassley's letters have proved powerful in exposing police cover-ups in the past. His letters were key in uncovering what Fairfax Police Department had been hiding about their officer's fatal shooting of unarmed John Geer, which eventually lead to the officer being indicted on second-degree murder charges.
At this stage, BPD is sticking by its initial conclusion that she committed suicide. The Washington Post reported that a BPD spokesman said with regard to Grassley's letter: "There's no indication of any type of situation where the young lady was murdered. All evidence pointed away from murder and any type of sexual assault. We got the letter and we will respond."
At the time of publishing, any response from BPD had not yet been made publicly available by the Senate Judiciary Committee.
As for the McCanns, what they are asking for hasn't changed since their daughter died in 2008: they want a thorough investigation into her death and to "give Annie a voice."
If you have any information of Annie McCann's death please go to: http://justiceforannie.com
---
This article (Baltimore Police Investigation into Fairfax's Teen's 2008 Death Unsatisfactory: Senator Grassley asks for Answers) is a free and open source. You have permission to republish this article under a Creative Commons license with attribution to the author Bullseye and AnonHQ.com.