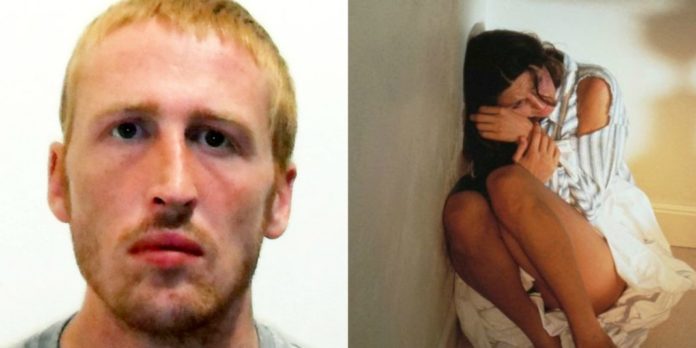 30-year-old Anthony Laine has been jailed for 12 years, and will serve an extended period of eight years for brutally raping and viciously beating a woman, which broke her face off her skull and left her with a 'floating face', on the banks of the River Severn in Bewdley, Worcestershire, last summer.
Laine, a former drug addict who glassed his own father in 2008, pleaded guilty to two charges of rape and inflicting grievous bodily harm with intent. He also pleaded guilty to causing actual bodily harm and three common assaults in separate incidents.
The woman, who was found unconscious in a pool of blood on August 10, 2016, but later regained consciousness to identify Laine as her attacker, was reportedly asleep inside a tent when Laine pounced on her and sexually assaulted her twice. He also attacked her so badly that she suffered a 4-inch cut down the middle of her forehead, a V-shaped cut over her right eye and a large cut over her left eye.
Court documents show the injuries inflicted, with his bare hands, were so severe that surgeons at Queen Elizabeth Hospital, Birmingham, had to cut open her eyelids to relieve pressure on her eyes.
According to The Daily Mail, a CT scan revealed serious underlying fractures to her face called 'Le Fort Fractures;' one running above her teeth and upper jaw, and another from the bridge of her nose across the eye socket to the hinge of her jaw.
Her nose was so badly broken doctors struggled to give her anesthetic, and she was left with no feeling in her top lip. The surgeons were left with no choice but to put metal plates into her eye sockets, cheek and jawbone; and use a bone from her skull to repair her nose.
The woman, who cannot be named for legal reasons, underwent a nine-and-a-half-hour operation. During the hearing at Worcester Crown Court, prosecutor Timothy Sapwell said the unidentified woman was left unable to chew food, open her mouth to yawn or clean her teeth.
"The front of the face was completely detached from the skull and smashed in two. It's described in medical terms as floating face. Doctors said her injuries were akin to those suffered during a car crash or as a result of a high velocity impact with heavy object."
Although West Mercia constable Nicola Nevin, who investigated the heinous crime, commented…
"The victim in this case has shown tremendous courage both during this investigation and throughout her extensive treatment and I would like to praise the remarkable strength she has shown. This was an unprovoked and incredibly violent attack which left her with serious long term injuries for which she is still undergoing complex and very painful surgery.
"I am glad to say that the severity of the offense is reflected in today's result and we hope that this sends a very clear message: Offenses of this nature are taken very seriously by police and will always be thoroughly investigated."
…In a heartbreaking video statement, the woman, who has no memory of the gruesome attack, told the court she still suffers from double vision, faces a further 18 months of hospital visits, and is afraid to go out (when asked about her attacker, she said: "Words can't express how scared I am"):
"It's ruined my life. I come across as a strong person. I'm not really. I'm looking at lots more operations, lots more time in hospital. I'm in constant pain. I can't eat properly. I have to eat soft food. I can't chew anything at all. I can't eat meat or even toast.
"I can't open my mouth to yawn. I cry with pain cleaning my teeth and it hurts just talking and walking. I'm still alive, that's the only thing. I'm fed up with the pain. That's what gets me down more than anything."
Judge Daniel Pearce-Higgins, who also issued "an indefinite sexual harm prevention order" that prevents Laine from having any sort of contact with the woman, noted: "There is a significant risk of the defendant causing serious harm to members of the public, particularly women."
Even though the judge branded Laine, who admitted to have punched the woman "only four or five times" yet injured his hands badly, a 'danger' to women; Simon Rippon, the defense lawyer, said although the case had gone to trial, Laine had admitted guilt on the second day itself, sparing the woman "the trauma and stress of giving evidence."
"Laine is sorry, but it doesn't seem enough, does it? He understands and appreciates the great harm he has done to her. He is remorseful. There is some scope for him to be law abiding, when he's not in drink."
---
This article (Beastly Man Brutally Rapes Woman, Then Rips Her Face Off Her Skull with His Bare Hands) is a free and open source. You have permission to republish this article under a Creative Commons license with attribution to the author and AnonHQ.com.
---
Supporting Anonymous' Independent & Investigative News is important to us. Please, follow us on Twitter: Follow @AnonymousNewsHQ