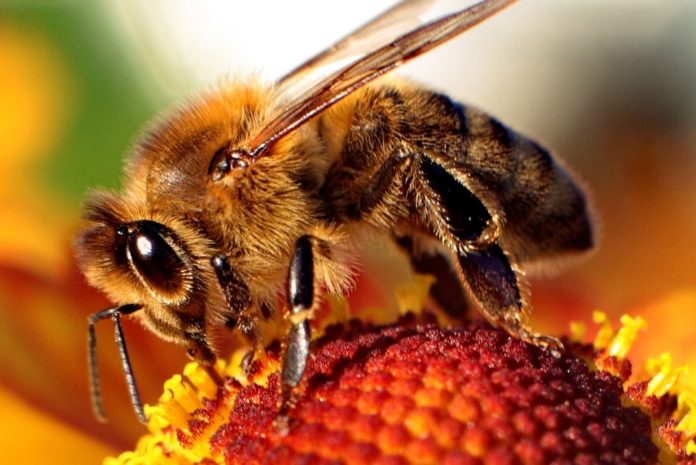 Written & Submitted By: James Wood
The bee is the largest pollinator on this planet, and without them we would have little time left to think out something that would allow us to overcome the next great extinction… us! The function of growing fruit on a branch occurs when a flower attracts a bee that lands on it, gets pollen stuck to it and then carries it to the next one that it lands on… thus triggering the flower to grow fruits. Since humans are heavily spraying pesticides to kill 'bad' little critters who destroy crops like corn, the bees die as well from these pesticides.  And as if that is not enough, there are several other causes as to why bees are dying.  Albert Einstein was quoted as saying, "when the bees die we have only four years left…"
Let me explain to you why bees are so important, not only to us but to the entire planet as we know it. The bees are the largest group of insects who can pollinate plants. These plants need the bees to survive, of course not all plants, but those who give fruits or vegetables that we and most animals eat. So without them, we have no natural source of this kind of food which we depend on because our body's need vitamins and minerals. In China, farmers were pollinating apple trees and several other plants by hand. They have stopped after some time because it was nearly impossible to keep up.
Apart from the pesticides, the Varroa mite is also a great danger to the bees. The neonicotinoid that is used to spray most fruit bearing plants, is passed through the nectar from of a flower to the bee and to the mite larvae which are fed by the nectar, and get killed. These pesticides are so dangerous because they last very long and are used in several insect control methods, they are also commonly found in gardening centers. In almost everything the bees eat and drink they take on these neonicotinoids.
There are other kinds of anti-pest methods for plants in the flowering industry, where of course the heaviest spraying is done because we don't eat these plants. They could use other bugs that eat the pests and are not harmful to the flowers themselves, like ladybugs.
Point is… all over the world bees are dying, and if we don't stop it, our very existence will cease.
Here is a list of product that contain neonicotinoids:
http://www.centerforfoodsafety.org/files/pesticide_list_final_59620.pdf
And here are a couple of informative documentaries on bees: