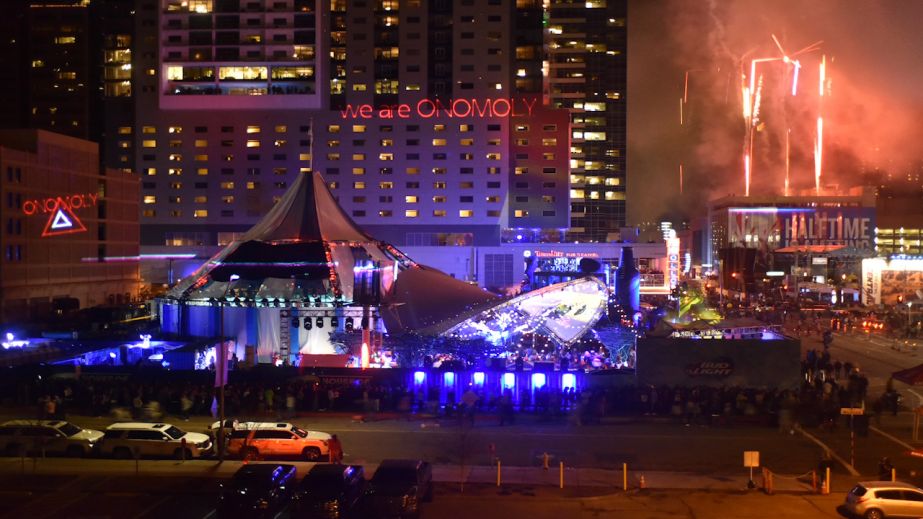 Phoenix-metro artist collective Onomoly used several RGB lasers to project #LaserTwitter tweets from a warehouse space on First and Madison streets onto several different high profile locations in downtown Phoenix during the NFL Super Bowl 49 on February 1.
Below is the video recap of uncensored, unsponsored and unbridled #LaserTwitter.
Onomoly gave citizens a voice while simultaneously mocking the Bud Light #UpForWhatever campaign. "We gave the average Joe the opportunity to speak. Maybe they had something to say about the NFL or maybe they had something to say about other things. I liked the idea of giving people a voice in a space like that, otherwise dominated by corporate dollars," said an Onomoly member.
"We were giving people a free uncensored voice in that spot. Every single inch of that whole downtown area was dominated by NFL mandates, if you had a bar down there and billboard on the outside of the building the NFL was given rights to that as part of the Super Bowl agreement with the city. The idea of #LaserTwiter was to build a cool interactive sounding board that people could use during Super Bowl week.
"Bud Light's campaign says they are #UpForWhatever, but clearly not up for free speech. We are messengers of light. Bud Light sells bad tasting beer to people who are too drunk to know the difference.
"This is about big corporations attempting to quash our voices. The NFL specifically prohibits things like #LaserTwitter. That's why we did it. The NFL is a sham charity fleecing BILLIONS from taxpayers. People need to know whether they are a fan or not, they are directly subsidizing the wildly profitable NFL. People DO have something to say. We proved that with #LaserTwitter".
These are some of the tweets posted in downtown Phoenix through #LaserTwitter…
While all of you are busy watching the #SuperBowl – Your freedoms are systematically being stripped away. #Misdirection #LaserTwitter

— MIKE TEWZ (@TEWZ1) February 1, 2015
Bud Light Lime the same piss flavor, now with a hint of lime. #lasertwitter

— ʇsqoɹd uɐıɹq (@probrian) February 1, 2015
Be an active creator, not a passive consumer. Your life is more than work, TV, Eat, Drink. #LaserTwitter

— Layal Rabat (@Layalzebub) February 1, 2015
Slip into morphine sleep while artillery rains, churning earth from under your reclining, fading tension. In Viscera Veritas. #lasertwitter

— In Viscera Veritas (@chop_shoppe) February 1, 2015
Just 10 city blocks away, 250 of our homeless are caged in a parking lot, hungry , wet and cold. #lasertwitter

— I Have A Name (@_IHaveAName_) January 31, 2015
Sources:
http://www.moderntimesmagazine.com/page16/150206_Arizona_Laser_Twitter/150206_Arizona_Laser_Twitter.php