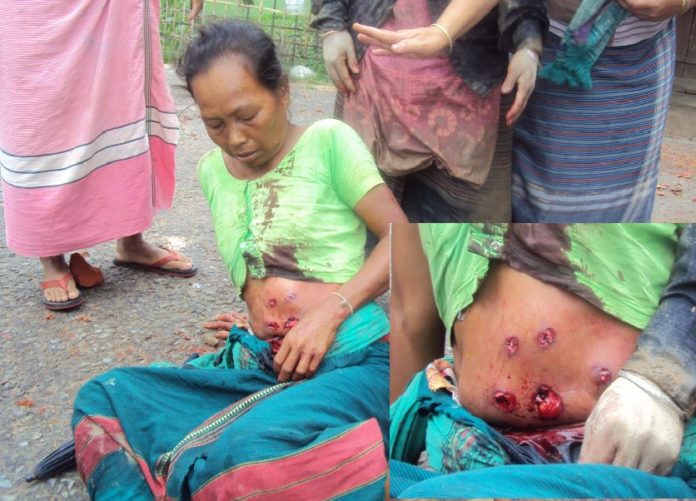 Bangladeshi security forces have committed grave human rights abuses in the Chittagong Hill Tracts (CHT), murdering, crippling, raping, and torturing indigenous ethnic communities which are culturally, racially, ethnically and linguistically distinct from the majority Bengali population of Bangladesh. The elected representatives of CHT demand regional autonomy to protect their language, culture and religion; their demand perceived as secessionist by Bangladesh. The Bangladesh government has deployed armed forces, whose actions have been described as genocide and ethnic cleansing, in the area of conflict.
The CHT conflict is an age-old political and armed struggle between the government of Bangladesh and the United People's Party of the Chittagong Hill Tracts and its armed wing, the Shanti Bahini, over the issue of autonomy and the rights of the indigenous people known as Jummas. During the conflict, the Bangladesh used rape, torture, arbitrary arrests, mass imprisonment and kidnapping against the Jumma people to combat the insurgency.
"One group of soldiers asked all the young males in the village to gather in a corner. Many of them ran away but I and my nephew were caught. The army first beat us very badly with rifle butts. They stamped our feet under their boots. We were screaming but the army people kept on beating us, asking for the Shanti Bahini's whereabouts. When we still did not tell them anything, they brought a bucket of chili-water and poured it into our eyes and noses," Dighinala Upazilla, resident of Pablakhali village, described an incident occurred on December 29, 1986.
"It was so humiliating that it is difficult to describe. They told all of us women to take off our clothes and to lie down on our elbows and knees. I was crying bitterly but not for myself. I am an old woman. My daughter, who is just 18, and my daughter-in-law were also made to lie like that next to me. Then, amid a lot of shouts and screams, the soldiers took off their trousers and started raping us from behind. All the time the other soldiers were asking our men to watch the punishment for helping the Shanti Bahini," Panchari Upazilla, resident of Gilatuli village, described an incident occurred on January 6, 1987.
A Chakma woman from Khagrachari District was arrested, tortured and sexually harassed by the security forces for buying clothes in 1989. "I went to the market and bought some clothes. All of a sudden a policeman came from behind and caught me. The police asked: 'Why did you buy the clothes?' I said: 'To wear.' Then he took me to jail and started beating me and giving me electric shocks. They kept me one and a half days, tying my hands. Then they transferred me to Khagrachari army camp. They tortured me at the army camp. The army soldiers assaulted me by touching my breasts. After five days I was released on the condition that I report there every month. The charge was that I bought clothes for the Shanti Bahini".
Bangladesh armed forces and settlers armed by the Bangladesh government massacred CHT's indigenous people for 15 years of military rule in the country. In 1980 Kaukjali village was attacked leaving 300 dead. In 1981, security forces killed between 3000 and 4000 people. Between 1971 and 1994 it is estimated that 2500 Jumma women were raped. 94% of rapes between 1991 and 1993 were committed by the armed forces, 40% of them were minor girls. Between 2003 and 2007, 27% of rapes were committed by the armed forces and remaining by Bengali settlers.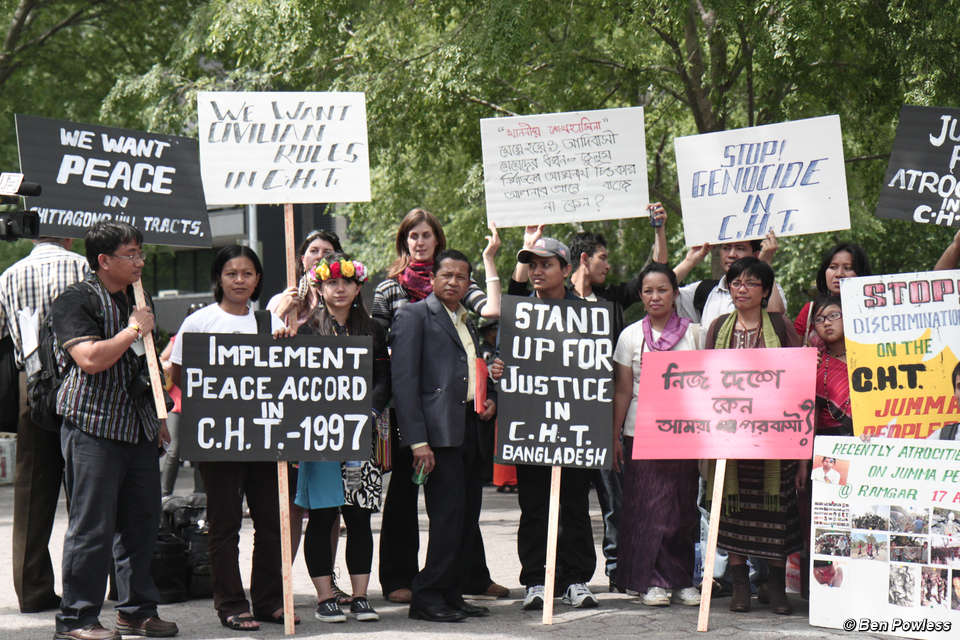 Chittagong Hill Tracts Peace Accord was signed in 1997 between the government and UPPCHT which recognized CHT as a tribal inhabited region, acknowledged its traditional governance system and the role of its chiefs and provided building blocks for regional autonomy. The accord has largely remained unimplemented. The Jumma people have not been given constitutional recognition and are known as "backward segments of the population". The army was required to dismantle its camps in the region; as of 2014, only 29 of 500 military camps in the CHT have been withdrawn. The peace accord guaranteed the rights of indigenous people to their ancestral lands; in reality they continue to be forcibly evicted from the region. The government has failed to address the long-standing issue of the displacement of native people, numbering an estimated 100,000, caused by the construction of the Kaptai Dam in 1962. The displaced did not receive compensation from the government and around 40,000 fled to India.
The Bangladesh government has granted impunity to the military for blatant human rights abuses committed in the name of security and stability. According to a report by the Chittagong Hill Tracts Commission, when indigenous women report rape by Bengali settlers, doctors are pressured to report no evidence of rape arguing that a finding of rape would contribute to tensions between indigenous people and Bengalis.
According to a report published by Amnesty International in 2013: "From 1977, the Bangladesh army flowed into the Chittagong Hill Tracts and there were regular armed clashes with the Shanti Bahini. There followed a long period of violence and repression of Pahari. Members of the army were involved in frequent human rights violations, including massacres, which have been well documented and internationally publicized by human rights organizations, including Amnesty International. These reports contained detailed accounts of torture and killings of Pahari villagers".
Violence in CHT has not got the international attention it deserves. No one is brought to justice for human rights atrocities committed against the people of Chittagong Hill Tracts.
Sources:
http://www.culturalsurvival.org/publications/cultural-survival-quarterly/bangladesh/attacks-continue-indigenous-people-chittagong-hi
http://www.angelfire.com/ab/jumma/genocide.html
https://www.facebook.com/pages/Justice-for-Chittagong-Hill-Tracts-CHT-Campaign/1514815695463279
https://www.facebook.com/CHTHUMANRIGHTSWATCH
https://www.facebook.com/pages/CHT-jummaland/327524104096965