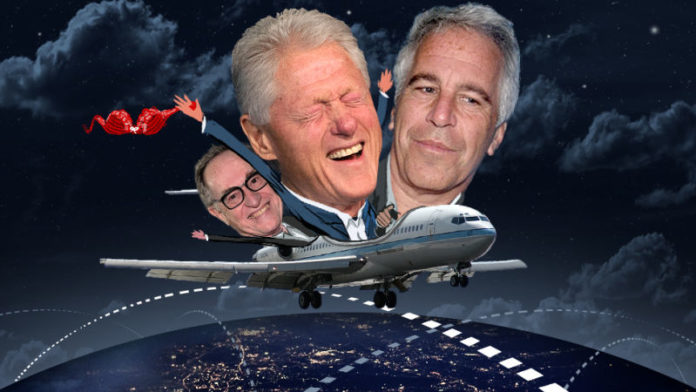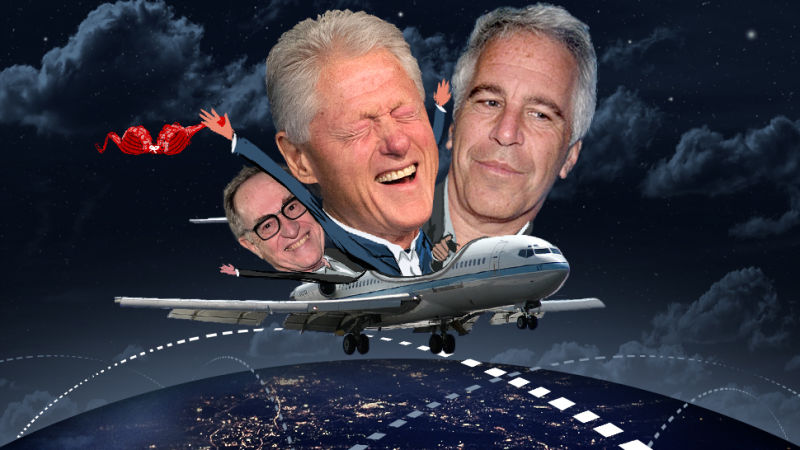 Former U.S. President Bill Clinton was found to have flown on convicted pedophile Jeffrey Epstein's "Lolita Express" private Boeing 727 at least 26 times, according to released flight logs.
Clinton certainly valued his privacy while on board, ditching his Secret Service detail for at least five of the flights according to the records, which were obtained by Fox News. Apparently, none of the required paperwork for signing the details off were filled.
Did U ask if I think Sec. Clinton should come clean on Mr. Epstein and her scumbag husband? #tcot #ccot #gop #maga pic.twitter.com/kb3zgDoJRI

— John K Stahl (@JohnKStahlUSA) May 11, 2016
Epstein was given a 13 month sentence for soliciting prostitutes as young as 14 years old. He is now registered as a Tier 1 sex offender. FBI investigations began in 2006 when evidence was found showing that he and his famous friends may have used dozens of young girls as sex slaves. Police survived his Palm Beach mansion, identifying 20 girls between the age of 14 and 17 who said they were sexually abused by Epstein. He also allegedly had a team of traffickers who brought girls as young as 12 to "Orgy Island," located on a 72-acre island owned by Epstein within the U.S. Virgin Islands.
Court papers show that the police had identified as many as 40 victims, and that police investigators found a "clear indication that Epstein's staff was frequently working to schedule multiple young girls between the ages of 12 and 16 years old literally every day, often two or three times per day."
RT video report:
He pleaded guilty in a federally brokered "sweetheart" deal in 2008, for just the one count of soliciting an underage prostitute, serving just 13 months of an 18 month sentence. Work release allowed him to spend most days at his office, and only nights at the county jail in what attorneys Brad Edwards and Paul Cassell described as  "one of the most extraordinarily lenient plea deal arrangements in modern history."
Interestingly, in 2015 it was revealed that Epstein had allegedly transferred 3.5 million dollars from his Swiss bank account to the Clinton Foundation just as the FBI began its investigation into his activities.
I am not at all surprised the known rapist J. Epstein and one William Jefferson Clinton chilled together many times on Epstein's rape plane

— benedetto (@benedetto) May 14, 2016
Originally, it was believed that Clinton had "only" flown on the Lolita on 11 occasions, but the flight logs show that he was a frequent flyer with the convicted pedophile – on a plane, which was reportedly equipped with a bed where passengers could have group sex with young girls.
On trips between 2001 and 2003, he took part in extended flights around the world with Epstein and other passengers… including one named "Tatiana."
Epstein has relationships with other power players, including former Clinton Press Secretary George Stephanopoulos, Britain's Prince Andrew, TV personality Katie Couric, actor Kevin Spacey, and filmmaker Woody Allen (himself accused by his adoptive daughter Dylan Farrow of sexually abusing her, and is married to former step-daughter Soon Yi).
Sources: Fox News, RT, Radar Online, The Daily Beast
---
This article (Bill Clinton Flew 26 Times with Convicted Pedophile Epstein on "Lolita Express") is a free and open source. You have permission to republish this article under a Creative Commons license with attribution to the author(CoNN) and AnonHQ.com.