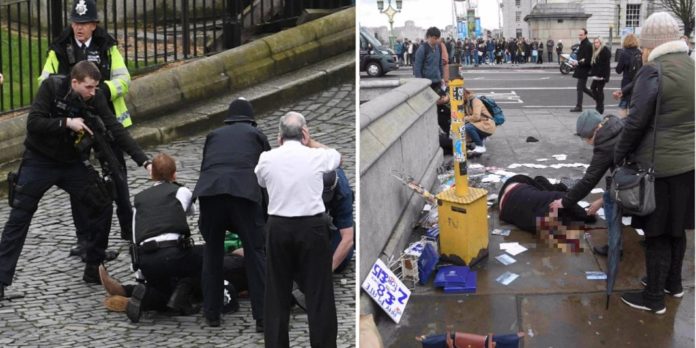 At least four people lost their lives and 20 suffered catastrophic injuries after a knife-wielding assailant mowed down over a dozen pedestrians on Westminster Bridge before crashing his grey Hyundai i40 into the perimeter railings of the parliamentary complex, running through the gates of the Palace of Westminster (the Parliament of the United Kingdom), and stabbing a police officer at about 2.40 pm.
Trump reacts: "Hearing some big news having to do with London. It just happened."

That's all he said for now. pic.twitter.com/caEJzWHEuE

— Bradd Jaffy (@BraddJaffy) March 22, 2017
While the armed assailant was shot by police when he tried to get out of New Palace Yard, the Palace of Westminster was put under lockdown following the horrific attack. Prime Minister Theresa May was evacuated from the parliament building within minutes and driven to Downing Street. David Lidington, leader of the House of Commons, confirmed that there had been a "serious incident" inside the parliamentary estate near Parliament Square:
"It seems that a police officer has been stabbed; that the alleged assailant was shot by armed police. An air ambulance is attending the scene to remove the casualties. There are also reports of further violent incidents in the vicinity."
An eyewitness, who was inside the parliamentary estate at the time of the attack, spoke with The Sun:
"I heard a loud crash and immediately looked out of the window. The vehicle had crashed into the Palace gates on Westminster Bridge. Then I saw a guy with black jeans and a blue jacket running through the main gates – he got in after a silver car drove in the entrance. He charged towards a police officer and stabbed him multiple times. He then ran away towards Westminster Hall before he was shot by police officers."
Colleen Anderson, junior doctor at St Thomas' Hospital, confirmed a number of pedestrians had been wounded:
"I confirmed one fatality. A woman. She was under the wheel of a bus. She died, confirmed her death at the scene. There were people across the bridge. There were some with minor injuries, some catastrophic. Some had injuries they could walk away from or who have life-changing injuries. There were maybe a dozen (injured)."
Cmdr Harrington confirms what we know, but will not speculate. "There are a number of casualties including police officers"

— Metropolitan Police (@metpoliceuk) March 22, 2017
Scotland Yard says the attack, which comes on the anniversary of the Brussels terrorist bombing that killed over 30 and wounded more than 300, is being treated as a "terrorist attack until the police know otherwise." An eyewitness, who was in Parliament at the time of the attack, told HuffPost UK:
"I heard what sounded like an explosion and raised voices outside Parliament, and so I rushed to the window. I saw people running past the entrance to the New Palace Yard entrance to Parliament, and then at least one person try to run into the Yard itself. A police officer chased this person and wrestled them to ground.
"Shots were then fired, but I can't remember how many and I didn't see who fired them. I ran down the stairs from my office overlooking the Yard to get more information, but the police prevented us from leaving the stairwell. When I returned to my office, I could see two people lying on the ground outside Westminster Hall, but neither of these were the person I saw wrestled down by the police officer minutes earlier."
Shots fired outside Parliament. Loud explosion then shooting. Man lying shot outside gates to Parliament. Gun shots outside, Frightening.

— Christopher Hope (@christopherhope) March 22, 2017
Armed officers ordered myself and Security Minister into lobby at gun point. Terrifying

— Anna Soubry MP (@Anna_Soubry) March 22, 2017
Incredibly brave @metpoliceuk anti-terror officers co-ordinating a lockdown & evacuation after #ParliamentAttack pic.twitter.com/XFv6KoNpm4

— George Freeman MP (@Freeman_George) March 22, 2017
People still trapped in London Eye #Westminsterterrorattack pic.twitter.com/sM4pHRQJ9N

— john sweeney (@johnsweeneyroar) March 22, 2017
The attacker is described as a middle-aged Asian man who was spotted running with an eight-inch knife. Rick Longley, another eyewitness, shared the terrible experience with The Daily Star:
"We were just walking up to the station and there was a loud bang and a guy, someone, crashed a car and took some pedestrians out. They were just laying there and then the whole crowd just surged around the corner by the gates just opposite Big Ben. A guy came past my right shoulder with a big knife and just started plunging it into the policeman. I have never seen anything like that. I just can't believe what I just saw."
UPDATE 1056 GMT: 40 people have been confirmed injured in the attack with 29 people currently being treated in hospital. A total of 4 have died, including the attacker.
Raids were conducted in Birmingham, with 7 people arrested in connection to the London terror attack. The officer, PC Palmer, who was injured in the attack, is said to have died from his wounds.
For the moment, police have refused to reveal the name of the attacker until further investigations can be conducted.
---
This article (BREAKING: London Terror Attack, 4 Dead, 40 People Injured) is a free and open source. You have permission to republish this article under a Creative Commons license with attribution to the author and AnonHQ.com.
---
Supporting Anonymous' Independent & Investigative News is important to us. Please, follow us on Twitter: Follow @AnonymousNewsHQ