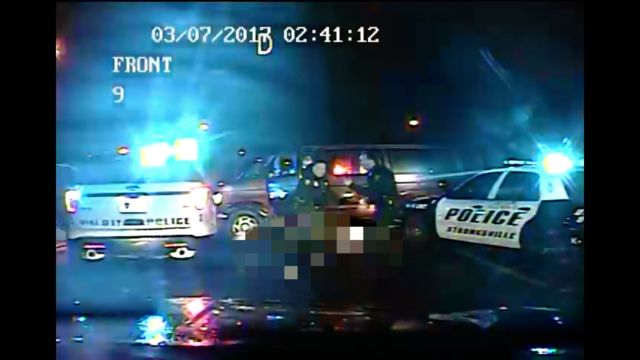 The Strongsville Ohio police murdered a man while he sat, unarmed in his vehicle with his girlfriend and three kids in the car. Roy Evans Jr. was a felon and thought he was going back to jail, so he made the bad decision to not stop for police when they tried to pull him over. This bad decision shouldn't have cost him his life, however, but it did. Police have yet to release the name of the shooter and are going into overdrive trying to come up with a justification for the shooting.
Evans led police on a chase for over 14 minutes. The decision to run from police with his innocent family in the car was the worst decision of his life. Despite the bad decision making, killing Roy Evans was an unjustified murder. The vehicle was disabled using spike strips that destroyed Evans' tires. The car was at a stop and unable to go anywhere. Its tires were flat and it was boxed in by multiple police cars. Once the vehicle came to a stop, an officer can be heard yelling, "show me your hands." The shot that killed Evans was fired less than two seconds later. It was later determined that Evans was unarmed, however, the statements released by police indicate that they're digging for a hindsight justification.
After it was determined that Evans had no weapon, the police told the media that they "are exploring the possibility that the vehicle was being used as a weapon." This is what police do. They kill people, then reverse engineer the reasoning for doing so. This was the case with the Mike Brown shooting, the Philando Castille shooting, and will most certainly be the case with the Alton Sterling shooting – if those investigation results ever get released.
The video released by the Ohio State Police was at least three to four car lengths away from the shooting, with multiple police cruisers having a much better perspective to capture the events as they unfolded.
"I see that man's face every night when I close my eyes," Evans' girlfriend Amanda Pauley told the media. "I'll never forget the vibrations of the gun. I'll never forget the man I love falling, his blood all over me." Evans' death has left three kids without a father, and a mother without a son. Joy Evans, Roy's mother, disputed the police version of events from the beginning. "I knew my son didn't have a weapon. He's never carried a weapon. Never had any weapons charges." Roy Evans Sr. told the press, "I had no doubt. My son never hurt anybody unless he had to defend himself." To make a prediction, the only justice the family of Roy Evans will find is in civil court on the taxpayers' bill.
One of the biggest factors in police shootings that no one ever seems to catch is how often shootings like this occur in small departments. These departments tend to have next to no experience in dealing with violent subjects. When a department has a distinct lack of violent crime, police tend to use their imagination to try to conceive what a violent criminal actually looks like. Strongsville Police are a small, underfunded and untrained agency. One example which highlights this is the fact that on their website, they have a story prominently featured about how the police, firefighters and medics were given an award for removing a man from underneath a vehicle. It is great to recognize public service workers, however, if they have time to hand out awards for minor incidents, they aren't out there fighting off violent criminals or learning how to do that in the process.
Sources: Strongsville, The Free Thought Project.
---
This article (Ohio Police Murder Unarmed Man While His Family Watch in Horror) is a free and open source. You have permission to republish this article under a Creative Commons license with attribution to the author and AnonHQ.com.
---
Supporting Anonymous' Independent & Investigative News is important to us. Please, follow us on Twitter: Follow @AnonymousNewsHQ