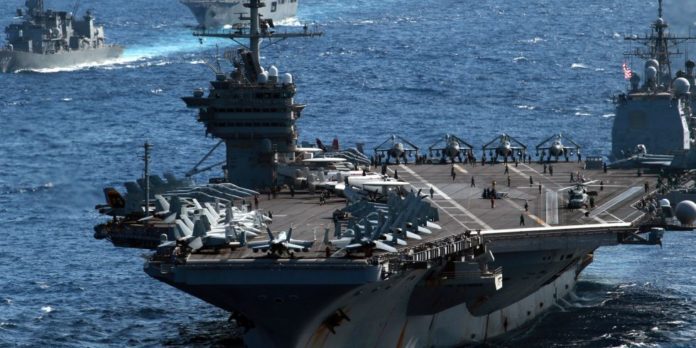 Admiral Harry B. Harris Jr., the head of the United States Pacific Command, announced that the United States of America is ready to "bring Kim Jong-un to his senses." The American navy, Trump's 'armada', arrived this week at the Korean Peninsula in the southern port of Busan, and are ready with the support of the Japanese navy – as they carry out military exercises.
China, however, maintains that such steps, including the installation of THAAD, are destabilising the security of the region.
Admiral Harris informed his government that North Korea will try to launch an attack against the United States as soon as they are capable. Discussions of installing a THAAD system in Hawaii have also been introduced. Tensions amongst world leaders, including Russia, have left everyone guessing about the rogue state's next actions.
"With every test [Mr] Kim grows closer to his goal, which is using nuclear weapons on US cities," informed Admiral Harris at the White House hosting the Armed Services Committee in Washington DC. "As [US President Donald] Trump and [Defence Secretary James] Mattis have said, all options are on the table."
Admiral Harris further explained that President Trump's government has seen a more positive and encouraging relationship between President Xi Jinping of China.  He downplayed China's concerns over the THAAD installation, however, adding that the system is purely a defensive measure that poses no threat to China.
Admiral Harris' statement came after China's release of their second aircraft carrier, which highlights the growing power of the Asian nation. For now, the vessel has been sent to Dalian, the northeastern port of China, and it will be fully operational by 2020.
China's Foreign Minister Wang Yi has said the United States, along with South Korea, should finish their war games and stop risking an escalation of further tensions. Mr Yi added that North Korea also needs to stop their nuclear development program and come to the table for negotiations and a peaceful resolution.
President Trump's office has continued its request of China to rein in its North Korean ally. China has responded, implementing some economic sanctions, which some countries say  isn't enough. The Trump administration is planning another meeting with officials in the coming days to monitor the situation.
The United States has equipped South Korea with the THAAD system – the Terminal High Altitude Area Defence system – which is in the process of being constructed this week, ahead of schedule. The technology is designed to disarm or destroy medium-range missiles during mid-flight.
The South Korean Minister of Defence Han Min Goo says, "South Korea and the United States have been working to secure an early operational capability of the THAAD system in response to North Korea's advancing nuclear and missile threat."
---
This article (The United States is Ready to Bring Kim Jong-Un "Back to His Senses") is a free and open source. You have permission to republish this article under a Creative Commons license with attribution to the author and AnonHQ.com.
---
You want to support Anonymous Independent & Investigative News? Please, follow us on Twitter: Follow @AnonymousNewsHQ