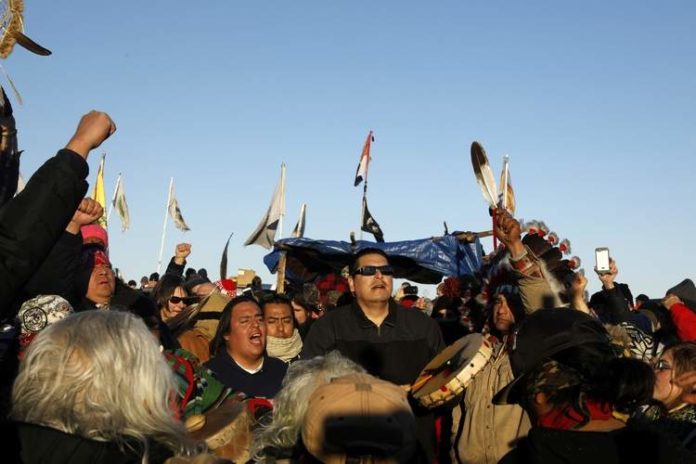 [responsivevoice voice="UK English Female" buttontext="Play"]
In a stunning turn of events, the Army Corps of Engineers, at (believe it or not) the bidding of the Obama Administration, has denied an easement for the nearly $4billion Dakota Access pipeline to cross under Lake Oahe in North Dakota. While plans to prevent the pipeline from passing near the Standing Rock Indian Reservation continue, this is a tremendous victory for Native land protectors, environmental and human rights activists, and in fact the entire nation, who has been in dire need of a morale-boost.
In a statement from Tribal Chairman Dave Archambault II:
"We wholeheartedly support the decision of the administration and commend with the utmost gratitude the courage it took on the part of President Obama, the Army Corps, the Department of Justice and the Department of the Interior to take steps to correct the course of history and to do the right thing."
Representative Kevin Cramer (R-North Dakota), North Dakota's one member in the House of Representatives, expressed his disapproval in a scathing statement that rang with the unprofessionalism we've now come to expect in a Trump administration:
"I hoped even a lawless president wouldn't continue to ignore the rule of law. However, it was becoming increasingly clear he was punting this issue down the road. Today's unfortunate decision sends a very chilling signal to others who want to build infrastructure in this country. Roads, bridges, transmission lines, pipelines, wind farms and water lines will be very difficult, if not impossible, to build when criminal behavior is rewarded this way."
We can't help but wonder how much of a financial hit Representative Cramer just took with the Army Corps' decision, but in the words of pretty much every Trump-supporter, "You lost. Stop whining, and get over it."
Senator Bernie Sanders also provided a statement upon the news, praising Obama's decision:
"I appreciate very much President Obama listening to the Native American people and millions of others who believe this pipeline should not be built. In the year 2016, we should not continue to trample on Native American sovereignty. We should not endanger the water supply of millions of people. We should not become more dependent on fossil fuels and accelerate the planetary crisis of climate change. Our job now is to transform our energy system away from fossil fuels, not to produce more greenhouse gas emissions."
Energy Transfer Partners had previously stated they were unwilling to re-route the pipeline, and provided no immediate response on Sunday to the Army Corps' decision.
Included among the US Veterans who are still arriving at Standing Rock, is 29-year-old Navy Veteran and Harvard graduate, Art Grayson, who put his finals on hold to go and protect land protectors and activists, even traveling part of the way in the back of a pickup truck. 66-year-old Vietnam Veteran and member of the Little Traverse Bay band of Odawa Indians, Steven Perry, stated his concern that the issue at hand does not just effect Natives, but everyone.
On Monday, some US Vets plan to take part in a prayer ceremony with Natives, in which Wes Clark Jr., the son of former Democratic presidential candidate General Wesley Clark, stated they will ask the Natives for forgiveness "for historical detrimental conduct by the military toward Native Americans," according to a report from the Spokesman-Review.
[/responsivevoice]
---
This Article (BREAKING: Victory! Army Corps Denies Permit, DAPL to Be Re-Routed) is a free and open source. You have permission to republish this article under a Creative Commons license with attribution to the author and AnonHQ.com.
---