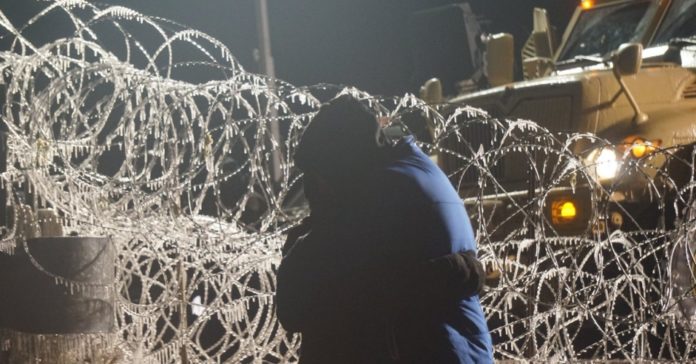 "Woman hit by concussion grenade may lose her arm. Way past time for federal observers at Standing Rock."—Bill McKibben

Water protectors battling the controversial Dakota Access Pipeline are grappling with terrible injuries and even more arrests in the wake of Sunday's police onslaught, in which law enforcement bombarded the peaceful activists with concussion grenades, rubber bullets, mace, and water cannons in sub-zero temperatures.
One woman is even facing the potential amputation of an arm, after it was allegedly torn apart by a concussion grenade. Supporters shared shocking images of her extensive injuries and a link to a fundraiser for her hospital costs:
Sophia was handing out water when police hit her with a concussion grenade. #DakotaAccess#NoDAPL Medical fund here: https://t.co/5ImMhVtWjfpic.twitter.com/RYB68Dcbk2

— tara houska (@zhaabowekwe) November 22, 2016

The attack from the Morton County Sheriff's Department and its aftermath has prompted supporters and politicians to call on the U.S. Department of Justice to send observers to the scene, to defend the activists' First Amendment right to safely protest:
Woman hit by concussion grenade may lose her arm. Way past time for federal observers at Standing Rock #NoDAPL

— Bill McKibben (@billmckibben) November 22, 2016
Amnesty International echoed such calls in a letter sent Monday to the Morton County Sheriff's Department. "[T]he use of those water cannons against the protesters themselves risks potential injury and hypothermia for the protesters who were sprayed with water in below freezing temperatures," wrote Amnesty International USA executive director Margaret Huang
, according to Indian Country Today. "Also alarming are videos of the use of tear gas, and reports of rubber bullets used to disperse the crowd of protesters."
The violence Sunday came in response to Indigenous activists' efforts to clear the public road that leads to their protest camp near Cannon Ball, North Dakota. And the standoff lasted for six hours, despite medics' pleas that the police stop endangering activists' lives. As the Intercept reported:
Linda Black Elk, a member of the Standing Rock Medic and Healer Council, was helping care for injured demonstrators [during the attack]. The council estimatedthat 300 people were treated for injuries, including 26 who were taken to area hospitals.
"What it was like was people walking through the dark of a winter North Dakota night, some of them so cold, and sprayed with water for so long, that their clothes were frozen to their body and crunching as they walked. So you could hear this crunching sound and this pop-pop-pop, and people yelling [to the police], 'We'll pray for you! We love you!'" Black Elk said, describing the scene as police sprayed protesters with water and fired tear gas and rubber bullets during the more than six-hour standoff.
[…] In the midst of the clash, the Medic and Healer Council, which was set up to provide health support to those fighting the pipeline, released a statement pleading with police to halt the use of water cannons. "As medical professionals, we are concerned for the real risk of loss of life due to severe hypothermia under these conditions," the statement said.
But the oversized police response didn't end there: the New York Times reports that law enforcement returned on Monday to arrest 16 water protectors.
Video footage, testimony, and photos of the violence are galvanizing global support for the activists, even as the battle against the pipeline feels more dire than ever in the wake of President-elect Donald Trump's victory. Indeed, a group of U.S. military veterans is planning a "deployment" to the Oceti Sakowin protest camp to support the water protectors' fight in early December.
"This country is repressing our people," said Michael A. Wood Jr., a Marine Corps veteran and "former Baltimore police officer who retired his badge in 2014 to become an advocate for national police reform," according to the veterans outlet Task & Purpose.
"If we're going to be heroes, if we're really going to be those veterans that this country praises, well, then we need to do the things that we actually said we're going to do when we took the oath to defend the Constitution from enemies foreign and domestic," Wood Jr. added.
And members of the Standing Rock Sioux Tribe are also issuing urgent pleas to President Barack Obama, seeking decisive action to protect their drinking water and sacred sites before the president leaves office.
"Help us stop this pipeline. Stay true to your words, because you said you had our backs," said tribal member Kendrick Eagle, who met President Obama in 2014. "I believe that you can make this happen."
Watch Eagle's full statement here: