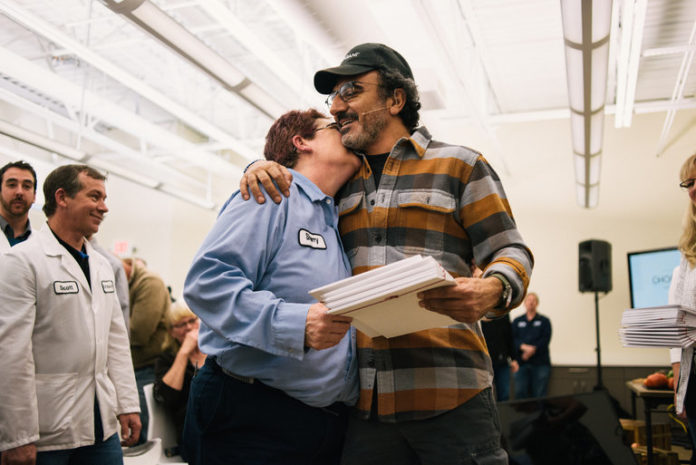 The United States' President-elect, Donald Trump, has indicated a reviving of a Bush-era program that registered thousands of Muslim immigrants from countries with high terrorism activity, and putting a system in place that tracks individuals based on their religion, saying it will keep the country safe. In spite of the political climate, Hamdi Ulukaya — a Muslim Kurdish immigrant, and founder and CEO of yogurt-making multi-billion dollar company Chobani — is returning the favor back to his adoptive country by giving his 2,000 full-time employees a 10% stake in the company.
In a letter to his staff, Ulukaya wrote:
"My dream, from day one, was to share our success with this entire family — for us all to have a stake in our future, working together to grow Chobani and furthering our mission as a modern food company."
At a recent function at the company's plant in upstate New York, Ulukaya handed his 'partners' white packets detailing how many shares they were given (based on their tenure). The shares can be converted into stock or cash when the company goes public or sells itself. Further, the employees can either hang onto the shares if they leave/retire or the company will buy them back.
"We used to work together, now we are partners. This isn't a gift. It's a mutual promise to work together with a shared purpose and responsibility: To continue to create something special and of lasting value."
https://www.youtube.com/watch?v=wTMBVvapPUY
Rich Lake, lead project manager and one of the company's original five employees, said the shares are an acknowledgment of what he and the other employees have put into Chobani. "It's better than a bonus or a raise. It's the best thing because you're getting a piece of this thing you helped build."
In 2014, the company's value was estimated at $3 billion to $5 billion. At the $3 billion valuation, the average employee payout would be $150,000 with the earliest employees potentially receiving shares worth over $1 million (the oldest employee gets the biggest stake). According to The New York Times, the goal is to pass along the wealth Chobani employees have helped build in the decade since the company started.
"I've built something I never thought would be such a success, but I cannot think of Chobani being built without all these people. Now they'll be working to build the company even more and building their future at the same time."
My lifelong dream is now a reality: sharing @Chobani with the 2,000 people who helped create it pic.twitter.com/GxxfuJdLSW

— Hamdi Ulukaya (@hamdiulukaya) April 26, 2016
In 2005, Ulukaya purchased a Kraft Foods yogurt plant in upstate New York with an $800,000 loan from the Small Business Administration, and founded Chobani with five employees. Today, Chobani — which pays its employees above the minimum wage — is the best-selling strained yogurt (Greek-style) brand in the United States, the success of which has made Ulukaya a philanthropist with an estimated net worth of $1.92 billion. No wonder Ernst & Young named Ulukaya the World Entrepreneur of the Year in 2013.
Ulukaya not only hired a diverse range of staff, including refugees fleeing from war, he also pledged to donate $2 million to the United Nations High Commissioner for Refugees to provide immediate relief for those being persecuted in Iraq and Syria. He also signed Warren Buffet and Bill Gate's Giving Pledge, committing to donate half of his fortune to help refugees around the world.
---
This article (The United States Needs More CEOs Like this Muslim Kurdish Immigrant) is a free and open source. You have permission to republish this article under a Creative Commons license with attribution to the author and AnonHQ.com.
---
Supporting Anonymous' Independent & Investigative News is important to us. Please, follow us on Twitter: Follow @AnonymousNewsHQ