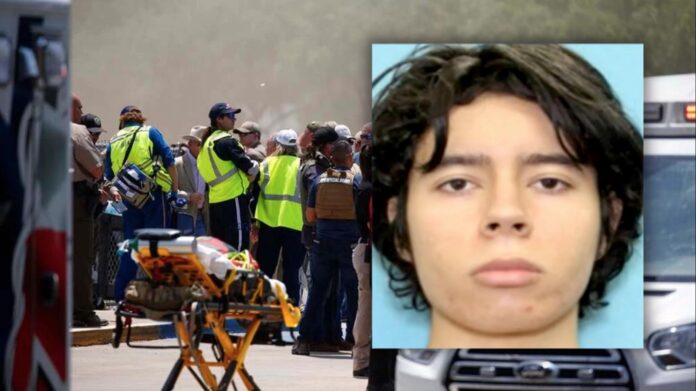 The shooter who killed 19 students and two teachers at an elementary school in Texas claimed "I'm going to shoot an elementary school" in a message he sent on Facebook messenger. The remark was found after the shooting rampage.
Officials said on Wednesday that the shooter gave a warning of his intentions fifteen minutes before he locked himself inside a classroom and began firing shots indiscriminately that killed 19 children and 2 teachers.
In a news conference, Texas Governor Greg Abbott stated that the shooter, who has been identified as 18-year-old Salvador Rolando Ramos, did not provide "any meaningful forewarning" of the violence he intended to unleash, authorities claim, with the exception of the Facebook message and two others that came before it, NBC News reports.
A gunman who killed 19 children and two teachers at a Texas elementary school barricaded himself inside a fourth-grade classroom, where all the fatalities and injuries occurred, a state official said. https://t.co/qDYSxtr9vz

— Los Angeles Times (@latimes) May 25, 2022
The messages the Texas shooter posted on Facebook warning he was about to shoot his grandmother and shoot up a school were private messages, not public postings https://t.co/fBhyXAD1FY

— Kim Zetter (@KimZetter) May 25, 2022
"I'm going to shoot my grandmother" and "I shot my grandmother," the other 2 messages read.
A representative for Meta named Andy Stone said that the warnings were communicated via private one-to-one text conversations that were discovered after the incident. He said in a tweet that Facebook is assisting law authorities in their investigation.
The messages Gov. Abbott described were private one-to-one text messages that were discovered after the terrible tragedy occurred. We are closely cooperating with law enforcement in their ongoing investigation.

— Andy Stone (@andymstone) May 25, 2022
During a press conference that descended into turmoil, Abbott said that after Ramos shot his grandmother in the face, he went to Robb Elementary School in Uvalde, wrecked his vehicle nearby, and carried a gun into the school.
Beto O'Rourke, a Democratic contender for governor of Texas, interrupted the press conference and told Greg Abbott that the massacre was "totally predictable" and that the governor was "doing nothing" about it.
From then on, as O'Rourke was being brought out by police, he was hailed by multiple profanities coming from the stage. One person even called him a "sick son of a b——" as they did so.
Abbott placed the responsibility for the massacre on issues with the shooter's mental health rather than on the shooter's easy access to semi-automatic rifles and other firearms.
According to Lt. Chris Olivarez, a spokeswoman for the Texas Department of Public Safety, all of those who were killed or injured during the shooting were located in the same classroom. According to Abbott, there were two classrooms that were connected. [The shooter] "was able to make entry into a classroom, barricaded himself inside that classroom, and again, just began shooting, numerous children and teachers who were in that classroom, having no regard for human life," Olivarez said on an NBC broadcast.