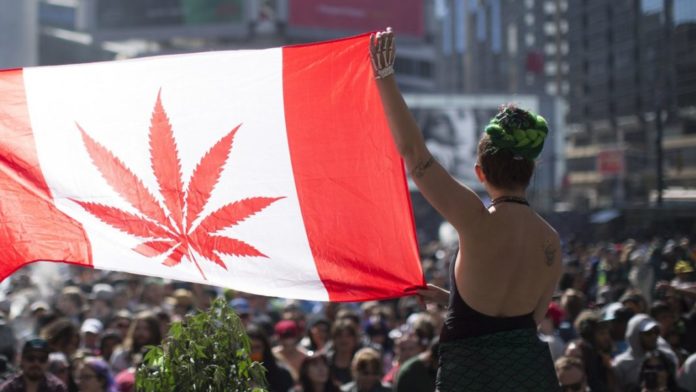 by Carey Wedler at theantimedia.org
Canada officially moved to legalize recreational marijuana on Thursday when the government introduced legislation allowing the possession of small amounts of cannabis. The new law also sets regulations for the sale, growth, and purchase of the plant.
USA Today reports:
"Canada's federal government set the age at 18, but is allowing each of the provinces to determine if it should be higher. The provinces will also decide how the drug will be sold and distributed. The law also defines the amount of THC in a driver's blood, as detected by a roadside saliva test, that would be illegal. Marijuana taxes will be announced at a later date."
Vox notes that "Canadians will be allowed to grow up to four marijuana plants per household and possess up to 30 grams per person. For the most part, the bill follows the recommendations made by a recent federal task force on marijuana legalization."
The outlet points out that the details of the bill could change as the bill works its way through Parliament, adding that if the legislation passes, it could be illegal under international law, which still favors prohibition. Canada joins Uruguay, the only other nation to have fully legalized recreational marijuana (Portugal has had great success with its decriminalization of all drugs).
Canada first allowed medical marijuana for terminal illnesses in 2001, and in some parts of the country, like Vancouver, weed shops are legal and law enforcement tolerates use of the plant. But the new legislation codifies the rights of all Canadians to use it, even if it still places restrictions on use (for example, attempting to regulate THC blood content in the context of driving  a car is a controversial practice in the United States, where studies show driving while high is far less dangerous than driving drunk)
If the law is passed, it will undoubtedly cut into crime rates in Canada, where tens of thousands of marijuana users are still arrested for possession every year.
As the Liberal Party, which introduced the legislation, argues:
"Arresting and prosecuting these offenses is expensive for our criminal justice system. It traps too many Canadians in the criminal justice system for minor, non-violent offenses. At the same time, the proceeds from the illegal drug trade support organized crime and greater threats to public safety, like human trafficking and hard drugs."
If the bill passes, Canada will join multiple U.S. states, including California, Washington, Oregon, and Alaska, which have all legalized recreational marijuana. It will join an even longer list of U.S. states and other countries relaxing laws, even if they are not outright repealing them.
Canada has taken a forward-thinking approach to drug addiction in general; last year the country began sponsoring injection centers where heroin addicts could consume their narcotics under the supervision of a doctor.
As mounting research shows the plant offers a wide range of medical benefits, and as the drug war continues to prove itself inefficient, ineffective, and destructive around the world, Canada's recent move signals legalization is all but inevitable. As the Liberal Party of Canada's website has argued:
"Canada's current system of marijuana prohibition does not work. It does not prevent young people from using marijuana and too many Canadians end up with criminal records for possessing small amounts of the drug."
Creative Commons / Anti-Media / Report a typo