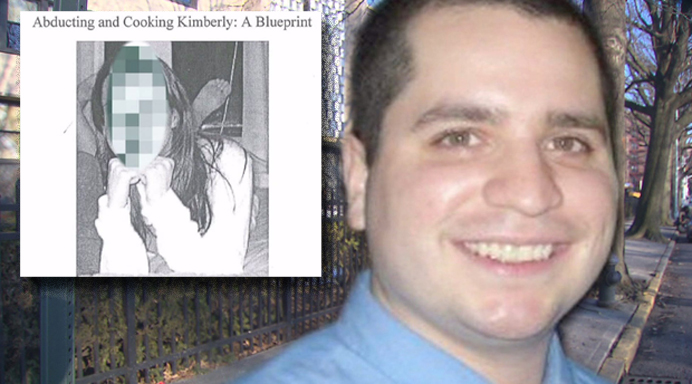 Monday July 21, 2014
Written by: Anonymous Watcher
Imagine this: the year is 2012 and we're inside the NYPD, looking over the shoulder of a 28 year old trusted member of the police force as he sifts through countless names on a Federal database. His search is for a particular type of woman fitting the profile of his case, and to collect specific information. Over time, he catalogues at least 100 women on his computer: profiles, addresses, photos.[1]
The nature of his search, which also involves fetish chat rooms, is a formulated design of rape, torture and cannibalism. The women are the potential victims.
One would be forgiven if they left Officer Valle to his devices. But it wasn't a criminal he was investigating. The information gathering was for his own benefit; to satisfy what the courts labelled as his "fantasy."
In conversations online via email, chatrooms and instant messaging, Valle outlined the "mechanics" of his depraved attacks:
"I was thinking of tying her body onto some kind of apparatus…cook her over low heat, keep her alive as long as possible."[2]
In other online activities, the FBI discovered that Valle had discussed his plans with multiple co-conspirators to "kidnap, rape, torture, kill, cook and cannibalize" a number of women from his lists. The databases he had accessed gave him lists of addresses, physical descriptions and images of his potential victims.
But it was his wife that discovered the horrific details on a home computer, mentioning her as a potential target. It suggested he take his "girlfriend" to Pakistan where he could butcher her together with another man. As a newly-wed with a young daughter, Valle's wife informed the FBI, handing over the computer where they discovered a list of his potential victims' names and his detailed tactics.[3]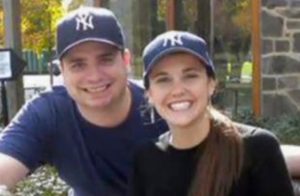 His first victim involved a complete plot of the proposed kidnapping, including obtaining and using the chemical chloroform to render his victim unconscious, and the strongest type of rope. He met his target on a Sunday for lunch and bragged about it to a co-conspirator.
In 2012, Valle was arrested on conspiracy to commit kidnapping (carrying a maximum term of life in prison), and one count of accessing a computer without authorization and exceeding his access to obtain information from a department and agency of the United States (carrying a maximum sentence of five years and a fine of $250 000).[4]
Now, fast forward to 2014.
Gilberto Valle was acquitted by the US District Judge, Paul Gardephe, citing that the original evidence used in the 2012 case against Valle is "more likely than not the case that all of Valle's Internet communications about kidnapping are fantasy role-play…" though he concedes to the "misogynistic" and "highly disturbing" content. Valle's attorney, Jill Gatto added to the statement, "He is guilty of nothing more than having unconventional thoughts…"[1]
The question remains to this day, if his thoughts are unconventional, how one would describe the transcript seized of him discussing payment of Victim two with his second co-conspirator in relation to a kidnapping. The transcript states co-conspirator two arranging a payment of $5000 to Valle in exchange for a kidnapping of a woman (to be kept alive for delivery). During this discussion where the co-conspirator reportedly tried to negotiate the price down to $4000, Valle stated he was "in the business of kidnapping…I think I would rather not get involved in the rape. She is all yours and I don't want to be tempted the next time I abduct a girl." Adding, "…Really get off knocking her out, tying up her hands and bare feet, and gagging her." [2]
…Mere fantasy or something more sinister?
____________________________________________________________________________
[1] Tom Hays & Colleen Long. (25 October 2012) "Gilberto Valle, NYPD Officer arrested in plot to kidnap women and cook them." Huff Post. Retrieved 21 July 2014. http://www.huffingtonpost.com/2012/10/25/nypd-officer-gilbert-valle-attempted-kidnapping-cannibalism-cooking_n_2017108.html
[2] Rocco Parascandola & Greg B. Smith (25 October 2012) "NYPD Officer Gilberto Valle arrested by FBI over failed plot to kidnap women and cook them." Daily News, New York. Retrieved 21 July 2014. http://www.nydailynews.com/new-york/fbi-arrests-nypd-article-1.1191956
[3]Daniel Beekman & Dareh Gregorian (8 May 2014) '"Cannibal cop' cooking breakfast and lunch for inmates, guards in lower Manhattan prison" New York Daily News. Retrieved 21 July 2014. http://www.nydailynews.com/new-york/nyc-crime/cannibal-cooking-inmates-guards-prison-article-1.1783911
[4] The FBI Government (25 October 2012) "Manhattan US Attorney Announces Arrest of New York City Police Officer for Kidnapping, Conspiracy and Illegally Accessing Federal Law Enforcement Databases." US Attorney Office. Retrieved 21 July 2014. http://www.fbi.gov/newyork/press-releases/2012/manhattan-u.s.-attorney-announces-arrest-of-new-york-city-police-officer-for-kidnapping-conspiracy-and-illegally-accessing-federal-law-enforcement-database
Office. Retrieved 21 July 2014. http://www.fbi.gov/newyork/press-releases/2012/manhattan-u.s.-attorney-announces-arrest-of-new-york-city-police-officer-for-kidnapping-conspiracy-and-illegally-accessing-federal-law-enforcement-database
[5] (1 July 2014) "NYPD 'cannibal cop' to walk free after judge overturns conviction." RT. Retrieved 20 July 2014. http://rt.com/usa/169696-nypd-cannibal-cop-conviction-overturned/
[6] (25 October 2012) "Seven Most Shocking Revelations about Gilberto Valle, NYPD's Cannibal Cop." The Daily Beast. Retrieved 21 July 2014. http://www.thedailybeast.com/articles/2012/10/25/7-most-shocking-revelations-about-gilberto-valle-nypd-s-cannibal-cop.html