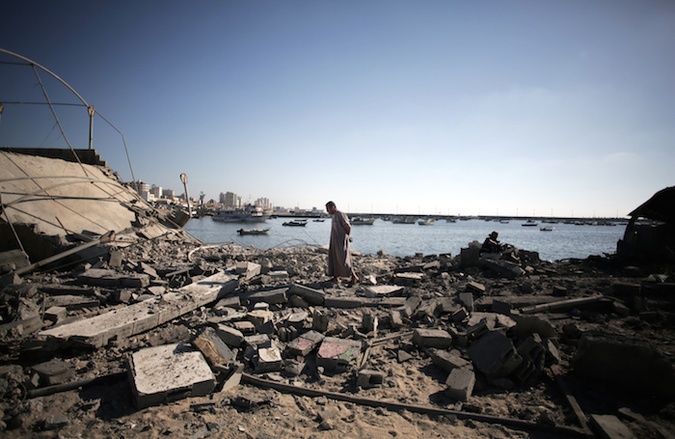 Tuesday July 22, 2014
Written by: Overlord
Four Palestinian children were killed while playing football on Gaza beach by rockets fired from an Israeli plane targeting Hamas militants. Numerous journalists witnessed the tragedy.
"This is a cowardly crime," said Ashraf al-Qidra, spokesman for the Gaza Health Ministry.
The children were named Ahed Atef Bakr, Zakaria Ahed Bakr, Mohamed Ramez Bakr, and Ismael Mohamed Bakr. Mohamed Ramez was age 11, Ahed Atef and Zakaria Ahed were age 10, and Ismael Mohamed was age 9. The four boys killed were relatives and there is one more boy in the hospital.
"The kids were playing football on the beach," said Ahmed Abu Hassera, who witnessed the horrific incident.  "When the first shell hit the land, they ran away but another shell hit them all. It looked as if the shells were chasing them."
"We live by the coast. There was a headline on the news that four children were injured…  so we went looking for the kids and we could not find them, so we came  here to the hospital to look for them and we found them all, including my son… oh my God," said the father of Zakaria to NBC.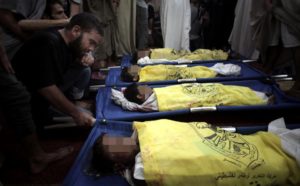 The Israel Defense Forces (IDF), who have been targeting Hamas terrorists in the Gaza area, have denied targeting the children. "We do not target civilians," said IDF representative Peter Lerner to RT, "we target Hamas terrorists. I have seen the footage of the incident, and indeed it does look tragic, and we will have to look at the circumstances."
At first, the shots were believed to have come from a gunboat, but according to senior IDF officials the shots came from Israeli planes targeting Hamas militants, as told to Israel's Haaretz Newspaper.
The number of Palestinians killed by the Israeli counter-offensive has become 220, 80% of which that have been civilians and one in every five Palestinians killed is a child.
Israeli forces have been dropping leaflets in the area and placing automated calls to Palestinian homes urging them to evacuate.
"Whoever disregards these instructions and fails to evacuate immediately, endangers their own lives as well as those of their families," said the messages.
Human Rights Watch has condemned the actions of the Israel Operation, Protective Edge. The chief of the Human Rights Watch, Ken Roth, stated that the warnings serve as a waiver for further atrocities against human life.
Despite these warnings, most residents of Gaza either have nowhere to go or choose to stay in their homes as a show of defiance against Israel.
The ceasefire between Israel and Hamas ended after the Palestinians rejected Egypt as their mediator.
Israel began their counter-offensive early on Tuesday following the firing of 85 rockets at Southern Israel on July 7.
As a result of this rocket barrage, the IDF has said that a ground invasion of Gaza is now "likely."